Vegetable Gardening
the natural way
Vegetable gardening in your own home garden gives you more control over what goes into the food you eat. 

It is also possible with some experience to supply all or most of your own needs in vegetables from quite a small growing area, and to do this at very low cost, even the exercise you get in the process is beneficial to you. Scroll down to find links to individual pages on each vegetable we have grown, or the easy vegetables page which is a general overview.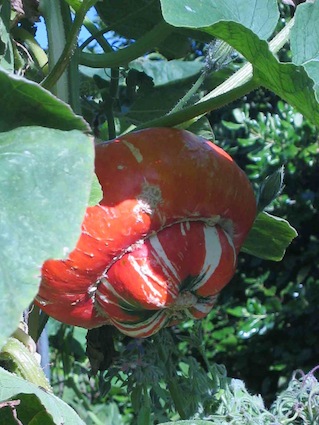 a gorgeous 'Turkish turban' pumpkin, growing in a permaculture garden
Lots more info on easy veggie gardening
At the end of this page you will find a list of links to my pages on easy natural vegetable gardening methods, and for beginners starting out, the easiest vegetables to grow, and information on pest control friendly to bees, other insects, and birds.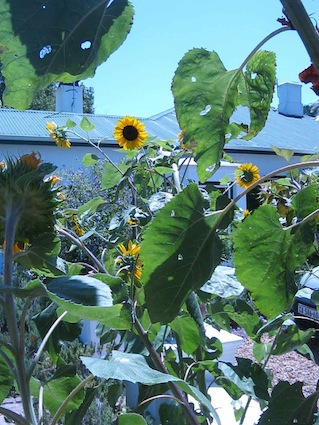 sunflowers in a permaculture garden
working a vegetable garden is fabulous exercise
However, vegetable gardening work is good for the body. After I started my gardening internship just once a week for four hours, I dropped weight, firmed up, increased in endurance and tolerance of the heat, and became capable of lifting heavier objects. I approached getting fit in a slow and steady way, not all at once, because the joints take the longest to limber up and the cartilage to gain in elasticity in response to new demands, and at my age (post menopausal) I have to consider such things. Muscular strength will come long before the joints are properly fit as any clued up marathon runner knows.

ideas for random looking natural planting, see more on the herb gardens page
growing vegetables is definitely fun for gourmets
An added benefit is the often superior taste of the vegetables, their freshness, and the possibility of enjoying interesting old or new varieties which are not found in the supermarkets.

gardening brings beauty, serenity and knowledge
The greatest benefit of all to me is emotional. Every Wednesday, I get up at five and then head off at six to drive for an hour to my internship in a beautiful Constantia garden, for which I'm not paid (its an apprenticeship and I'm learning all the time). Certain family members never cease reminding me of this but I turn a deaf ear, because it is like an addiction ! …..I feel an amazing peace, I feel as if I'm heading for spiritual refreshment, and remember, that according to the word of God, man's first task was to tend a garden, and it is profoundly satisfying to do so, even someone else's garden.
I'm working under a master permaculturist, Karen Parkin. Her experience spans decades, and her knowledge of growing food, sowing and harvesting seed, making compost and other additives, crop succession and vegetable garden maintenance is like a library. Your own home garden is library, laboratory and art gallery all in one. Vegetable gardening not only brings you a healthier body, it guarantees you will never stop learning and receiving visual pleasure.
I've a beautiful movie running outside my bedroom window every morning. Weaver birds building their nests, sparrows fighting, fresh dew on the vast variety of foliage. I walk into a living painting every Wednesday (not to underrate my own garden at home, though small and very much drier because of the different microclimates. It is more like a postcard). I make my way behind my teacher as she does her garden inspection, between thigh high broccoli, waist high cauliflower plants and Portuguese giant cabbages dangling their seeds over my head. Basil, mustard, ginger, onions, comfrey, bulb fennel and several different varieties of cucurbits, beans, tomatoes, peppers and aubergines blossom, ripen and photosynthesize in glorious abundance in the aisles of the garden beds.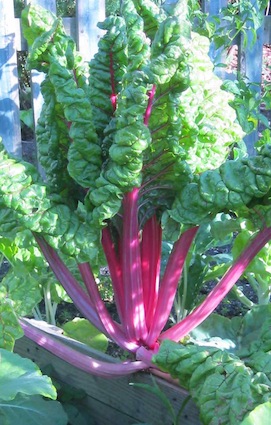 giant red stemmed chard in permaculture
so just do it !
Vegetable gardens may seem unappealing in some ways. It is time consuming. We spend at least an hour daily on our own garden, excluding blocks of time where we'll build a compost pile for example, for several hours, and there is usually a project like that every week or two weeks. It doesn't appear to pay well in hard cash, unless you can put a clever lucrative twist to it that isn't too obvious to everyone, like so many things involved in creating beauty, or in making a business thrive. But if you are wondering about starting a vegetable garden, I'd say do it, for your body, your eyes and your soul, and scale or tailor the project to the time and space you have available, working back from that. Amy, from Sage Urban Homesteading makes growing food really simple. To extend these skills into the urban context on a macro scale, I've put forward an argument for a different use of urban gardening and green space.
Vegetable gardening doesn't have to be a fussy project. Nothing has to be perfect. If you want it to be, of course its going to take you a lot longer and you're going to be frustrated a lot of the time, by the forces in any ecosystem, which, like moth and rust, doth corrupt...... as a law of the universe. We'll go deeper into a lot of these issues like earning money from your garden, integrated pest management, composting and other skills you'll need on further pages of this website, but from the word go, I must let you know I do everything the natural way, and I'd rather have a bad harvest than use pesticides, herbicides or artificial fertilizer. This is where you get advice on how we grow food without poisons by methods that are affordable, beautifully simple and ecologically sound.
Here are just some of the vegetable gardening pages relating to growing vegetables :
easy to grow foods:
easy vegetable gardening with the 12 easiest vegetables to grow
olive harvesting and propagation
indigenous African green carpet vegetables
planting
saving seed by making fruit vinegar
salt ferments for preserving produce
optimizing space with propagation tubes
giving your vegetable garden planner depth
small kitchen garden productivity
growing other useful plants
growing oyster mushrooms on logs
experiment with mushroom culture
strange bedfellows:

the marvelously diverse Solanaceae
------
home page with links to much more on gardens and green living
------
where to get organically grown heirloom seed in South Africa 
composting
a wide variety of fertility tips from a workshop
beds

food to grow in your garden pond !
gardening philosphies

eco friendly ways of dealing with common problems :
the fruit fly life cycle and choosing control measures
fruit fly control: sanitize and select
fruit fly control by exclusion
biodiversity and the biological pest control of fruit fly
organic fruit fly control with baits, traps and poisons
what to do about a range of garden insects
how to stop birds scratching out your seedlings
know your nightshade plants and prevent cross infections

You're a home gardener ! Share your experiences and questions !
We all know about home gardening. Tell us about your successes, challenges and ask about issues that bother you. You may have the luxury of a back garden, but there are other ways we learn. Few people age without growing something or buying vegetables during their lives ! It is absolutely guaranteed that you have learned things which can help others on their gardening journey.

We invite you to share your stories, ask questions, because if a thing has bothered you it will bother others too. Someone may have a solution ! No question is too small. There is learning for everyone involved, for you, for me (yes, I learn from every question), for us all. Exciting stuff !

We are starting on a new journey. Every week we will profile your letters ! The best stories and questions we receive.

What Other Visitors Have Said
Click below to see contributions from other visitors to this page...


easiest vegetable

These just come up in the garden. Stephan has been eating them for years, till he read somewhere that they may be mildly poisonous. I don't eat them as …
Restore Nature Newsletter 
I've been writing for four years now and I would love to hear from you
Please let me know if you have any questions, comments or stories to share on gardening, permaculture, regenerative agriculture, food forests, natural gardening, do nothing gardening, observations about pests and diseases, foraging, dealing with and using weeds constructively, composting and going offgrid.