Home gardens are this easy:
backyard garden project 
stage 7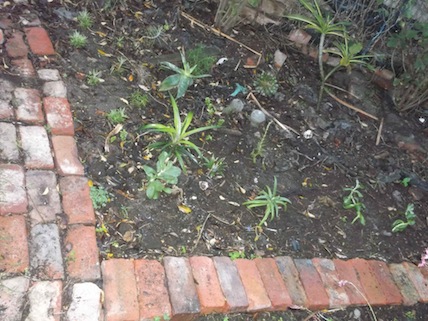 The Hen house garden is planted with hardy succulents and a pineapple
Home gardens need not break your bank or your back. After some setbacks I finally planted up this last large piece of unplanted garden. It took me a couple of hours to plant out the hardy succulents that I had cultivated myself from slips taken in the neighbourhood. My pride and joy is the pineapple plant in the centre ! It was rooted from a discarded top section after eating the fruit.

The sense in snipping in your hood
Snipping from neighbourhood plants is not just cheap, it also can eliminate the trial and error process of seeing what plants thrive in your soil and climate, saving you heartbreak and the lost time. If its thriving in your neigbourhood, obviously not getting a lot of attention and water, a few streets away, and you have the same soil, chances are it will thrive in your home garden too. It does limit you to your neighbour's choice of garden plants, but into this hardy framework you can place your experiments and favourites.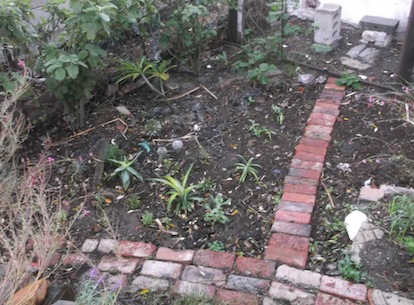 The garden path, the succulents and a lot of empty space....lead to a new idea for my home garden
The transcend-sense of native plants
After hearing a talk on indigenous edible plants by Loubie Rusch of makingKos (on facebook), I'm utterly fired up and persuaded. Loubie discussed about 30 local edibles, which are, she claims just the tip of the iceberg of edible foods. There are many indigenous fruit, of which I already have two in my garden (Dovyalis caffra and Carissa bispinosa). The underground storage parts like corms and bulbs, grow so slowly they are not sustainable to harvest and would not make good crop plants and definitely shouldn't be harvested from the wild, according to the author of makingKos. Then there are the wild greens. Most of what she calls her 'edible green carpet' plants (ideal lawn replacements) grow in coastal sand, and they are perfect for the deep sand here in Goodwood. In addition, the plants I desire to grow most are berries and varied greens and herbs. They are always harder to get absolutely fresh than large fruit, and hard veg like carrots and butternut, which I buy in bulk and don't bother to grow. So in terms of the palette of foods, the soil and climate, and the water-wisdom and ease of cultivation of these amazing edible green carpet plants, this looks really positive. The problem is getting hold of most of them. They are not that showy and not found much, even in indigenous plant nurseries. Getting seed will have to be the way to go, I think. 
My next garden project is that I plan to start cultivating these wild greens from seed and use them to fill in the empty spaces in the garden, and later to replace other growth that is invasive and only decorative.
Restore Nature Newsletter 
I've been writing for four years now and I would love to hear from you
Please let me know if you have any questions, comments or stories to share on gardening, permaculture, regenerative agriculture, food forests, natural gardening, do nothing gardening, observations about pests and diseases, foraging, dealing with and using weeds constructively, composting and going offgrid.
------
home page linking to other green topics
------
------
the backyard garden design projects stage 1 through 6
------