companion planting:
a permaculture workshop in Cape town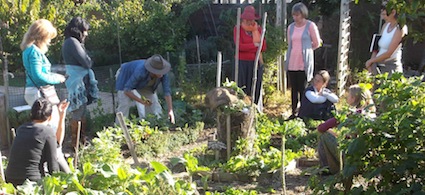 some temporary human companions in the garden having a gesellige afternoon
the permaculturist teachers
On the 28th of May 2016, I attended a companion planting workshop, presented by Karen Parkin and Saskia Schelling. Saskia (saskia@gardencoach.co.za) is a teacher, yoga instructor, garden coach and takes garden tours. She has turned her own garden into a permaculture project over a period of five years. The underlying soil is pale grey sand, but the principles she applies have allowed heavy feeding plants like bananas and brassicas to grow. Karen Parkin I have written about previously, when 

she gave a talk on harvesting food plant seeds in adherence to permaculture principles. Karen (permaperson@gmail.com) has spent 20 years growing vegetables, and recently took a sabbatical to study indigenous herbalism and other healing modalities.

companion planting
Permaculture is a way of growing organic vegetables by respecting the model of nature. Companion planting is a vital element in this modeling, as you will see from the five articles I've written on the workshop. The workshop brought me some new concepts, from the permaculture lexicon, such as the guild, plant antagonism, the geoderm, the wild world web and more.
a plant guild in permaculture
In permaculture, a guild is a group of plants which suit growing together. This can be because of the creation of microclimates by one plant for another, or because they like similar circumstances like high nutrients and steady water supply, or they complement each other in terms of space 

utilization, in which each has a different niche, taking up underground space, and above ground low, medium and high growth. Lastly they guild can be due to chemical suitability, or the beneficial nature of one of the plants in terms of nutrient supply, and also there is chronological sequence.

An example of a space guild and nutrition/water guild
Saskia gave the examble of the small banana grove in her garden where she places all the organic waste. The bananas are tall, the sweet potatoes act as a ground cover, and the Vetiver grass, scented similarly to lemon grass, which has a medium height and surrounds the bed.

Functional suitability
The three sisters: maize (tall), squash(ground cover), legumes (climbers) are a classic example from indigenous America. A typical combination is roots and leaves which grow well together because they don't compete for the same nutrients.
a chronological form of guild
In a permaculture garden pioneers are planted first, like legumes, comfrey, yarrow, all fast and early flowering. Pioneers are plants which in the wild first establish themselves on disturbed soil, or a new surface of soil. There is a danger in this, which I will describe under tainted colours, on the the home page. The long term plants will come next, though they can be planted at the same time, they will flourish later, their climax is very slow, and to flourish they need the microclimates and soil quality created by the pioneer generation. They could be seen to constitute a guild across time, or a form of companion planting.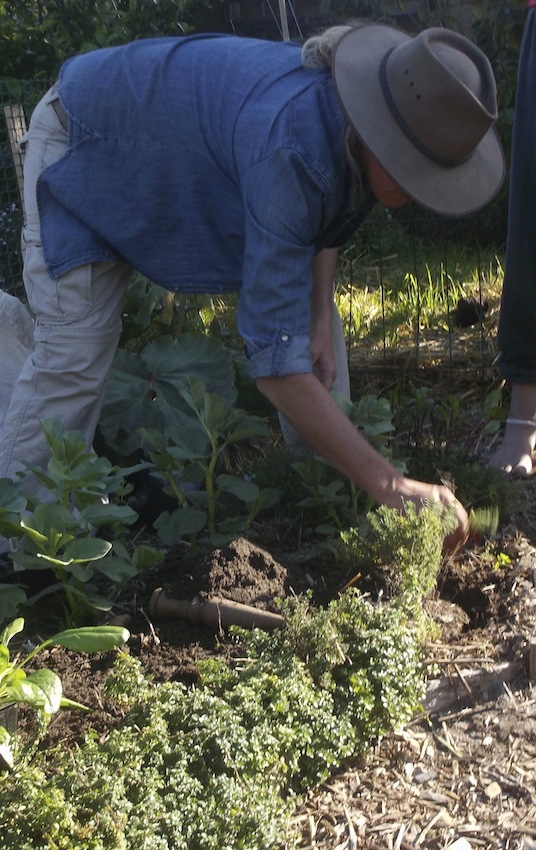 the permaculturist Karen Parkin. She has grown organic food for two decades.
A further consideration when companion planting in a permaculture garden is the balancing of the elements earth, fire, water and air. You would need to research on which plants embody which elements. Chilis obviously are fire, as an example.
I will discuss other concepts taught at the workshop such as plant antagonism, and the wild world web, (an in house nickname for the mycelial network) the geoderm, and soil regeneration, dealing with pests the organic way, and planning and planting out a permaculture garden under these in text links.

---
------
home page for more useful information on waterwise and eco friendly gardening and green living
------
vegetable gardening the natural low cost way
------

gardening and where it all started
------
link to the next companion workshop page on permaculture principles antagonism and beneficial plants
Restore Nature Newsletter 
I've been writing for four years now and I would love to hear from you
Please let me know if you have any questions, comments or stories to share on gardening, permaculture, regenerative agriculture, food forests, natural gardening, do nothing gardening, observations about pests and diseases, foraging, dealing with and using weeds constructively, composting and going offgrid.