A visit to one of the oldest South African vineyards, Buitenverwachting 
My partner and I visited one of the oldest South African vineyards, Buitenverwachting, on the 3rd of March 2016 . We took a drive to the wooded suburb and old wine region of Constantia, so that we could enjoy the experience of buying wine at the cellar door. The intention was that we would have a story to tell to the recipients of the gift of wine.

They have offered  help with foundational hurdles coming soon in our lives, giving free accommodation while we develop new careers. Without relatives who assisted in this way, we'd struggle more with the big life changes. I am enormously grateful for these support networks.

Below I'd like to describe what I can of the tasting experience. But on the road trip I photographed some visual stories that I discuss elsewhere, because I think the issues worthy of separate discussion. After describing the wine tasting, I'd like to take a quick verbal stroll around the grounds of the wine estate looking for green and leafy eye candy, then I'd like to return to the subject of flowers in bloom in the city at this season, in which pink shades seem to dominate, and I'm in 'think pink' mode for a late summer garden. 
Then I'd like to talk about the natural 'indigenous' roofs at Buitenverwachting, the history of the area, and move on to what the journey along our highways prompts, thoughts about the wasted space in road reserves.

We considered sitting outside in the green gardens of this venerable South African vineyard, where many people were enjoying the lovely weather, and as I notice such things, most of those in the garden were women. But we fell for the cool coffee shop, starting with a cappuccino each, while we chose a meal, and then decided on carrot cake. The large portion of carrot cake was particularly succulent. The icing tasted of real butter, the substance of the cake was fruity, as carrot cake goes it was exceptional, and the presentation of the coffee was as pretty as a picture and I had to take one !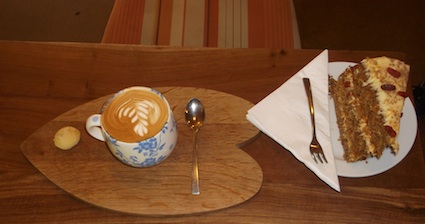 A centuries old wine style from South African vineyards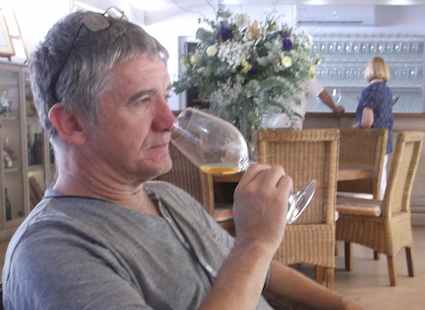 a remarkable nose
We headed into the tasting room and I think, having started on such a fruity sweet note, with orange peel flavored buttery carrot cake, I was exceedingly receptive to the 2013 noble late harvest 1769 Muscat de Frontignan. It too has a strong preserved citrus aroma with light barrel fermentation integrating well into the fruity backbone that persists all the way through to the last lingering hints of warmth. 
Winemakers in Constantia have been producing fortified wine and exporting it to Europe for centuries. As alluded to in the name 1769, which may be the age of the Estate. I will clarify this in the page on the region's history. The general information on cellaring of 1769 can be found under the 2011 vintage. As 2013 was a noble year the winemaker may have made adjustments.

In the tasting room was a huge arrangement of flowers, so lovely, so bridal in appearance, I was surprised to find they were real. Which reminds me that I must post a picture of the lovely flower arrangement at Irma Stern Museum. So I'll just pop it in here, out of context, as a contrast. All in all I had a very satisfying day, a day to remember, exploring our South African vineyards.
---
------
home page for links on home gardening and resource conservation
------
gardens an overview with many useful links 
------
------
vegetable gardening the natural low cost way
Restore Nature Newsletter 
I've been writing for four years now and I would love to hear from you
Please let me know if you have any questions, comments or stories to share on gardening, permaculture, regenerative agriculture, food forests, natural gardening, do nothing gardening, observations about pests and diseases, foraging, dealing with and using weeds constructively, composting and going offgrid.