backyard garden design 
There are a few things I've done in my backyard garden design, and I see others doing also, which can be avoided, or should be considered if you want a more interesting or effective design.
 

backyard garden design: Learning curves… and straight lines 
Try to avoid rigid design ideas. The most common backyard garden design layout in my area, is the square within a square or some variation on the straight sided four sided form. This is potentially a stunning minimalist idea, but most do not make much of it. The two squares are one

 within the other, the outermost is the boundary wall, and innermost the edge of a lawn, which is absolutely parallel to the wall, and the margin between is the same all the way around, and it is just too narrow. The effect is conceptually transparent (put lawn down and a narrow strip of 'bedding' stuff round the wall ), and not the eye candy you'd want in a backyard garden design you've worked so hard at. I'm sorry to be so straightforward.   
rigid horticultural practice in backyard garden design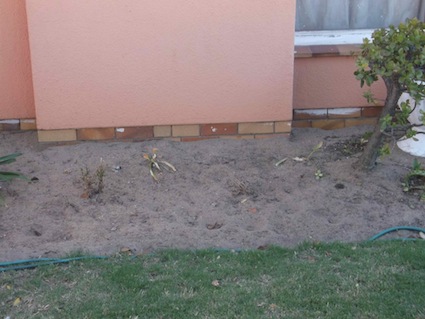 a very typical garden in my neighbourhood: no garden design to start with, lots of futile work for this ?
Not only is this backyard garden design rigid, but its accompanied most often by gardening practice which is the antithesis of greenness, and is dictated by the square in square backyard garden design. The middle square is planted with overwatered and expensively tended lawn, the outer languishes in suffering desertification. The margin between the lawn and the wall is kept weed free by raking and weeding and the earth is always denuded, never 
mulched. The plants are planted far apart so that raking is easy, but they then cannot form a low canopy to make a protective microclimate. The consequence is blazing heat on the soil around the plants, loss of moisture, loss of nutrients, and stunted poorly looking plants suffering in a plant prison. It is the rigid backyard garden design which sends the garden in a bad direction, not the gardeners, who generally spend a lot of effort on these gardens. The lawn gets all the care, and I think with an adjustment of the energy input into the whole garden, you will get a more balanced situation. I must mention that a lawn does need a lot of care, so the lawn is watered, with our drinking water, in this desert region, with sprinklers. It must also be fertilized and weed killered and these find their way into our precious aquifers. However, an even deeper green in a garden carpet can be achieved by planting the square with a creeping miniature succulent, Dorotheanthus mazoo, Candy Apple Red, related to Bokbaai Veygies. It grows fast, and will neither need to be watered, mowed, fertilized or weed-killered. Water wise gardening lore is dead against lawns and pro ground cover, because of all these practices which are not environmentally friendly.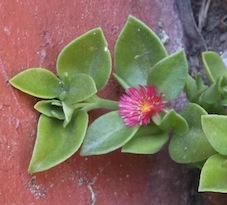 the sumptuous green carpet of dorotheanthus, a perfect lawn replacement unless you play ball sports. requires no water, fertilizer or mowing, but thrives on neglect.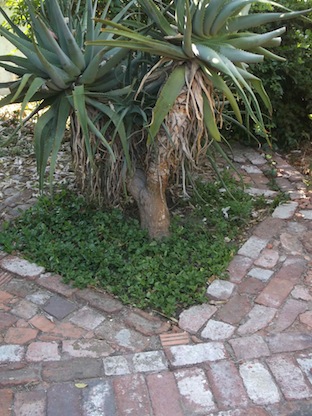 dorotheanhus mazoo in a diamond
how to start again
MY SUGGESTIONS FOR AN ESCAPE ROUTE FOR YOURSELF, AND YOUR PLANTS, IF YOU'RE LANDED WITH the rigid square in a square GARDEN
Replace your lawn with indigenous ground cover, traversed by some stepping stones which lead out of sight behind some bushes, the garden does not all have to be visible at one glance, its not stimulating to the imagination. Redraw the outline of your square within a square, with the flat green square much smaller, and perhaps offset at an angle against the surrounding walls. Plant your plants in the flower beds much closer together, and have plants of different heights and sizes and shapes. Mulch your beds and stop raking. Don't weed unless you have plants to replace the weeds, so that you do not have large expanses of naked earth between your plants (a tip given me by a wise old lady who was a radical indigenous gardener in her day, Colleen Weller). Plant at the start of the rainy season, and if this is impossible, plant up a little at a time, so that one watering can of stood water daily suffices to keep the small plants alive till they 'take' and no longer need your help. Throw away your rake, weed killer, fertilizer, sprinkler, irrigation system and mower, and just enjoy that lounge chair as you watch your garden turn green in colour and metaphor. Enjoy the knowledge you're contributing to the greater good or… try the radical grey walls approach … see link at the bottom of the page
I was originally inspired by Kirstenbosch, and their ideas do also work in backyard garden design. Their nursery women have a lot of information on waterwise gardening and 
choosing plants that have low water requirements. Below you will see a picture of the waterwise garden at Kirstenbosch, and that a xeriscape or waterwise garden, does not have to look arid at all. These plants just do not need a lot of water, they are indigenous and used to our climate, because they have been adjusting since the continents split up. Tomorrow I report on a nursery which offers the cheapest indigenous plants I've ever seen on the market. 

----------
----------
----------
----------
 gardener's supply, Fynbos and Worm fertilizer products.

----------
the radical grey walls approach
---------
Restore Nature Newsletter 
I've been writing for four years now and I would love to hear from you
Please let me know if you have any questions, comments or stories to share on gardening, permaculture, regenerative agriculture, food forests, natural gardening, do nothing gardening, observations about pests and diseases, foraging, dealing with and using weeds constructively, composting and going offgrid.