African food, and botanical heritage
The wild foods of the Cape are truly African food, but our climate is rare, ocean bound, fickle but mild, except for blistering summers
What is different about our local version of African food ?
When thinking of African food, our local type of cuisine and climate may not come to mind. Perhaps we are most similar to north Africa in these respects. However, cooking with Fynbos, or the specialized winter rainfall plants of the Cape Floral Kingdom, is as as ancient as mankind itself. 

Most of the 500 useful plants are unknown to many people living in the area. Many of the plants are aromatic, and we have a plethora of herbs and spices, but few starchy foods such as grains or quick growing tubers. Nonetheless this biome sustained human beings for longer than any other place on earth.

Hearing a connoisseuse and chef making African food with African ingredients
Recently, on Tuesday the 17th of May 2016, I went to a talk by Loubie Rusch which was exceptionally interesting and inspiring, and opened the door on this hidden landscape of indigenous knowledge. Loubie Rusch is a gourmet and culinary inventor, a landscape designer turned activist for indigenous foods, who has experimented extensively with their use, helping to plant several wild food gardens on the Cape Flats. She can be found on the facebook page Making KOS.
An Update:
Much later in March 2018, I went to help Loubie move her indigenous garden at Khayalitsha, Moya we Khaya, home to her place where she will have an educational food garden registered with the slow food network. I was to meet another chef there who uses indigenous plants in her cooking, Abigail the vivacious chef and owner of a restaurant close by called 4Roomed Ekasi culture. Abigail told me that she pickles a lot of the indigenous vegetables like dune spinach. It makes total sense. They make a beautiful vinegar pickle and I'm definitely going to try kraut. At the workshop I sampled some Sandkool heads in brine which were exquisite.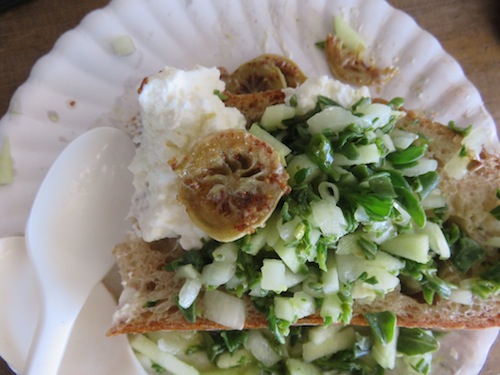 Food at Moyo we Khaya, left to right: a cheese made from Maas, a traditional soured milk, sections of pickled sour fig fruit (also exquisite) and mixed salad with indigenous leaf veg on sourdough.
delicious new ideas with African food
Loubie's harissa sauce was the finest I've ever bought, with perfectly roasted ingredients, and her Num Num jams and chutneys are out of this world. 

The Num Num fruit I know as excellent with vanilla icecream, more dramatically attractive than strawberries, as it stains the icecream with intense pink streaks, and is fuller and more complex in taste, the tart toungue prickling fruity flavour is balanced by and integrates with the rich creamy blandness of the ice-cream. Beware: Once you've had Numnums in icecream you may never enjoy strawberries again.

Some more background
Loubie's talk in 2016 was mind expanding. I felt especially inspired now, looking back, for its application to the project I'm working on. The project supplies a vehicle for taking permaculture to the next level of eco sensitivity and water conservation with indigenous plants, in the form of vegetable gardens, indigenous food forests and herbs that tell a story of the beautiful heritage of many young people living here.

Much of what I'm writing expresses my views and when I quote Loubie Rusch at certain points I will do so explicitly. Loubie's talk was fascinatingly detailed, embellished by beautiful photographs Her visual training is evident, from architecture to long term work as a landscape gardener, which adds to the artistry and professionalism of her delivery. 

After promoting indigenous plants for many years, she started bottling food products using a mix of indigenous and other ingredients to illustrate the potential of local plants.
Loubie doesn't say so, but she must have risked her life on numerous occasions tasting the roadside weeds and veld plants of Cape Town. In the dry Cape summers a plant that is edible in one locality may be toxic in another, depending on the sun exposure and desiccation it has experienced, and the consequent concentrations of alkaloids and other plant poisons which are by products of photosynthesis in stressed plants. The danger is reduced by learning from those who know, and helped  by a rich folklore coming from the descendants of the historic Khoekhoe inhabitants of the Cape by word of mouth.
One would one of the most floristically diverse area of the world, the Cape, to furnish a cornucopia of uniquely African food specialties. Indeed, the intensity of plant use and the diversity of culinary methods are evidenced in the Khoekhoegowab lexicon (one of the indigenous languages of the Cape region) today. Some of the food folklore passed into the Afrikaans language, and some on to the settlers. Names of plants reveal their use, such as soutslaai (salt lettuce), dune spinach and besembos (broom bush). It was a beautiful revelation to see just how many plants can be enjoyed and have flavors so fine, they now delight gourmets in at least three restaurants in the region, as they have thousands of people for centuries. The supply of gourmet restaurants with rare, and pricier foods should be a good way of making income as a vegetable farmer.
Unfortunately with our local African food, it is often not the rightful inheritors of this folk knowledge who get to benefit financially from it. For example the right to produce certain rooibos products was bought by someone who is not even a citizen of this country, let alone of the right 'ethnicity'. Rights to cultivation and breeding of certain Proteas as cut flowers have been bought by horticultural enterprises around the world. The profits from decorative cultivars of Pelargoniums were taken by the Dutch, and perfume producing Pelargoniums by the French hundreds of years ago, by default from developing and cultivating the plant material. Licensing, compensation and legal frameworks for working with Cape plant material need urgent revision.
Local people with indigenous heritage may often not be developing things like perfume distilleries, even if they can see the potential, as a result of their lack of capital.
There is also the issue of sustainability. Loubie is very careful not to promote the exploitation of plants which cannot be sustainably harvested, like the incredibly slow growing underground roots of plants. This African food source was enjoyed by the people of the Cape before colonization, but it was for personal use. Today the trade is so large it endangers the plants by extensive harvesting.
On the other hand exploitation of our botanical heritage for traditional and new African food specialities, spice, teas, perfume, medicines and beauty products and the consequent creation of income (if it flows to the Cape and not elsewhere), is opened up by experimentation and new industries. But harvesting must be done sustainably, and cultivation of the harvested species is key. What Loubie is doing to encourage cultivation of food plants before major harvesting even starts is revolutionary. It is a better model for the medicinal trade. 

------
home page for useful links to eco wise gardening and living
------
gardening and where it all began
-------
------
vegetable gardening the natural low cost way
------

growing dune spinach, related to New Zealand spinach but more delicious
------
foraging in the Fynbos for green veggies
------
food from nature, dangers and delights
------
local wild berries and edible seeds
------
Loubie Rusch's facebook page Making KOS
------
growing native plants from seed
Restore Nature Newsletter 
I've been writing for four years now and I would love to hear from you
Please let me know if you have any questions, comments or stories to share on gardening, permaculture, regenerative agriculture, food forests, natural gardening, do nothing gardening, observations about pests and diseases, foraging, dealing with and using weeds constructively, composting and going offgrid.