Food from nature:
foraging in the African environment of the
Cape Floral Kingdom
Gathering food from nature, or foraging in this part of Africa from the Fynbos, or Cape Floral Kingdom, goes back half a million years, and the custodians of most of this 

knowledge are the descendants of Khoesan people. In mid May I had a wonderful opportunity to listen to a a talk by Loubie Rusch. She is a landscape gardener turned activist for indigenous foods, who has experimented (bravely might I add) with the use of veld food in creative new ways and has helped establish a number of wild food gardens on the Cape Flats.

eating food from nature does not come naturally to us anymore
 Loubie Rusch can be found on the facebook page Making KOS.

Sadly the knowledge of the utility of indigenous food from nature is not widely available, and the plants are not cultivated as crop plants, or for purchase in nurseries or markets, and most people would not be able to identify them. Foraging in South Africa where gathering is literally as old as the hills has become a risky business because of lack of knowledge. We therefore need to re-educate ourselves to enjoy the beautiful and bountiful natural pantry around us with all its nutritional and culinary possibilities.

taking food from nature a step further
To find out what plant food from nature is edible we have to refer to oral tradition and plant lore, or risk our lives. Loubie Rusch has been doing this indeed, eating plants that are not known to be edible, and experimenting with the extension of the indigenous knowledge of useable plants, cooking them in new and exciting ways.

The means for accessing these plants has to be re-discovered. Availability, safety and eco sensitivity become important.
safety first !
Loubie suggests that to gather food from nature and know what plants are safe you need to do your homework and practice identification with people experienced at using the plants. In general Milky sap or latex is a bad sign, and this is supported in the following resources.

SANBI (South African National Botanical Institute) has lots of information to help identify edible plants and Loubie has some information on her page Making KOS on facebook. Loubie states that there are lots of poisonous plants for example most of the Moreas are deadly, as are many Apiacaea. Mustard family are usually edible globally.

The following websites have tips on indigenous food and foraging and determining what is safe to eat.

 Indigenous food
http://africageographic.com/blog/12-edible-indigenous-south-african-plants/
 http://www.nda.agric.za/docs/Brochures/Indigfoodcrps.pdf
 poison test
 http://www.africanxmag.com/bush_food.htm
 general advice on self education
 http://www.foodandthefabulous.com/featured-articles/food-foraging-south-africa/
where to see and taste our wild food in the cape
The above website mentions people you can google and approach to learn about harvesting food from nature, like Charles Stander, Urban Hunter Gatherer, or visit the van Solms Delta food garden to learn to recognize the plants. Also, to see some of the plants growing in other gardens, arrange a visit to the Cape wild food garden at Khayalitsha, one of the Abalimi community gardens in the New Way / Spine road triangle. There are many people in Cape Town who have knowledge of traditional plant use, such as home cooks and street herbalists, but with a few exceptions such as the herbalists in this documentary, they are not accessible via the internet. 
To taste our Fynbos food from nature you can visit the van Solms winery, and try them at the restaurant if you can afford it. 
Likewise you can visit Kobus van der Merwe's restaurant Oep ve Koep in Paternoster. For Loubie's food made with indigenous edibles you can participate in her Wild Food Walks where she serves tasters as part of the experience and where she sells small quantities of bottled produce und the label Making KOS. 

ecological precautions
 It is not legal to  just forage in the wild anywhere, and there is no permit system in place for collecting wild plant foods such as that for collecting fish, shellfish and seaweed. It has to be done within the city limits or on land owned by someone who has given you permission, but never in 
conservation or protected areas. And you need to harvest sustainably. Harvest only small quantities from any one plant and never compromise the plant's capacity to propagate itself. Never harvest underground parts and never take the whole bush or many bushes in an area. Remember that animals and birds rely on wild plants for their survival.

where one can buy the plants
All the following are available at nurseries:
For the fruits and seeds, there is more information under edible indigenous berries and seeds.

Dipogon lignosis (unripe seeds) Goodhope Nursery.

Carissa macrocarpa or bispinosa (Num-num, also known as Amatungulu) (fruit)

Dovyalis caffrum (Kei apple) (fruit)

Searsia crenata (crowberries or kraaibessies) (fruit)

Rhus laevigata, or lucida or glauca (berries)
Acacia karoo (soetdoring) (immature seeds) 
The following plants are also available for sale at nurseries, but have other uses:

Used sparingly to perfume food

Salvea african-lutea (bruinsalie) and Salvea africana-caerulea (bloublomsalie) have green flower heads in spring which become too intense in summer. Use as a herb in butter and on pasta. 
Eriocephalus africanus (wilde roosmaryn, kapokbos) can be used as a substitute for rosemary in roasts and roasted veggies. First taste as it can be very bitter. If you have harvested a very bitter sample, just place it in the oven for a while and use it to perfume the oven before roasting.

Agathosma betulina (boechoe) adds high notes to any flavour and perfume mix. Use it in lemonades, tea and to flavour anything that needs a high note.

To make tea:

Cyclopia sp. (honeybush, heuningtee) is widely used for tea already, but can be used for flavoring fruit syrups. The sticks are used and they have a wonderful honeyed perfume.

Aspalathus linearis is the famous rooibos plant, from which teas are made and marketed worldwide.

A medicinal plant that can be prepared with syrup:

Aloe sp. Bitter aloe has yellow juice used for medicinal purposes. Peel the leaves and set them in syrup. They make a gel. To maintain the shape of the chunks, put them in after the sugar is cooked.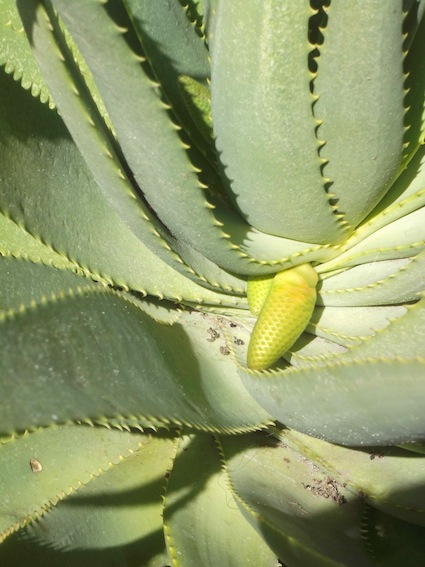 I hope this small glimpse of the nutritional and culinary bounty surrounding us in the Cape Fynbos has inspired you to help with the promotion and cultivation of these plants widely, and to do so bearing in mind the knowledge of traditional use of these plants belongs to the descendants of the indigenous people of the Cape.

These side-plate sized mushrooms have been coming up in our garden for years with the first rains. Stephan enjoys them, we've dried and preserved them, but they make me nauseous. He has stopped harvesting them as they look 
similar to a poisonous mushroom. But their mycorrhiza are good for nutrient sharing between plants and a sign of a thriving garden ecosystem. (Update: After further research we both have started eating them again and even I don't feel any kind of sickness anymore after a delicious mushroom meal) 

------
home page for useful links and information on eco wise gardening
------
vegetable gardening the natural low cost way
------
------
foraging in the Fynbos for greens
------
African vegetables from the veld
------
local wild berries and edible seeds
------
some edible some not, dune stabilizing plants
Restore Nature Newsletter 
I've been writing for four years now and I would love to hear from you
Please let me know if you have any questions, comments or stories to share on gardening, permaculture, regenerative agriculture, food forests, natural gardening, do nothing gardening, observations about pests and diseases, foraging, dealing with and using weeds constructively, composting and going offgrid.