consumer education from Zero Waste Africa:  purchasing guidelines
before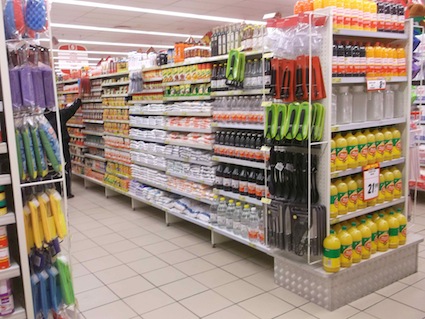 after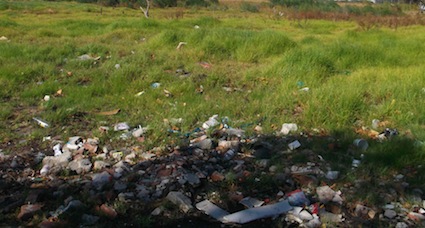 the goal of consumer education 
The aim of the Zero Waste purchasing guidelines is consumer education, so that by changing what goes into shopping baskets, we put pressure on producers to design the negatives out of our purchases, and to design in a more eco sensitive and eco-mimetic way to eliminate waste, and if there must be waste for it to be re-useable as a resource in a sustainable way. 

consumer education is power
Consumer pressure really works. I have discussed previously how one of the greenest industries in South 

Africa is the hospitality industry. People in the industry openly say it is consumer pressure that forces them to be green. The customers are demanding and often come from countries where there is a huge waste problem, due to their massive levels of consumption, as well as a higher level of environmental education.

what the guide offers  
The Zero Waste purchasing guidelines steer the buyer away from products with an endpoint in the waste bin, and thus in incineration or landfills, and away from plastic, toxic chemicals and electricity and water wasting processes. The guidelines will help you exclude and find replacements for the offensive products. The summary I have made is only a fraction of the information in the original guide, massively simplified. Its best to look it up.

packaging priorities:

the best at the top, and the worst at the bottom
The best is to buy loose goods and bring your own containers or bags
prioritize bulk packaging
buy in paper or glass, depending on the product
avoid plastic
avoid items individually wrapped in packaging, such as take aways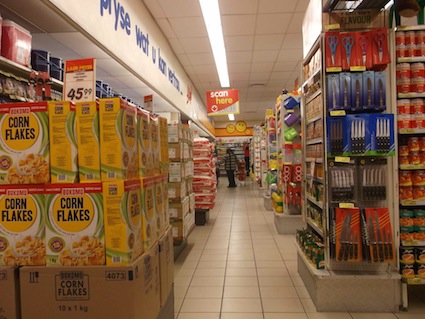 sorry, no prize for spotting packaging excess 
elaboration
Cloth shopping bags are best, and these undyed and unbleached, both processes are heavy water polutants.
Try and buy where you can get what you need without packaging.
If not that, buy where the packaging can be returned or reused.
Can the product be re-used, recycled, or disposed of safely (though disposing of it is a sign of failure of the system)
Look at the percentage of the packaging which is recyclable, post consumer, that is, what percentage goes from you to a recycler.
Buy bulk packaging rather than singly packed pieces to minimize packaging. The negative example is take away food with its excess little packets of salt and sauces, plastic spoons and individual packaging.
Buy glass if you can, rather than plastic. it is relatively inert (non toxic) and easy to reuse at home.
Buy in paper rather than plastic. At least it is recyclable and biodegradable.
Is the product's production energy intensive (all Aluminium products are)
Plastic is the worst type of packaging. Some kinds are toxic to humans, and the type of plastic is often not specified on the product. There are so many kinds that to recycle we would need 27 different bins, and for most kinds there are no recyclers in the country, so its going to the landfill mostly where its toxins leach into groundwater.
read labels on processed food 
Is the product adequately labelled, as to the ingredients, including whether these are genetically modified.

Find out if the product or packaging contains chemicals or toxins, or doubtfull substances. There are over 700,000 chemicals in production and there is little safety information except on a few thousand of these. Find out if a particular chemical or packaging is biodegradable and how, and what the byproducts of decomposition are.
Determine what percentage of the purchase is actually the product you want, for example if it is mostly water you are saving packaging by buying a concentrate.
Can the disposable portion be replaced or excluded
Does it use a lot of water (all bleaching and dying does)
assess products your children will come into contact with
Children and babies in the womb are especially vulnerable to environmental toxins, because of their rapid development. There will be more about this in a future article on the toxicity problem of plastic.

zero waste africa furthering consumer education and research
Zero waste Africa aims to further consumer education on waste, to support the complete elimination of all waste, to promote and fund research on waste for the public good, 
and promote sustainable resource management in accordance with the best environmental options.
The link to the original text of the Zero Waste consumer guidelines is below, and I think  its important to see its full wording and explanations, which I'm not able to quote here.
---
home page for green inspirations
waste introduction page, and links to pages on the waste issue
more about the types of plastic, and recyclability
Zero Waste Consumer Guidelines text
Restore Nature Newsletter 
I've been writing for four years now and I would love to hear from you
Please let me know if you have any questions, comments or stories to share on gardening, permaculture, regenerative agriculture, food forests, natural gardening, do nothing gardening, observations about pests and diseases, foraging, dealing with and using weeds constructively, composting and going offgrid.