April 2016 winner of the


nobin prize




is the



the rubbish diet
(website)
for their creativity and activism


and contribution to no-bin-ism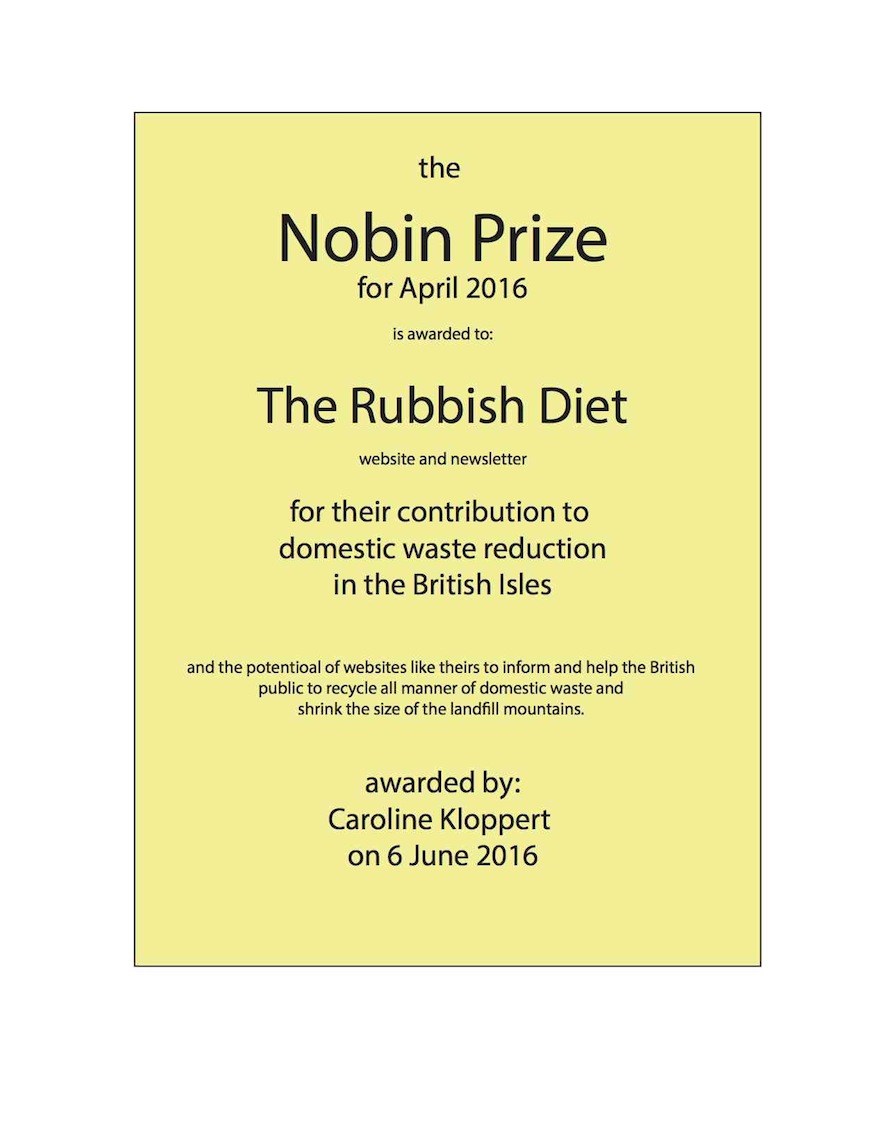 The Rubbish Diet website is one of the most creative activist websites promoting domestic waste reduction. With no bin waste as goal, the 'slimming club for bins' is a brilliant idea that serves ordinary people at their place of don't need anymore, so to speak, and serves millions. One can take up the challenge at any time and any level.
The Rubbish diet is everywhere
Karen Cannard, writer and creator of the website, describes being a recycling "geek" as the best job in the world. I think I understand. My experience totally agrees with this. Its been only 3 months in this new self created 'career' for me and I can say nothing else has ever been so fulfilling, though teaching children to read came close.
Karen Cannard in her capacity as "Rubbish Diet" journalist and content creator, and as an invited guest, regularly attends green presentations, conventions and conferences, recycling plants and other even more fascinating places. She's been invited behind the scenes at the 'Coronation Street' studios at Media City to review the show's sustainability status, and wrote a lovely article on that experience. Her writing is excellent, refreshing and should be emulated if one can, or at least reached towards with trembling hands.
The trajectory of development of the website and concepts, the formation of working teams and everything that is involved, gives me, not something to imitate, but just such incredible inspiration, a burst of my god she actually pulled off this wonderful project sort of inspiration. Well done Karen Cannard, I congratulate you on winning the Nobin Prize ! and thank you for being you, for all the problems you solve in the everyday, and for the inspiration you provide. I hope you will accept this humble award, this offering of acknowledgment of the great thing you have done. You are not just a writer, you're an entrepreneur, a teacher, even a guru, and you do it with such a light heart.

no-bin-ism
Striving to produce no bin waste is something we have to do. From the day I saw the mountain at Vissershok, north of the other famous mountain, Table Mountain, South Africa, and as I smelt the wind coming off it and watched the romantic spirals of seagulls circling above, I knew the seriousness and urgency of this task. I had a lot of time to contemplate, I was stuck in a queue of garbage trucks that took several hours to relieve themselves of their load. Cleaning up is an urgent task, even in South Africa where consumption per capita is nothing like that in some other countries. We can LEAST afford contamination of our rivers and aquifers with the toxic runoff that poorly sorted rubbish will inflict on the environment, from biological stuff to battery acids, old medication and factory waste. Its easy to do at home, actually. Websites like The Rubbish Diet make the learning process a lot of fun !
I've been practicing for 20 years and it doesn't make a lot of work, and I'm at the no bin stage now, or I would be if people didn't keep throwing their rubbish into my front garden as they walk down the street. If I just catch them they will find out how well I teach and pay me back for ruining my Nobin status. I will force them to attend my workshops on environmentalism and make their schools pay me as a guest speaker, but I've a feeling they are young and fleet of foot, and negotiations will never begin.
---
------
home page for more green ideas
------
The Rubbish Diet website, highly recommended
------
Restore Nature Newsletter 
I've been writing for four years now and I would love to hear from you
Please let me know if you have any questions, comments or stories to share on gardening, permaculture, regenerative agriculture, food forests, natural gardening, do nothing gardening, observations about pests and diseases, foraging, dealing with and using weeds constructively, composting and going offgrid.