Pond building album one
In this, my pond building album one, you can see pictures of how we built the pond, starting with an idea from my talented gardener sister, some notions about man made ecosystems in my head and a hole in the ground.

| | |
| --- | --- |
| My canvas was a hole in the ground and a circular brick wall around it, from our previous pond system | My husband's skill at fish breeding, producing living jewels, makes creating a good canvas worthwhile |
With some plans drawn, I started to build. The first step was to increase the height of the circular brick wall.

| | |
| --- | --- |
| so I built up the circular brick wall in the ground. It adds depth, water storage capacity, and stops dust | I plotted the pond dimensions and took them to a company who makes PVC liners for dams |
But the pond shell still needed a floor. With the help of some friends with a powerful skill sets, we  created a concrete floor, and were one step closer to a beautiful dream.
Our friend Marc Niehaus is a master builder and craftsman. To me it feels he can do anything he tries, and he loves to build aqua systems.
Every good fish pond must have a bottom drain. It removes the fish feces and the toxic products of anaerobic decomposition. It must go in first before pouring the concrete floor over it. Marc, with Stephan's help, built the bottom drain and it was left to set overnight.
Stephan carting stone and sand from street to garden.
We had ordered and taken delivery of 1 cube each of sand and stone and some bags of cement. On the day we intended pouring the floor, we hired a concrete mixer, and with some major help from Marc, and from our other friend, his son Ethan....we cast the bottom
| | |
| --- | --- |
| Ethan helped out with water duty | laying wire mesh, on the pond bottom |
mesh raised on small stones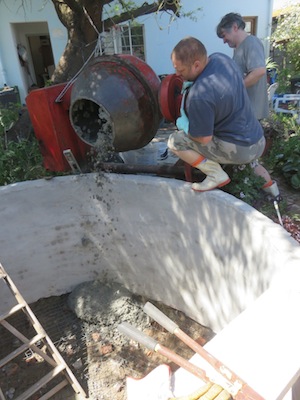 pouring out the wet concrete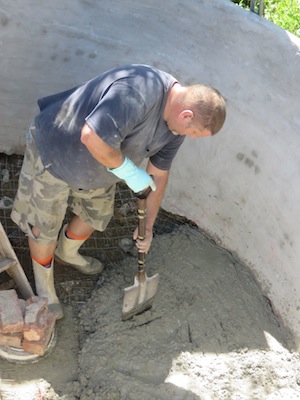 Marc flattens the wet concrete pile from the mixer.
| | |
| --- | --- |
| Marc checks floor depth | before moving the last pile |
Then the concrete was left to dry out for over a month, and after that with more help from Marc...we inserted the liner... see pond building album two
------
home page for tons of info on natural gardening
------
linking page with useful info on saving water
Restore Nature Newsletter 
I've been writing for four years now and I would love to hear from you
Please let me know if you have any questions, comments or stories to share on gardening, permaculture, regenerative agriculture, food forests, natural gardening, do nothing gardening, observations about pests and diseases, foraging, dealing with and using weeds constructively, composting and going offgrid.
Ask us ?
If you have any questions please let us know !