a small recycle business filling SERVICE DELIVERY gaps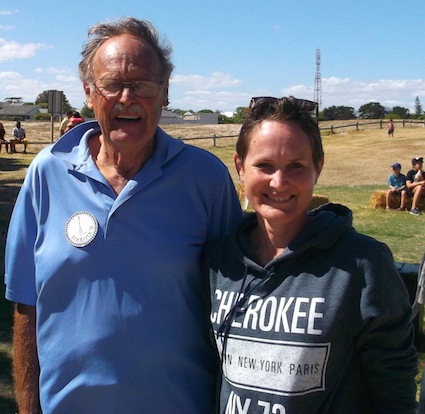 This is dave and tracey recycling in person  !
I recently learned of a recycle business run by two people, a father and daughter. This startup business inspired me. At the Tableview Urban farmer's Co gathering Dave was manning a table promoting the small scale recycling service operated by him and his daughter, D & T recycling.

They have many income streams. Dave helps his daughter with her businesses and Dave's daughter does all the printed material like fliers and cards for the recycling business, and I presume Dave does the collection and deliveries. Tracey is also an entrepreneur in children's entertainment, with a business renting jumping castles, and she also does photography and has a home studio.
Dave retired he decided to take on the challenge of starting a new business. He wanted to keep it moderately small for the time being, remain stable and reliable and grow slowly, and he chose the feel good, community oriented direction of a recycle business.

dave and tracey's recycle business
D&T recycling charges a mere R50 a month to pick up recyclable waste (plastic, paper etc.) and drop off bags once a week on a day chosen by the client. The waste is then sorted and fed through larger recycling channels, like the public Wasteplan bins, and it all sounds very personal and friendly.
contact details for D & T recycling (Dave and Tracey) :
Phone 083 4444123 (Tracey) and 083 774 829 (Dave), or email at tracey. bruton@gmail.com. 

I think a recycle business like D&T fills the gap between the consumer wanting to live green and large service providers like the city or WastePlan. I wrote about this on the page about WastePlan, as I saw it as a development opportunity for small scale recycling businesses. 
The city's shortfall, and the possible place of small recycle businesses
Regarding the city's services there is also a gap now. The lack of bulk facilities for the disposal of waste separated in the home such as the containers which used to be on street corners in Cape Town for glass and paper and plastic, is frustrating, except in areas where private waste companies like WastePlan operate.

It appears that green waste disposal services run by private people are slowly taking over in many areas of Cape Town, filling gaps not provided by the city, and this is something which could be emulated city wide, to create green entrepreneurship and green jobs.

is this a model for more green jobs ?
It seems relatively simple and sensible to collect and process in your area, as does Dave and Tracey's business, and one could even start off on foot or with a bicycle like some recyclers in Goodwood. There are areas in which people may not be able or prepared to pay to have green waste disposal, and there the entrepreneur has to make money out of the waste itself. 
even smaller scale recycling ?
I would like to get more information on how lucrative recycling is on a very small scale. It seems to be the default way of getting in money for people enduring bad times, who do not want to beg. This economy and political system in South Africa does not provide for the poor. Nonetheless, many people move door to door, or bin to bin with old trolleys taking the valuable material out of people's dustbins on the city's collection days. It must provide a reliable if somewhat meagre income for the destitute thousands in this city without another adequate income.  I want to discover ways that very meagre income could be taken up a notch in terms of earnings, and people like Dave, and service provision, are one of the solutions. I was delighted by a phone call from the Department of Environmental Affairs and Development Planning who have the same idea. They called me because they are working on their database of recyclers, with the aim in mind of developing green businesses in just this way. My phone number has been a contact number for organic recycling with worms for the past 15 years, so I was on their database.
The necessity of the recycle business like d&t recycling !
 As the TUFCO gathering organizer Yvandro Reynolds stressed to Dave, there is a great need for the service he provides. It sounds like a feel good, socially useful business, like vermi-composting.
------
home page for more links to green ideas
------
more facts and ideas on recycling
------
Restore Nature Newsletter 
I've been writing for four years now and I would love to hear from you
Please let me know if you have any questions, comments or stories to share on gardening, permaculture, regenerative agriculture, food forests, natural gardening, do nothing gardening, observations about pests and diseases, foraging, dealing with and using weeds constructively, composting and going offgrid.