Water storage buckets with taps (optional)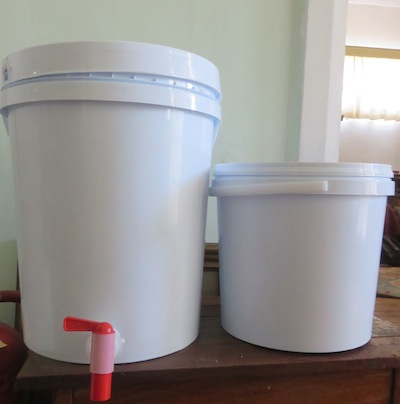 buckets with 20 mm taps
1 x 20 liter food grade bucket with lid and durable 20mm red tap                      R 195 each
 5 x 20 liter food grade bucket with lid and durable 20mm red tap                    R 180 each
10x 20 liter food grade bucket with lid and durable 20mm red tap                    R 160  each
 buckets with 15 mm taps
1 x 20 liter food grade bucket with lid and durable 15 mm brown tap                 R 165 each 
5 x 20 liter food grade bucket with lid and durable 15 mm brown tap                R 150 each
10x 20 liter food grade bucket with lid and durable 15 mm brown tap                R 130 each

 20 Liter buckets 
1 x 20 liter food grade bucket with lid                                                        R 95 each
5 x 20 liter food grade bucket with lid                                                        R 85 each 
10 x 20 liter food grade bucket with lid                                                      R 75 each

 LIGHT TOTE-FRIENDLY 10 Liter buckets 

1  x 10 liter food grade bucket with lid                                                        R75 each
5  x 10 liter food grade bucket with lid                                                        R65 each
10 x 10 liter food grade bucket with lid                                                       R55 each
Order while stocks last. Price depends on quantity
Please order for collection in  the Northern Suburbs (Goodwood) Stephan Kloppert @ Mobile or whatsapp: 0740978326 or landline 021 5918900.
or  Southern Suburbs (Southfield) Marc Niehaus @ Mobile or whatsapp: 072 1710856, or on facebook. 
or complete the C2 form below.
| | |
| --- | --- |
| 15mm brown tap, 20 L bucket | Tote-friendly 10 L bucket, 20 L with red 20mm tap and 20L with brown 15 mm tap |
Would you like to place an order or enquire about our products ?
If you need more information or would like to place an order, leave your contact details and we will get in touch with you. Please leave email and phone number if you live in the SADEC region. Most of our products only get shipped locally within South Africa, except the e products (books, videos and downloadables).
------
home page with lots of links to pages on natural gardening
------
earth love hyper green water saving products