Cucumber diseases:
identifying the devastating
and prolific cucumber fruit fly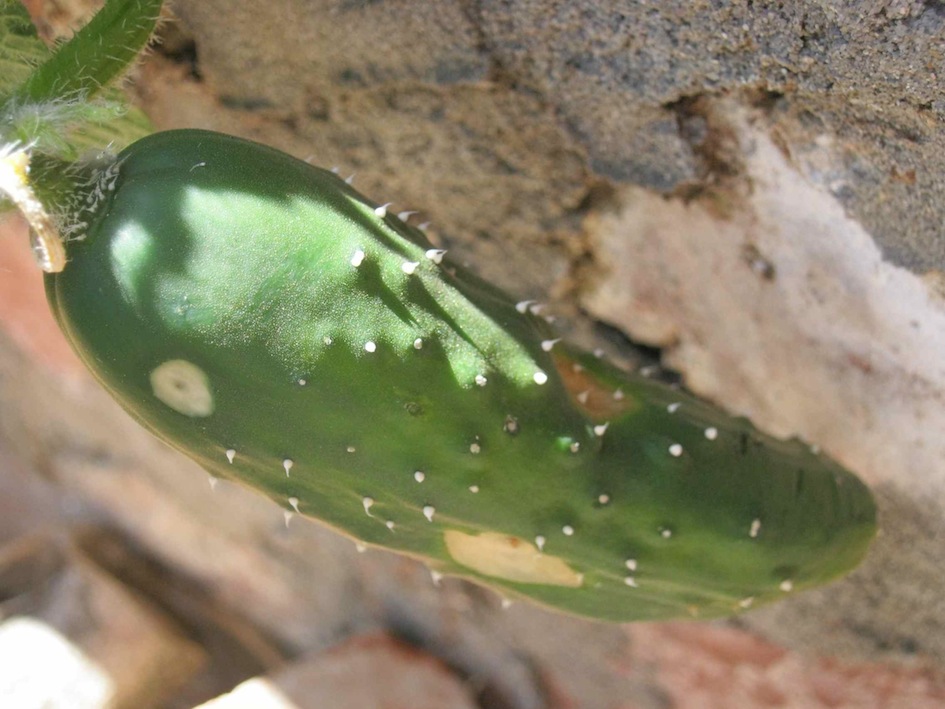 A warning sign of cucumber fruit fly, dry sting marks.
Just quickly before the article on cucumber d

iseases, I also develop and write about water systems, and I'm making


a special offer to all gardeners:
You can build a vegetable garden which needs no watering and recycles your grey water !

This is for all readers who would like to save water !
I built a grey water system which recycles water from the kitchen and grows lovely tomatoes and other vegetables. Should you want to buy the book which I have just published, that explains how the system was built, I am making a special offer. For one week only, from the 10th of September, the price will drop radically to one dollar ninety nine. I'm releasing the book at a lower cost to encourage potential readers to buy and review. We really need some reviews to get the word out and inform everyone. Your intelligent input will be a great help, and really appreciated. I put a lot of trouble into my writing (this  book took a year) and I read all my reviews and it will really help with future writing to know what you think.
Identifying insect pests which cause cucumber diseases
The worst of the cucumber diseases in my experience is the cucumber fruit fly. In this article I will describe the appearance of cucumber fruit fly damage, so that you know what you are dealing with and how to identify the culprit. At the bottom of the page is a link to another article which is about how to prevent fruit fly damage to your cucumbers quite naturally without any poisons.
To identify the disease, we ran through a number of cucumber diseases online, and we began by thinking it was a kind of blight or mildew, as the cucumbers appear to have a dry spot or two and then to discolor, go soft and shrivel.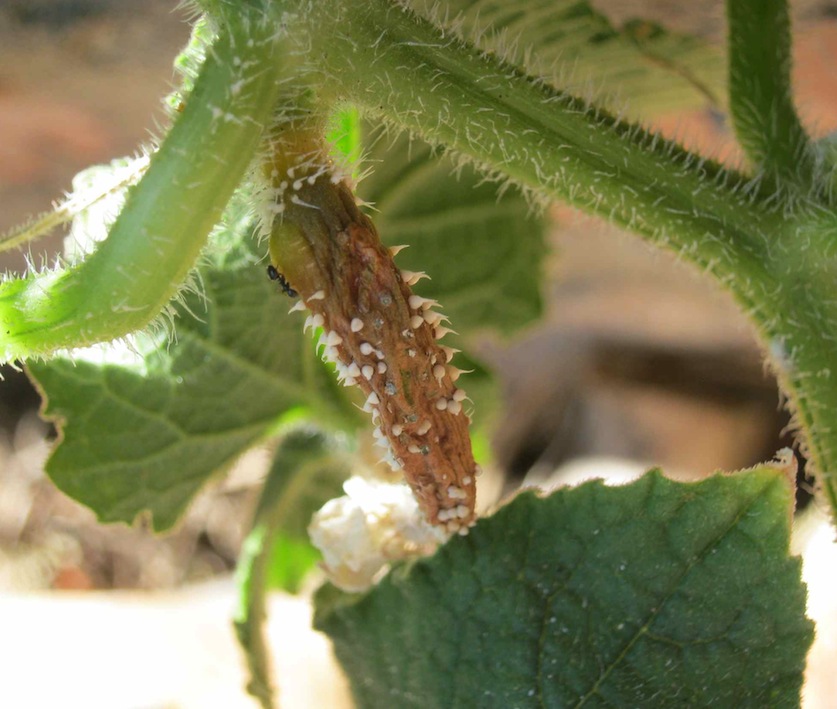 Tiny shriveled cucumbers are common, due to another cucumber disease.
However, after cutting one cucumber open we saw a maze of tunnels inside the fruit with some kind of larvae nestled in them. We thought about wasps and moths as causes for cucumber diseases and googled and came up with nothing. We found a narrow waisted waspish looking winged insect crawling on one leaf a day later and caught it.
We took the winged insect and some affected cucumbers to my mother. We sought my mother's advice as she loves insects. There was a wide choice of affected fruit, they all looked poorly. 
Feasting cucumber fruit fly larvae
My Mother is 86 and qualified with an MA in Entomology at the University of Cape Town in the 1950's, for which she studied the egg laying behavior of wasps on caterpillar larvae. She first suspected the use of a chemical marking device by the female wasp after laying her eggs, that stopped other wasps from laying their eggs in the same caterpillar. This was before pheromones had officially been discovered. She went on to be the beetle inspector for the British Merchant Marines in Simonstown in the days when the training yachts were built of solid teak. To this day she has a really observant eye and keen curiosity about the biology and behavior of all living things. So we gave her a try and had a fascinating afternoon. She may not have specialized in cucumber diseases but her trained eye was incredibly useful, even after all these years. Now you can breathe a sigh of relief. Bragging about my senior integrated pest management consultant is done, and we'll proceed with the findings.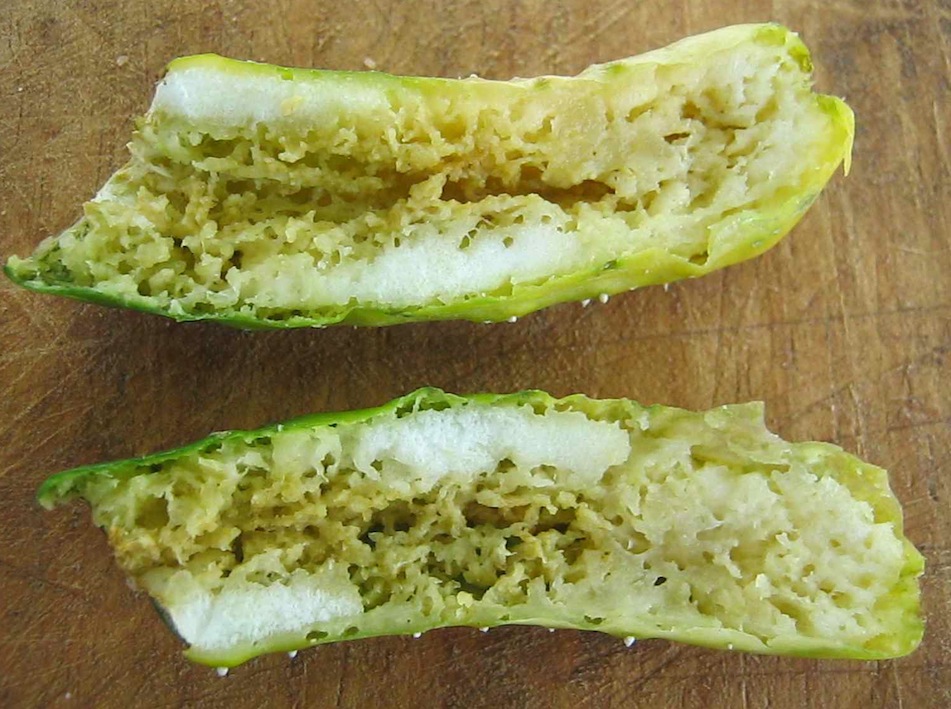 Fruit damage due to cucumber fruit fly larvae.
The grubs and fruit flies which cause cucumber disease
My mother pointed out that some of the grub like things, so small we had to look at them with magnifying lenses, were actually pupae. They were the same color and general shape as the grubs, which appears to distinguish them from some other suspects I'll mention below. 
The pupae had large bumps on the front showing the adult insect had very large eyes, and another area showing wing casing with a segmented body below. The small flying insect in the jar she immediately identified as not being a wasp but a fly, as it had only one pair of wings. We looked in a comprehensive textbook on local South African insect families and another on the insects harmful to food growing in general. We found nothing, not even an overlap between the books.
Eventually in frustration I googled cucumber fly and there came across the cucumber fruit fly, a very thin waisted fragile looking fly which an amateur like myself would mistake for a wasp (as can be seen in pictures you can access in the link below), and to make excuses for myself, it is a mere centimeter in length and I do need new glasses. The creature was not mentioned in either text book, but its scientific generic name is Bactrocera, and our fly may be Bactrocera cucumis, though there are many hundreds of Bactrocera species, and many genera of fruit flies and identification is very speculative at this stage. B. cucumis is one of the most infectious cucumber diseases and is such a problem that there are import controls which legislate on this little fly and the presence of its larvae in produce in many countries.
Possible cucumber pest ? a tiny 8mm fly
The small insect which was found on the cucumber leaf above, seemed at first to be a fruit fly, but it also seems unrelated to the larvae and pupae found in the cucumber itself. We put some affected cucumber in a bottle and many flies hatched out of it which looked different.

There very little resemblance between the flies which hatched out, shown below, and any of the major suspects such as Rhagoletis or Ceratisis species, or Bactrocera cucurbitae, cucumis and invadens or Dacus ciliatus.
My mother told me they use the fruit fly Drosophila for genetic experiments as its so genetically malleable, so perhaps this creates great regional diversity in small fruit flies in general and is a barrier to identification. The hatched flies may be a specialized cucurbit fruit fly like Bactrocera cucumis. As it is nearly impossible to identify the type of fruit fly with certainty, without referring to type specimens. I chose to go for general fruit fly control measures.  

In the next article I will outline the various ways proposed to control fruit flies,  and describe our experiments, including prevention by exclusion. We will cover other plant diseases as they arise in our experience, so as to deal with the common ones first and to help you find natural chemical free ways of ensuring a good crop.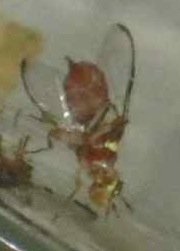 hatched from pupae after 2 weeks
home page for useful links on natural low cost gardening 
Vegetable gardening simple advice and experience on the road to successful vegetable growing 
the fruit fly life cycle and choosing control measures
Pictures of the cucumber fruit fly 
Restore Nature Newsletter 
I've been writing for four years now and I would love to hear from you
Please let me know if you have any questions, comments or stories to share on gardening, permaculture, regenerative agriculture, food forests, natural gardening, do nothing gardening, observations about pests and diseases, foraging, dealing with and using weeds constructively, composting and going offgrid.