Cape flora and fauna prints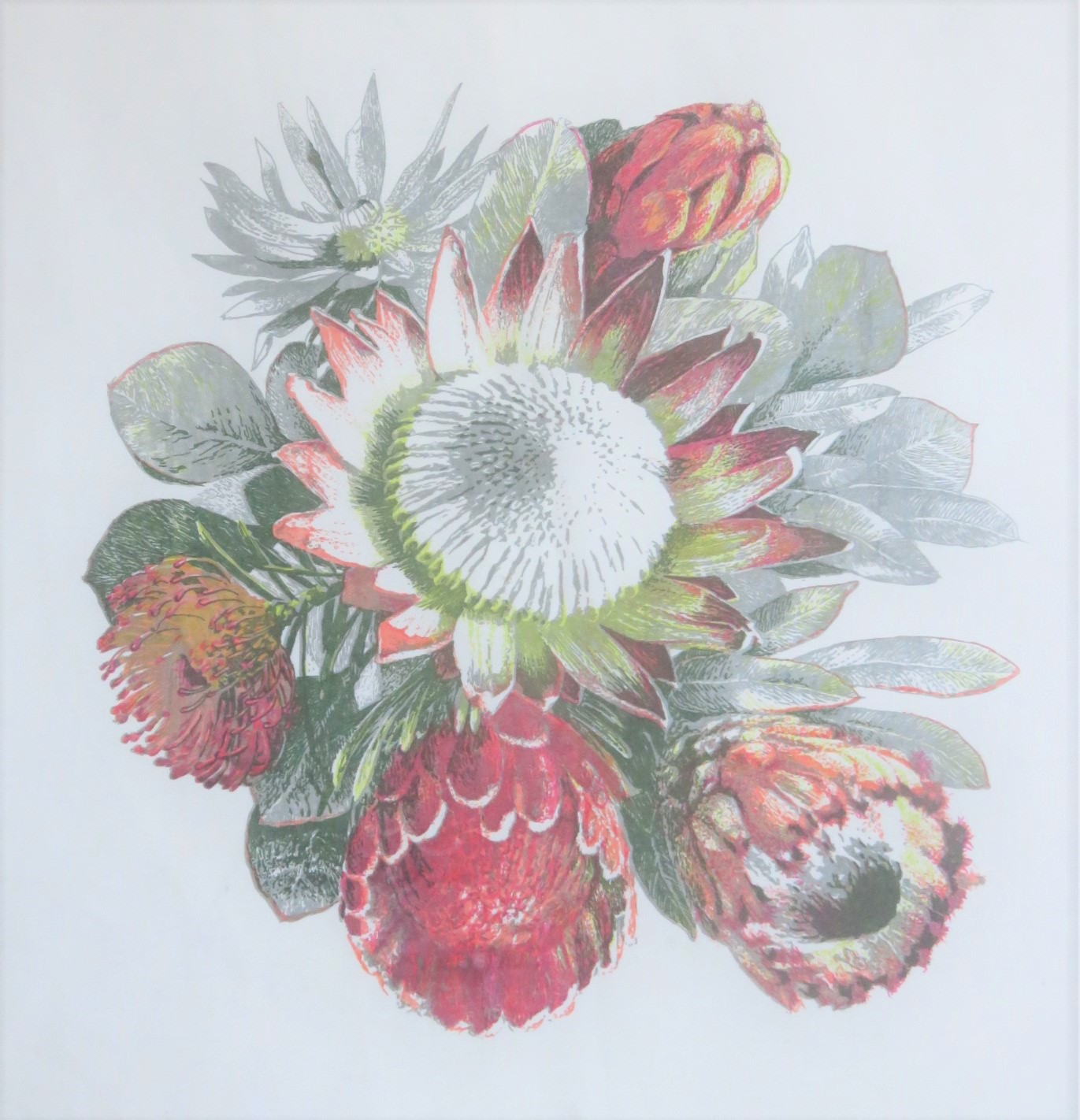 This picture of different proteas is a seven color print
Flora and fauna prints on fabrics are the hand made products we made in our craft studio at home for many years. This Christmas we're once again releasing our range of South African nature prints to celebrate our exquisite and exceptional native flora, and the African animals that have been part of Fynbos ecosystems for hundreds of thousands of years. Until Christmas we will be adding new designs for your enjoyment on a regular basis, and we hope to continue designing our eco-prints and adding new designs in 2020.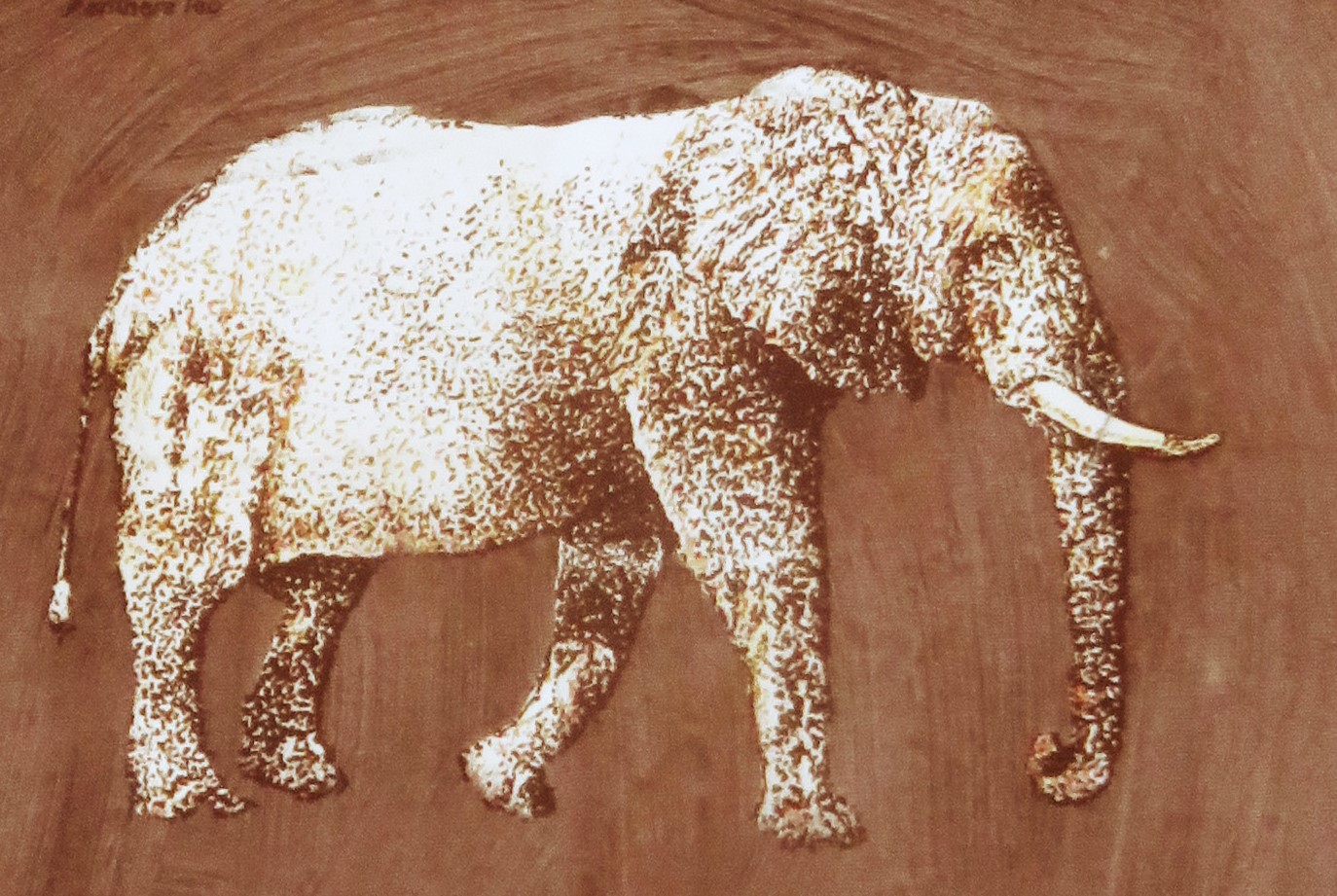 Elephant, four color print
Purchase our fauna and flora prints anywhere in the world

The flora and fauna prints can be purchased anywhere in the world, and will be printed from my original copyrighted hand drawings or hand drawn screen print separations by a company employing craftsmen in your country. As they say here in South Africa, local is lekker (local is delicious and nourishing) and we believe in supporting local craftspeople and local jobs, rather than shipping our goods half way across the world in a finished state and giving them a massive carbon footprint. We welcome new technologies that make this all possible. We printed these designs for years ourselves, and our home became a tiny screen printing factory, each swipe of the squeegee being executed by my husband or his assistant. Now we are in the process of relaunching them on an international platform to make them available globally.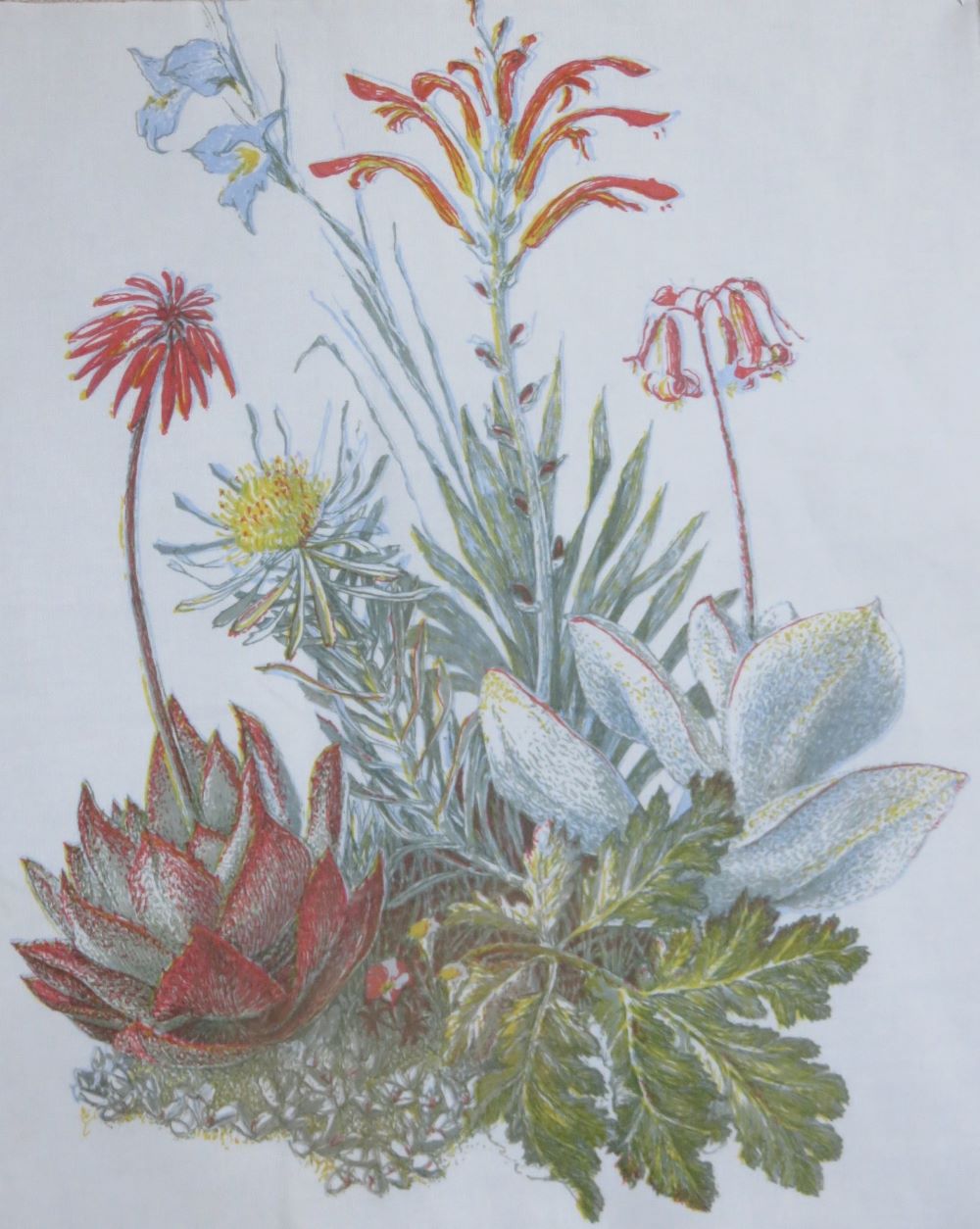 A selection of vegetation that grows on granite in the Renosterveld. A five color print.
Order your flora and fauna prints on fabric, paper or hard surfaces

My drawings can be printed on fabric, such as tea towels and cushions, T-shirts, mugs and paper (for wrapping gifts, or posters which can be framed). The orders will be made up individually for each customer.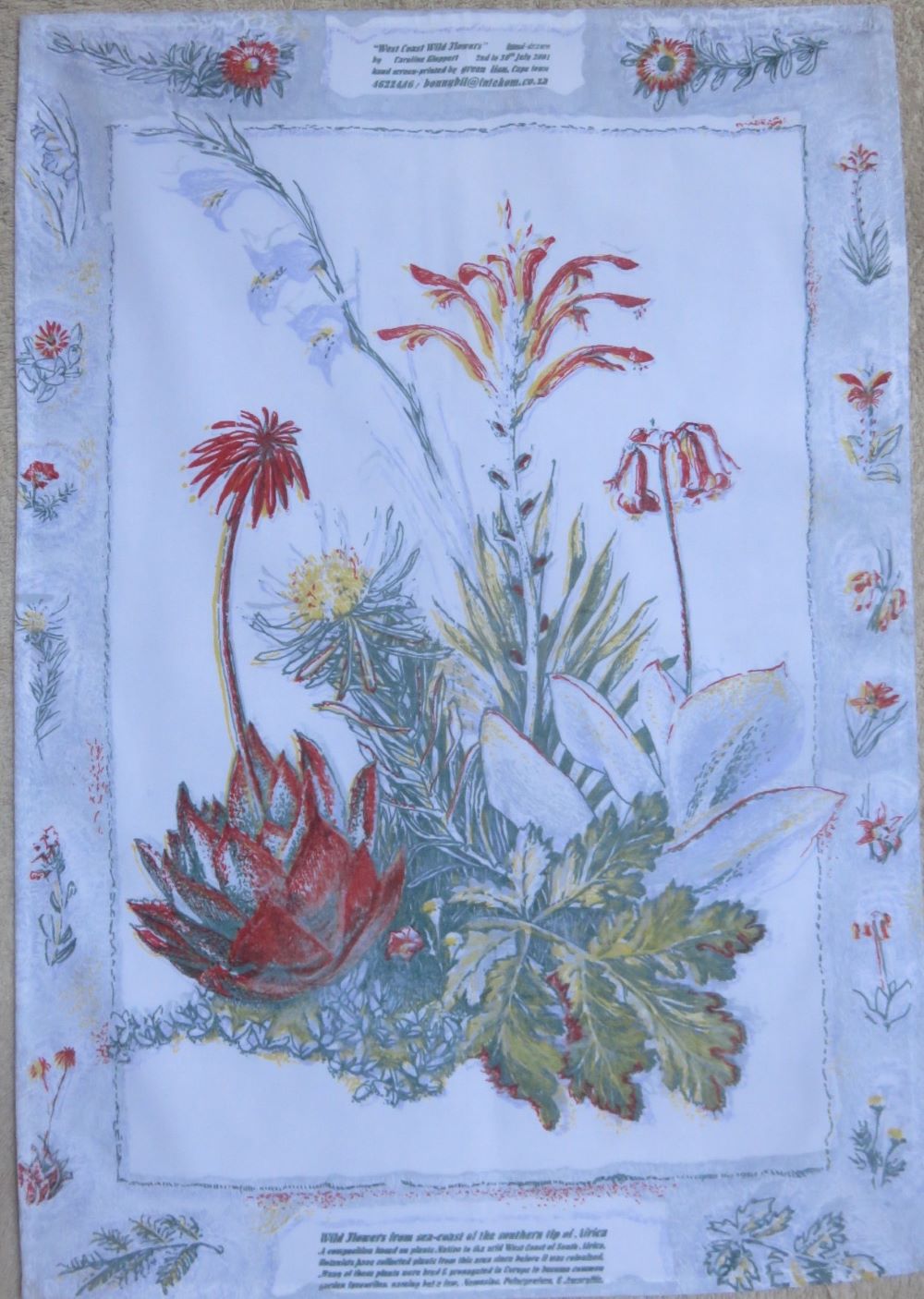 The same wild flower design with a border done for our range of tea towels.
We have over a hundred designs and are discovering how to prepare them to work with the new technology. These photographs here are just a foretaste, taken from some finished screen printed samples we kept. I hope to bring out a catalog soon with the designs in their final form. Please let us know which designs you like, just by picking a name, and sending us a C2 message at the bottom of the page, so that we can prioritize the conversion process better and pick our winners !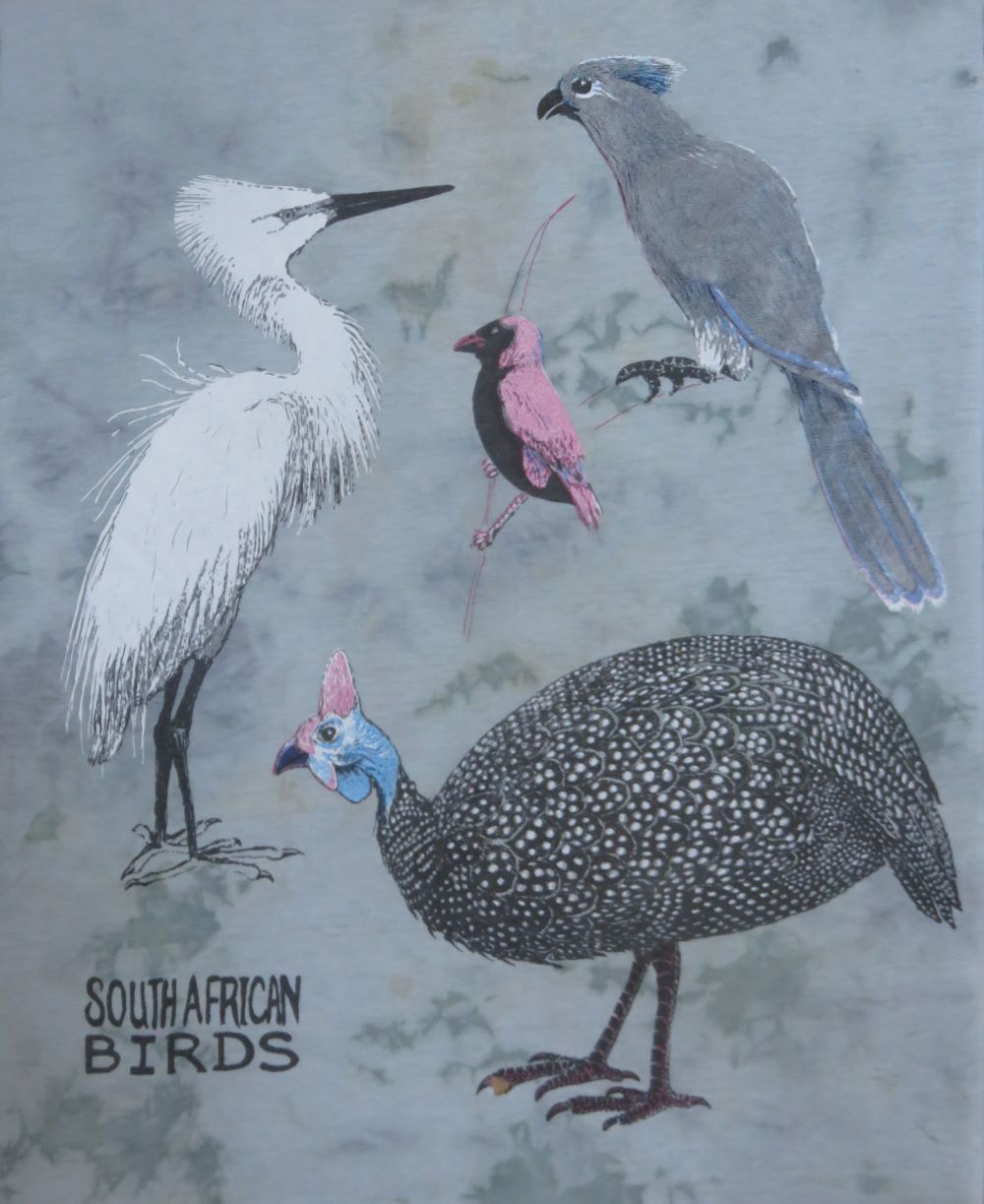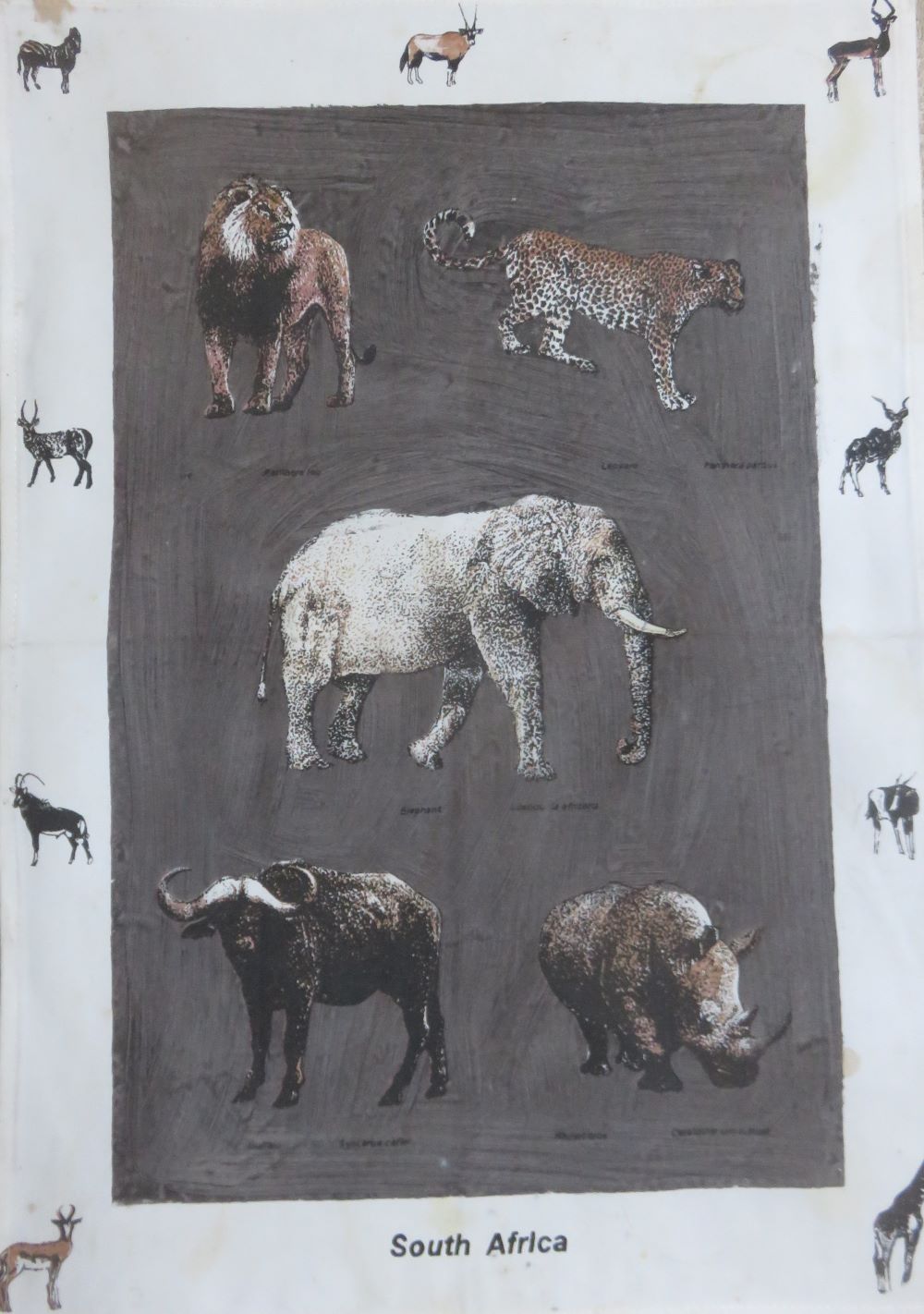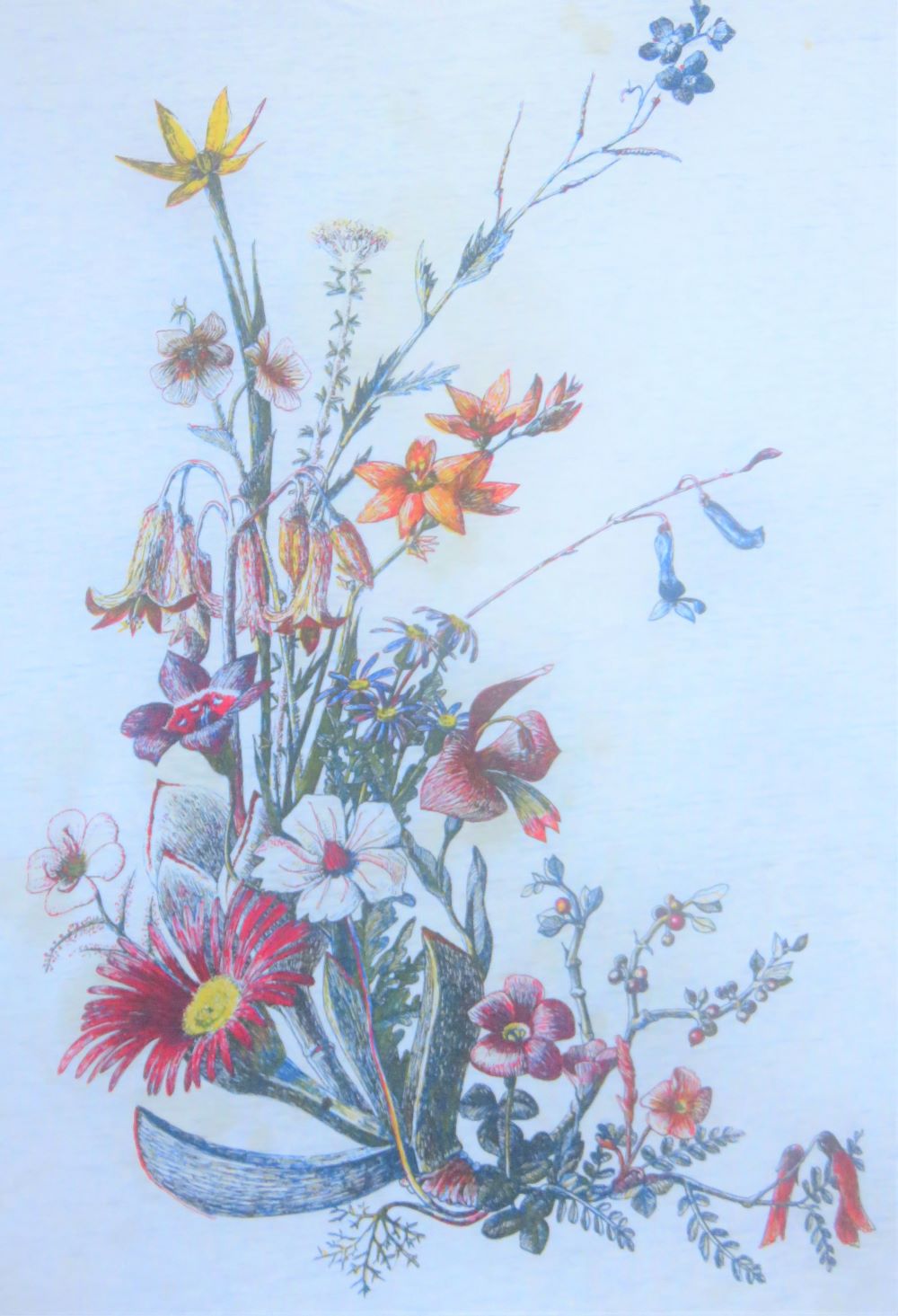 This old print below is rather the worse for wear, and it was a 'reject' in our market. The blue is off register and the yellow ink is incredibly muddy. The yellow also must have leaked out through a hole in the yellow screen at the top of the print. I'm in the process of finding out how to redo this art work digitally, so that the designs can be produced anywhere in a near to perfect state, much more precisely than the hand done screen prints. The new flora and fauna digital prints should have perfect registration, perfect color and no blemishes, or blocked areas. These last can be seen in this print as white marks in the middle of black parts of the design. The screens often got blocked after many prints had been done, because of our hot weather in summer, when the most sales and the most production occurred.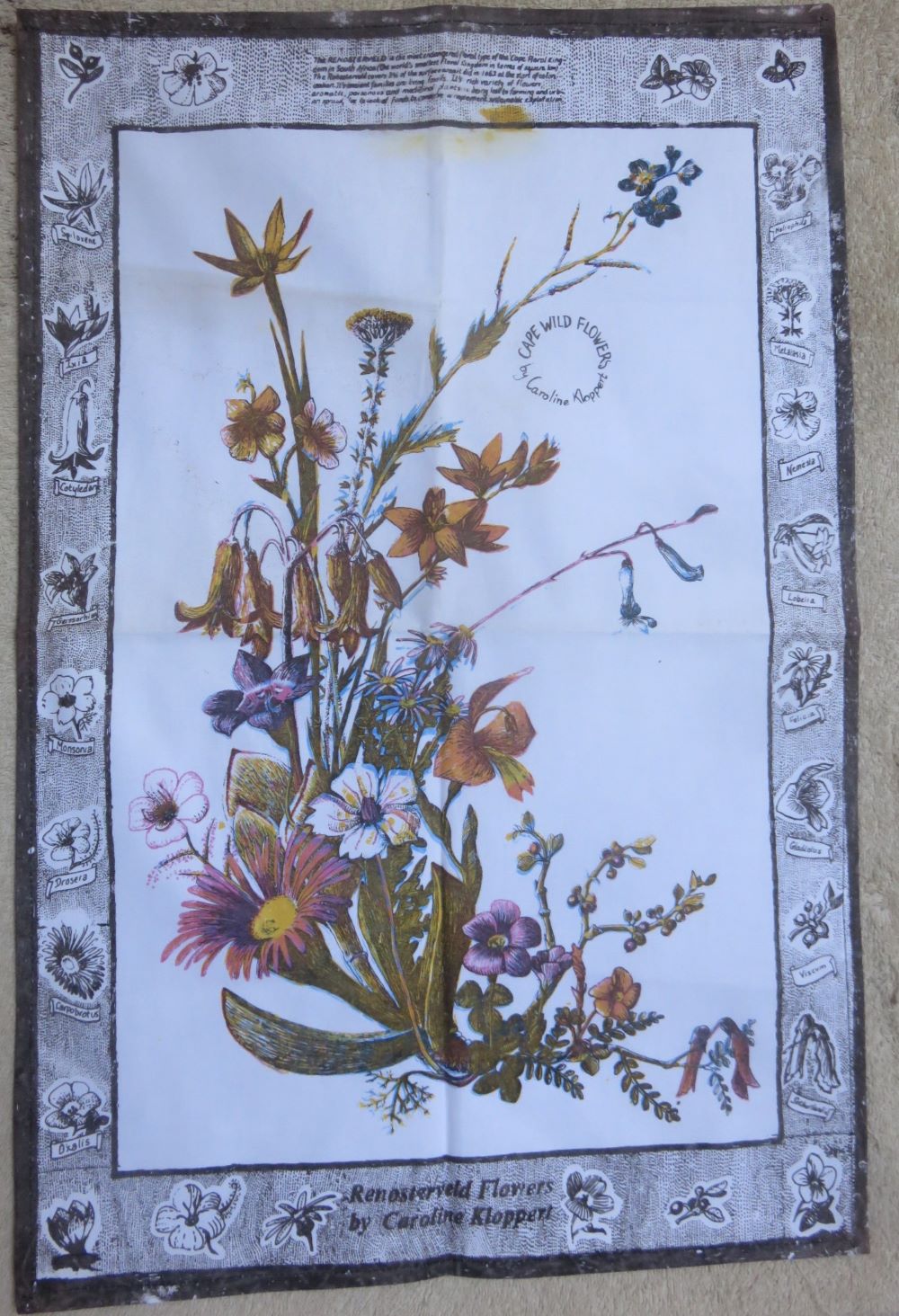 Here below are my first attempts at turning our hand drawn positives into the digital format wanted by printers today. Our old positives consist of hand drawn ink lines on acetate. The drawing process could take up to a month for one design in several colors, as it did in the case of the most complex flower designs. Such a long and indirect process in which I was not able to see what I was doing with the color until it was printed, does tend to loss of the spontaneous appearance in ink drawings, especially my own, which can be really wild and messy. Here I'm starting simple, with the fewest colors and simplest images until I master this technology. The animal designs usually fit the bill. The black outline color usually does the most work of description and almost stands on its own, but the softer gold and white, which have not yet been added, give it some three dimensionality.

Oh dear...Of course ! This website cannot upload SVG files. I will have to do some format changing to show you the result of doing a trace with this free software program.

| | |
| --- | --- |
| Above is a photograph of the hand drawn screen printing positive, and on the right is the result | of a new trick I've learned called doing a trace. |
Digitizing all these designs is a bit intimidating, but they were all hand drawn and time consuming. I don't think it will take as long to digitize them as it did to make them, over a decade of work, with some designs taking months, because instead of using a camera to do color separations, I imagined them and drew them in non standard colors for which I created special recipes. Now I must standardize everything so that other people can print them.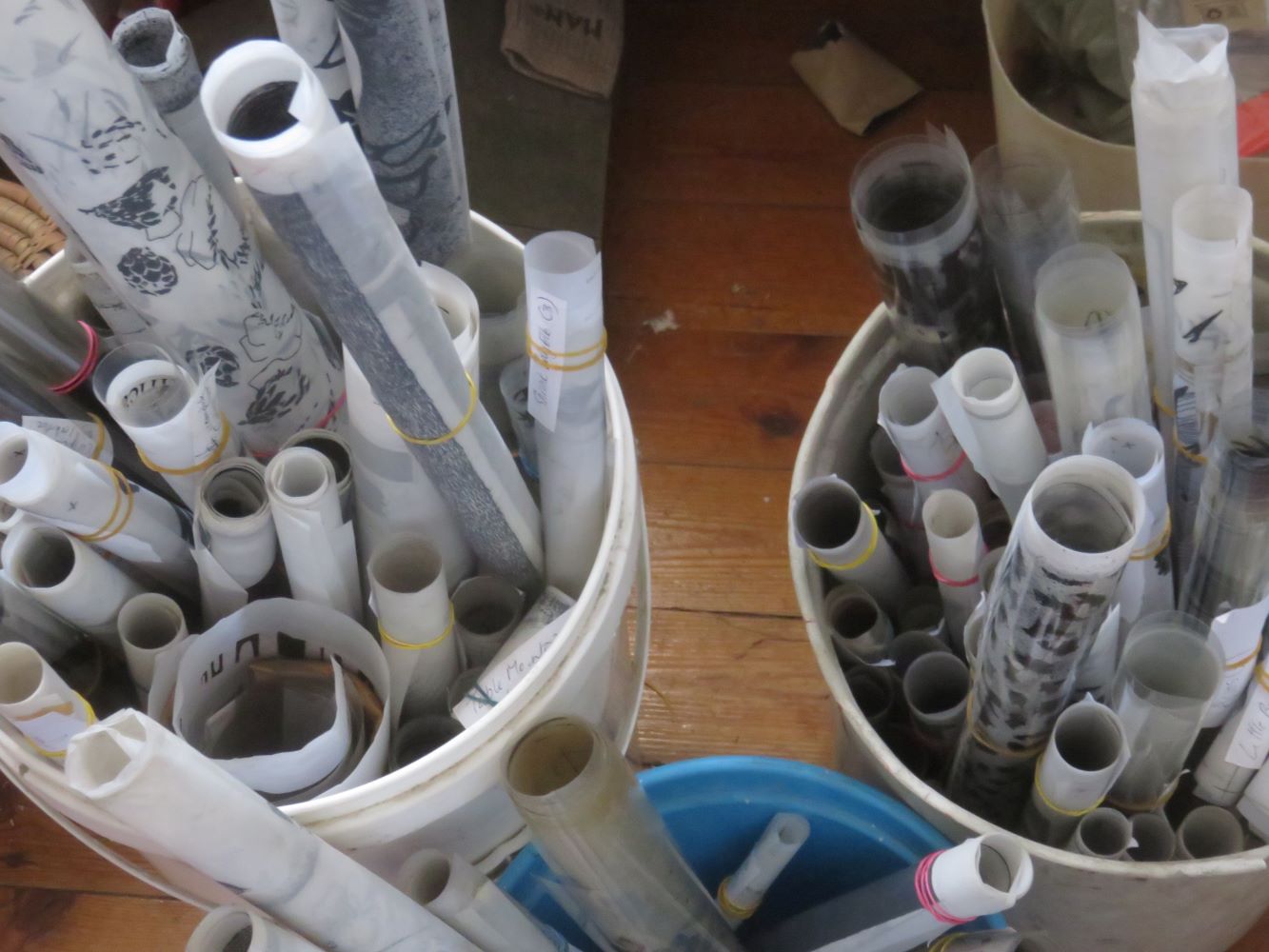 ------
home page for links to articles on organic growing, food forests, perennial vegetables and more
------