Garden pots and their necessity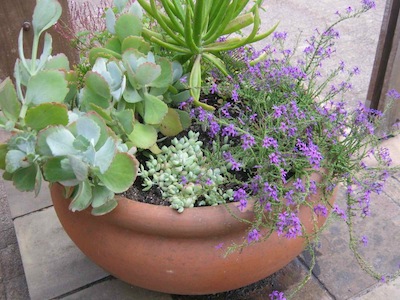 An indigenous cornucopia of plants at Kirstenbosch
Garden pots are an artificial addition to the garden, without which gardening is nearly impossible. Even in the most natural of gardening, they are necessary. This is so because they provide a sheltered controllable environment to the roots of plants. They thus are indispensable for horticulture and propagating a vast number of plant varieties.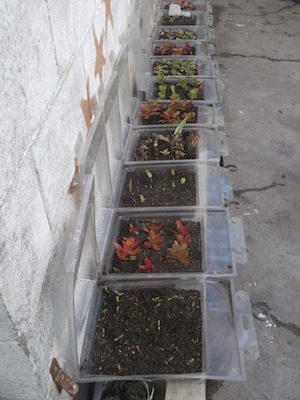 containers are a necessity in horticulture
Going potty with pots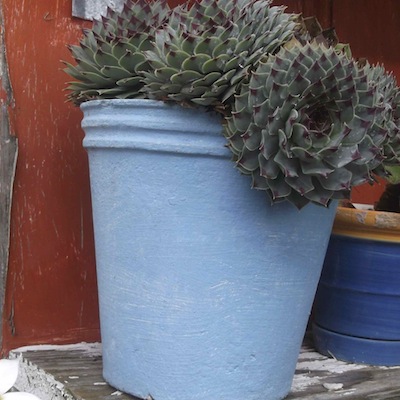 playing with colour and garden pots
Aside from this horticultural function, garden pots have a decorative purpose of course, and here there is ample room for a little artificiality, a little constraining of the aesthetics of a garden, and even a little frivolity if allowed. We can bring pots into a theme that is nothing but decorative, and also when recycling pots, which is ecologically sound, some rather quirky containers present themselves for use and are put into service creatively.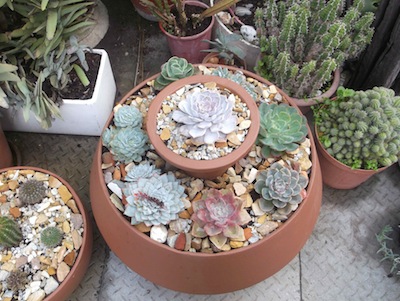 playing with harmony of similar forms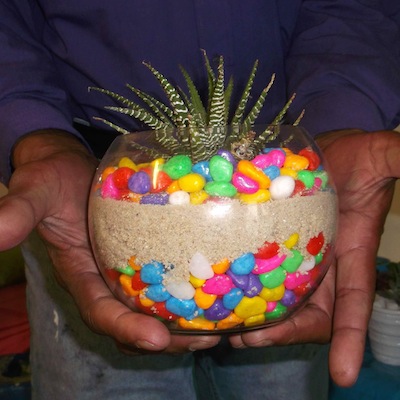 Fauve colour in glass pots
There are links to my pins of containers and pots on pinterest at the bottom of this page. They are some of the most frivolous and diverse of my pinnings as they are the expressions of so many different people, and their sheer creativity and playfulness with pure decoration. I find it impressive.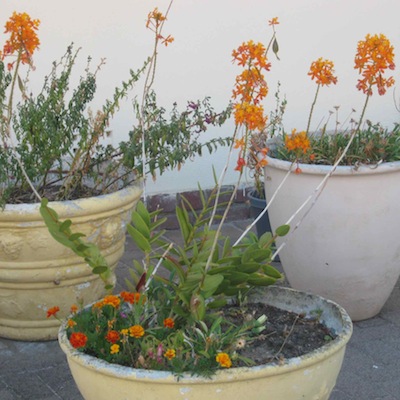 a ground orchid flowers abundantly in a container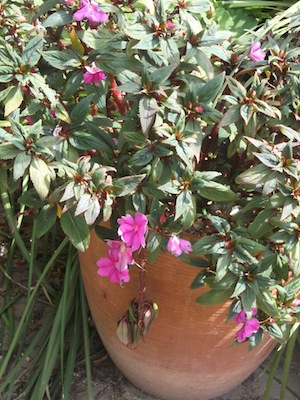 Impaties loves a pot
Garden pots and manipulating the root environment
Pots also have an 'ecological' purpose, allowing the gardener to create conditions in which the particular plant thrives while the rest of the garden is subject to more natural environmental influences like climate. Even a natural gardening enthusiast cannot dispense with them. 
This ecological function of pots can also be playfully interpreted. Pots present a controllable soil environment and things can be grown in soil which would not grow in the earth near one's home, or in the given environment. They present an opportunity to grow exotic and unusual plants such as orchids, or to manipulate plants into artificial forms or levels of performance. They can be used to force flowering due to the limitations they impose on root space, as well as allow stunting of trees for the same reason, in Bonsai creation.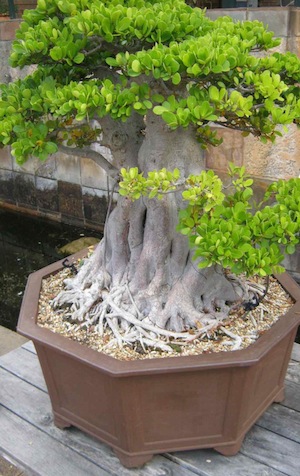 a man high bonzai at Kirstenbosch, not really portable
(most) garden pots are mobile
Garden pots are portable and allow one to provide colour and emphasis by moving them around, as by their very artificial nature they act as a focus of attention, and they also allow us to optimize the microclimate for the plants growing in them by moving them around, into or out of the sun or rain for instance.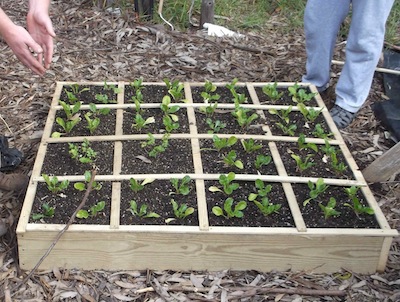 a container vegetable garden allows farming in the city
Garden pots extend the place where plants can grow
Containers provide soil where none is normally available as the natural flooring beneath one's feet, in indoor and paved environments.. They can provide growing media for plants where soil  normally would not accumulate, such as on vertical walls or rain and wind-blown roofs. Containers are not just portable they can be lifted, high enough to make gardening possible for people who cannot crouch or bend to the ground. They can be assembled into vertical or roof gardens, or hung above the head like lamps.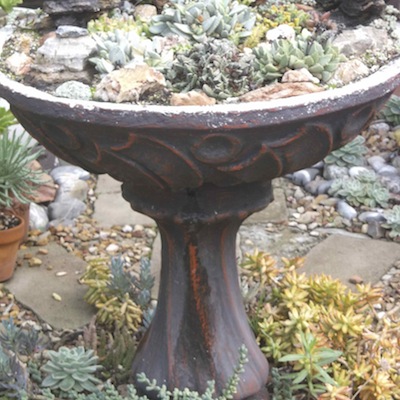 a miniature succulent garden on a pedestal
As we can see, garden pots extend the possibilities for growing plants in one's climate and environment, allowing tropical orchids to thrive in a sixty story office block in Manhattan. They extend the scope of gardening into built environments so that we can surround ourselves with plants where previously only buildings and manmade materials surrounded us, providing relief from stress to those cooped up in corporate ecosystems, and they also extend the visual language of planting.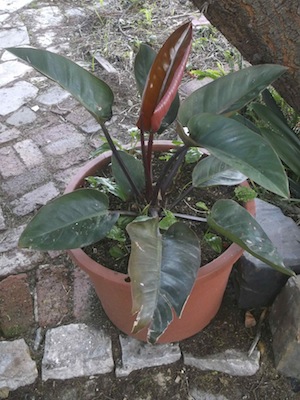 A Caribbean philodendron thrives under a thorn tree in Africa, and also loves indoor spaces.
garden pots drive the garden up the wall and onto the roof
There is a link to my own low tech recycled vertical garden and a more impressive local vertical garden at the bottom of the page, as well as a collection of lovely awe inspiring images on pinterest.
Where we once only had green carpets, or meadows, and tall green freestanding framework structures like trees, we now have these same plants projected onto the vertical plane in green walls, which at first give us the shock of the new, as walls are supposed to be plastered and hard and weather proof, not alive. We are also able to take a meadow and lift it off the tethering to terra firma, and transplant it onto a roof top, in the sky. It is a dimensional shift which despite the natural appearance of these plantings, is quite a high tech process. Many of these new plantings grow in hi tech mass media, but many are also containerized to make the transition possible. 
The old fashioned terra cotta pots or cement ones are too heavy for use as a wall covering, but I've seen it done with plastic pots very nicely, all brown pots of uniform size fixed to a black wire rack with cable ties. There is a link below to and article featuring this garden.The beauty of the plants drew one's attention and the monotony of the hardware soon sunk into the background behind leaves. It was the wall of a restaurant courtyard. In a setup with thousands of pots there must be some kind of automatic irrigation to save time, and many plants die off, making a substantial backup nursery necessary. I've even used recycled plastic bottles to make a vertical garden, and it did work, even in the most windy parts of town. After a year the plantings peaked and then became straggly. I observed that the plants must be rank and the choice of plastic and the means of attachment and the plant rack must be carefully considered for it not to look very shabby. As a rule uniformity is easier to pull off, such as all the same size bottles and all of ultra clear plastic. Those really gifted with combining things can succeed with a combination of heterogenous elements in a way that surpasses the plodding efforts at harmony through minimalism.
To venture into the kind of creativity with massive vertical gardens featured below on my pinterest collection, one needs to study up extensively on the engineering of these gardens. There have been many failures and the art is still in its infancy.
------
home page for links galore to natural gardening lore and know how
------
natural garden design, what is it and what can it do for you ?
------
------
pictures of creative and classic pots and containers
------
------
green roofs and walls on pinterest
Restore Nature Newsletter 
I've been writing for four years now and I would love to hear from you
Please let me know if you have any questions, comments or stories to share on gardening, permaculture, regenerative agriculture, food forests, natural gardening, do nothing gardening, observations about pests and diseases, foraging, dealing with and using weeds constructively, composting and going offgrid.