eco cities near you
One only needs to list the attributes of ideal eco cities to appreciate why Goodwood has so much potential, and could be an ideal laboratory for such a project.

Under my writing on eco cities you will find criticism of the city's policy for road verges, and ideas for green space development, urban farming and the biggest people's park on earth, as well as revolutionary ways to do city planning.

But let us return to the nature of an eco city and its priorities. One of the prime eco city objectives is the reduction of the carbon emissions and I invite you to take part in a discussion on energy in the eco city.

Goodwood is flat
Imagining my hood, goodwood, as a global eco city 
I explore and seek to explain the process of waste being harvested for biogas production, and its many spinoffs. Below are the aims and attributes of the eco city, though there is no 'definition' and no exclusion of a city on this basis:


Goodwood is flat from east to west

flat from north to south
eco cities priority 1       
reduction of carbon emissions and promotion of renewable energy sources, with the goal of zero emissions
Goodwood is flat. Many people cycle already, cycling just needs some encouragement, and perhaps a specialised cycling route undisturbed by traffic. 
Goodwood has a very high walkscore when I tested it on this website link, meaning that you can walk to accomplish your daily errands without the need for a car. My street scored in the eighties. I knew intuitively before testing, that it would do well, because the supermarket, post office, council offices, library, churches, public pool and gym are all five to fifteen minutes away ON FOOT. This leads to the area having a sort of village feel, an intimacy enhanced by the simply styled old fashioned consistency of the single story cottages and their gardens, but marred by the loss of our street trees.
It has excellent access to public transport, taxi, rail and bus. It just needs these to be more efficient, frequent and safe. The taxi trip to town is a good three quarter hour trip including waiting, and the trains come every hour, depending where you're going.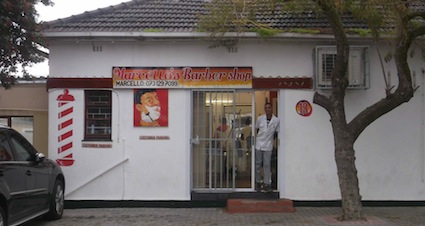 a men's barber in a local business hub in Merriman st.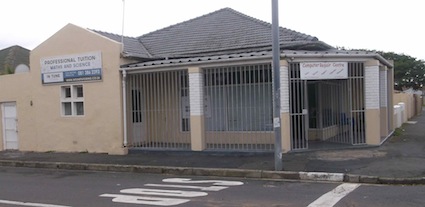 opposite is Raphael's copy shop and computer repair centre, and the maths tutoring school
eco cities priority 2
social health, job creation and economic sustainability
We in South Africa have an excellent model close at hand with Joburg's eco city initiative at Ivory Park ! 
Goodwood has many well equipped schools and creches, where green education programs appropriate to eco cities can be implemented.

The area's relative peacefulness and low property value makes it desirable to all upwardly mobile South Africans of average means and the area is now less than twenty percent 'white'. Even these are a heterogenous group: Rumanians, Yugoslavians, Germans, Madeirans and more. It could be developed to represent the ethical values of eco cities, with programs for developing cross group dialogue, tolerance and cooperation.
The population varies from pretty comfortable to those who need job creation badly, and many others who are homeless, or close to it. There are young and old and many nations of the world. Another aspect of the eco cities' ethos is that all citizens are taken care of and integrated into the citizenry, embracing economic diversity. 

Because it is neither very poor nor very rich, clocking in at about the national average, it has the possibility of being a self healing zone, taking care of itself. This also aligns with the proposals for eco cities. There is poverty and adequacy cheek by jowl. It has the internal resources to develop small projects, funded by the community, with solutions to real social needs. There is something very real and hands on about Goodwood's social activism already. It also means that the benefits to the community from fundraising or outside funding will benefit South Africans who are wage earners and small entrepreneurs rather than benefiting the rich, which it would do in areas of Cape Town exclusively rich, where funds are raised to make the schools of the mega rich even more luxurious and its pupils even more privileged. 
Goodwood has a wide variety of religious communities, with engaged people looking for projects right in their neighbourhood.
If you wonder why it has It has such a good infrastructure without the wealth to go with it, in a country where the citizenry are often appallingly under resourced, it is because of this country's apartheid past. This suburb was developed to house some of the not so wealthy white citizens of Cape Town. A disproportionate investment was made to ensure quality of life. This is an ugly truth, and it shows how the unequal allocation of resources benefitted average white South Africans. It left behind a well resourced township where one can live comfortably on a very small budget, without a car, and these days this draws many people into the area. As the whites benefitted other people suffered terribly under apartheid. When Goodwood was zoned as a so called white Christian suburb the Muslim community who had been here for a long time, were forcibly moved out. I believe many people are returning now, bringing beauty back to the local culture and thank God for their forgiveness.
Before all this apartheid era development, according to my father's memories as a boy, Goodwood consisted of smallholdings . In every street block in Goodwood, a Victorian era corrugated iron house may still be found, much older than the other houses. These must have belonged to the market gardeners who lived here, and represent a special and precious historical resource. 
Many small businesses are more stable job creators than a few large ones, and Goodwood has a large supply of small businesses. However, I'd say most working people work outside the area. It is not self contained. Jobs need to be created in the area in accordance with the eco cities' ethos. Small business support is needed, denser population (also an eco cities attribute), and plenty of green businesses catering to the needs of local people. We need street markets and food markets with local produce rather than more supermarkets, otherwise this will be a dormitory suburb. 
The knock on effect of the racialist protection of this area is that decades later, the infamous crime levels of South Africa are relatively low, and there is a large and stable working community conducive to the growth of small businesses, which could form a solid base for entrepreneurial development free of the braking effect caused by the social ills in poorly resourced areas with widespread poverty. 
I'm not thus arguing for outsiders giving to the 'haves' here, but for the self development of the have + have-not mixed community of Goodwood. It is a possibly perfect eco cities development waiting to happen. It needs only a little adjustment to do so, rather than major infrastructural development. There are many green aspects to the place which already exist. It would need the stakeholders to come on board, as they say, and it could relatively rapidly be fulfilled as an experiment. I would like this community to be able to take care of the social ills on its own doorstep, the many homeless and unemployed people who live here, through integrative means, and for the different communities of Goodwood to increase the ease with which they communicate with each other, and develop this place together, through mutual respect, as they are already doing in many areas.
---
eco cities priority 3        

incorporates the environment into city planning
Goodwod used to be a market garden historically, and the soil is useable for vegetable growing, but it currently has no publicly accessible  organic vegetable distribution network. A few years back there were many vegetable gardens still.
It has tree lined streets. The street trees in Goodwood were planted many years ago due to the activism of one environmentally conscious individual, and they are slowly being taken down and not replaced, which is a great pity. They could be replaced one by one with trees which don't shed so much, and whose roots are less destructive to buildings and roads, as these are the main complaints. They could be replaced with fruiting olive trees, 20 olives create a full time R4000 per month job. The trees could also be replaced with spice, medicinal and herb trees to create small industries, at very low cost, if volunteers like myself cultivated  the trees. Some of the trees already are fruit bearing, and the African varieties of plums could make unique food products, as they do in some of the local handmade craft-food industries using Carissa berries, Buchu and more (see 'making kos' on facebook).
Goodwood has a lot of small green areas which are just wasted and which could be turned into community gardens and could possibly be taken care of by people presently un-employed, who could sell their fresh produce along the major through roads. Its parks tend to not provide emotional relief from being cooped up, they are mostly boring with only dead grass and palm trees or gum trees. I little more diversity and interest in the parks would make them work better. People who live close by could contribute to their beautification, to either grow food or lovely plants especially indigenous biome appropriate ones.
It has large green areas and green corridors close by, the N7 Youngsfield corridor, the Elsieskraal river which was part of Mayor de Lille's special project, and the Maitland cemetery which could be incorporated into a green-space system. The Elsieskraal river and the Maitland cemetery could connect with the Oude Molen and Liesbeek River development projects.
 the park in summer. a vast ugly, neglected, underutilized green space
eco cities priority 4       



combination of green spaces and densification
Goodwood already has a high concentration of amenities and is 'dense' in these terms, as one can live here comfortably, walking everywhere, without ever traveling into town. More densification and thus a higher population, would make it easier for local small businesses like hairdressers, medical practitioners, lawyers, mechanics, clothing shops, recycling agents, supermarkets, copy-shops, electronic suppliers, and restaurants to thrive and survive. 
Goodwood still has some of the best property value, and it could tolerate more densification if its green spaces and parks were kept open and put to better use, and the surrounding green corridors were improved visually and were safe for walking and biking. 
Densification may mean many houses will have to go up a floor, and there will be more flats and micro homes, (trailer homes in the US) or granny flats and Wendy Houses in South Africa. It is possible to build apartments in the roofs of most Goodwood houses without destroying the attractiveness of the cottages or your neighbours views as happens when building ugly double story 'block-houses' with wrap around steel piped balconies and picture windows. Most of the roofs are very spacious and only require windows and a balcony to have lovely characterful apartments upstairs, but the intense desire to be 'modern' is slowly destroying the cottages of Goodwood. Maintenance 
Goodwood style cottages are undergoing gradual densification with conversion to businesses, or addition of granny flats. I want to build an off-grid micro home in my backyard and rent the house.
of the architectural integrity of the area is important, the cottages are very much of an era, with lead windows, each different, oregon pine, and interesting architectural detailing that I've never seen consistently over a whole township anywhere else. This antiquated look will eventually be a marketing asset and improve the sale value of properties in the area if it is maintained. 
Better use of the available green spaces would enable businesses like tea gardens and hot dog stands, and 
provide jobs to security guards, gardeners, vegetable and food dealers and restaurant staff. Goodwood is situated on the endangered Strandveld and acid plains Fynbos biome. Restoration of its open areas with indigenous plants after a gap of three hundred years, with plants that suited its rugged arid sandy soil would be wonderful, and supply local gardeners with more planting ideas and nurture a wonderful bird life in the area.  

---
------
home page for useful resource saving gardening links
---------
links to useful information on taking green ideas beyond the garden, into your environment and home
Restore Nature Newsletter 
I've been writing for four years now and I would love to hear from you
Please let me know if you have any questions, comments or stories to share on gardening, permaculture, regenerative agriculture, food forests, natural gardening, do nothing gardening, observations about pests and diseases, foraging, dealing with and using weeds constructively, composting and going offgrid.