fresh quirky ideas for potted succulents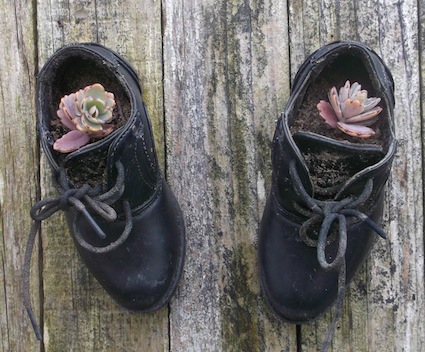 Need a potted succulent to decorate your office or home ? It was my privilege to interview the succulent growers Avril and William Isaacs, who are affiliated with the SEED project on the 28th of August. 
They recycle all kinds of containers from shoes to hardhats by planting them with succulents. These they sell on markets around Cape Town, its a business they built up from ground zero. For succulent lovers and collectors, I've also photographed the collection of diverse types in another local succulent garden featuring larger, classical cement pots. 

potted succulents in every kind of container, for different situations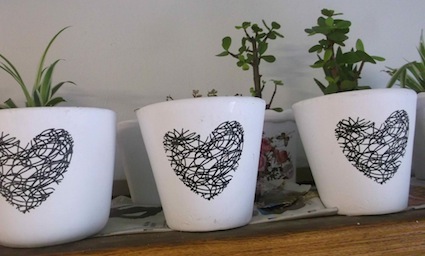 William and Avril's garden is bursting with not only with plants but innovative uses of found materials. Intensive propagation is also evident, in the trays of germinating seed under plastic, small pots of growing plants, as well as the larger plants in vegetable beds with lush leafy vegetables, and many many kinds of succulents in all kinds of diverse containers. The permaculture principles are evident, in their use of recycled clear plastic containers to make mini-greenhouses for their young succulents, in the rain water storage tank and the use of solar lights which William bought to light up the garden at night, that have the add on value that they promote plant growth, so that the lights are soon enclosed in big chard leaves !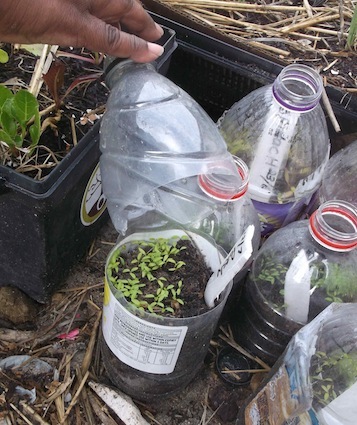 a mini greenhouse for germination
I met the couple because we were all working as volunteers at a perma-blitz. This project is overseen by SEED permaculturists Imraan Samuels and Saudiq Jamodien, (both on facebook) about whom I will be writing an article when I describe the two days of volunteering. 

The blitz is a session in which big groups of volunteers convert a person's yard into a permaculture system in only one or two days. Because it all happens so fast, if you pay attention you can learn to build a full permaculture system in a day. Its as good as going on a course, if not more intense, and I cannot but recommend joining the next series of blitzes when they occur. You can keep an eye on this by befriending Imraan on facebook. The present blitz of blitzes was drawing to a close and I managed to work at the last one and get to know the crowd of people involved and it was a great privilege. As is usual with permaculture networking, you meet really interesting people involved in all kinds of green initiatives.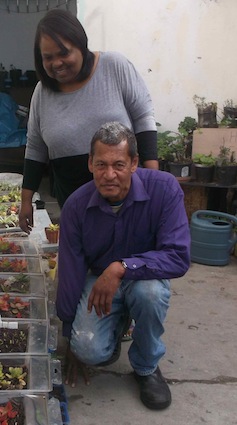 potted succulent growers William and Avril isaacs

:


to the left are succulent propagators made from upcycled containers
William and Avril have been members of SEED and its local initiative for Mitchell's Plain Food Freedom for 6 years. They attend SEED workshops which are held every Wednesday, where they learn a variety of permaculture practices such as making jams and apple cider vinegar, taking cuttings and pruning fruit trees, and of course, how to grow their own food from seed.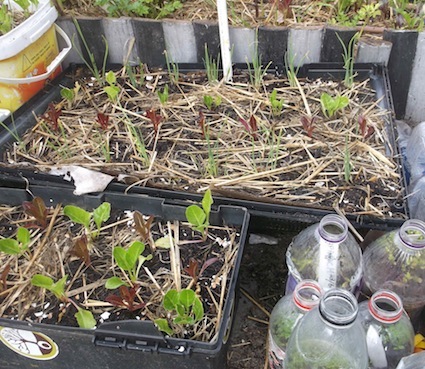 the food nursery 
Many members of SEED in Mitchell's Plain applied to have their homes perma-blitzed, but funding for the project was tight, and 11-12 members of SEED were chosen for blitzing. One criterion for selection was regular workshop attendance. William and Avril have also been to all the blitzes to lend a hand with the other volunteers so that the job is done quickly. From my experience, the work at a blitz is hard, and the couple obviously have a lot of energy. In addition to volunteering frequently, they started a horticulture based business propagating and planting up potted succulents in interesting, attractive containers for decorative purposes. Like true permaculturists, they even plant in old boots and other recycled containers, but the majority are potted in plain off white porcelain or painted ceramics. They also grow some in beds of coloured beads as a novelty.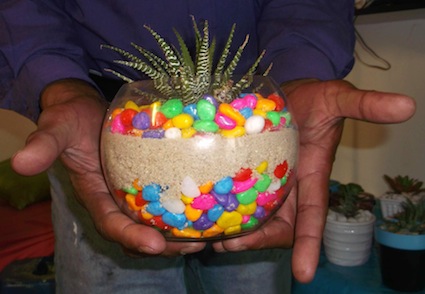 a potted succulent growing in colourfull beads
William and Avril started growing succulents intensively for their business four months ago, and are trading from their home, and have already sold their potted succulents at a couple of markets at Soil for Life where they have been members for five months. The potted up succulents are mainly purchased as gifts or table top decoration for offices.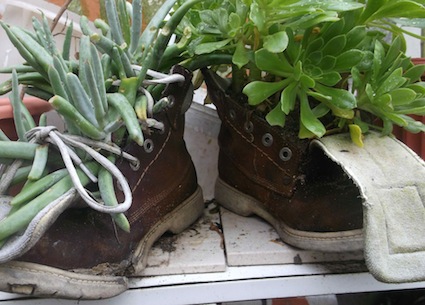 succelents potted up in sneakers
William told me that recently a journalist from New York who was making a movie interviewed Avril because of her involvement with the blitzing initiative and SEED, so I asked what message they had for my readers, many of whom may be Americans.

William's message to the world, to others out there who would love a garden, is to inspire you with the truth that nobody can say they don't have space. Anywhere there is a little sun, plants can grow, be they hanging gardens, vertical gardens, window sill troughs or potted herb gardens. Friends of his even germinate seeds on their roof ! But says William, be careful of the wind ! Find a way to protect the seedlings if you plant on the roof, especially in Cape Town.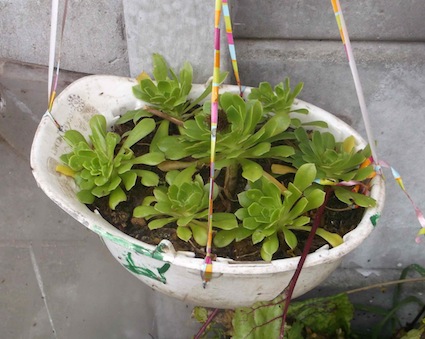 a succulent potted up in a hard hat
Avril's message is that she loves gardening, but it takes time. What you put in is what you get out, but if you have passion, it doesn't feel like hard work. Once your are hooked on gardening, the first thing you will want to do on waking in the morning is not to make yourself coffee, but to dash outside to pick snails off your lettuces.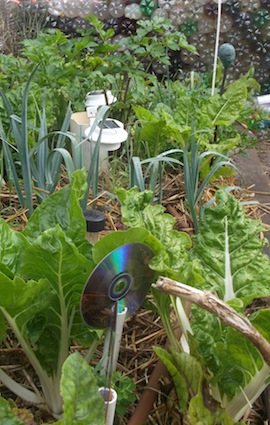 INNOVATIONS: THE VEGGIE PATCH WITH CD BIRD SCARER, SOLAR LIGHTS AND WATER STORAGE IN THE WALL OF piled up BOTTLES AT THE BACK
As a gardener, my heart resonates with this profoundly. If you want to add your snail story, or want to give your advice on snail combat, or on propagating and keeping succulents I urge you please to leave an entry below on the reply form, so that we can all benefit from your experience. 
You can contact Avril and William at South Africa (027) 084 3763916 if you want to buy potted succulents.
---
home page for the information and links you need on green living
gardening and a diversity of green methods to use
a collectors succulent garden in Goodwood
feedback page on growing potted succulents, and snail combat
Snails devour your succulents
Please help with stories about combating snail infestations. They have destroyed my giant Kalanchoe overnight !
Restore Nature Newsletter 
I've been writing for four years now and I would love to hear from you
Please let me know if you have any questions, comments or stories to share on gardening, permaculture, regenerative agriculture, food forests, natural gardening, do nothing gardening, observations about pests and diseases, foraging, dealing with and using weeds constructively, composting and going offgrid.