gardeners and their canvas

jonathan fritz
(Irma stern museum)


I hoped to meet the gardeners when I popped in at the Irma Stern Museum, and to photograph the plants. When I inquired about the strangely shaped green well, and aspects of the planting, I was directed to speak to Jonathan Fritz. Thank you to Christopher Peter and staff at Irma Stern for permission to photograph outside the house, and sincere thanks to Mr Fritz for his patience and green management tips.

the beautiful air of the garden

I had never been round the back of the house where the tall trees are, and everything was fresh and thriving, with the sylvan air quality of a self sustaining ecosystem, that quality one can feel in a quiet forest. The paths wind on and on through velvety green abundance, behind curved walls, between cap-stoned gateways, down paths, and by the time I eventually found Mr Fritz beneath the  shade of a lane of trees, in the old drive, where he was working with the irrigation, I had taken dozens of photographs. It is a very old, large and excellently managed green space and I was exited to meet the person in charge of it all, and the team. Mr Fritz was kind and accommodating towards the questions of an amateur. I learned a few things that really surprised me. The biggest surprise was that he tends the grounds of Irma Stern Museum and Welgelegen, the Cape Dutch farmhouse close by, single handedly !  There is no green 'team'. And at Welgelegen there are demanding pruned roses and rosemary hedges. 

management tips
When I asked Mr Fritz how he could possibly cope, he explained that it is hard work and he wished he had assistance sometimes, but that one can avoid creating unnecessary work. His tips for doing this are absolutely and ideologically green. To quote him "Let the leaves fall where they fall, and do not rake them away, unless they make a mess on the walk ways... let them rot and provide compost where they fall" "Keep the weeds under control, take them out when they are small so that they do not do damage other plants, and cover the disturbed area with dead leaves to prevent other weeds growing, if you don't do this you're making trouble for yourself later". He used to use commercial mulches but now he makes his own out of leaves and garden waste. He uses only a very little of the best quality fertilizer possible, and lots of compost. 

the wisdom of experience
Another surprise was that Mr Fritz has worked here for more than thirty years. About since the day I left school way back in 76. It looks to me as if this has become very much his own, and the work of his hands. He used to have a garden at home, but now his grandchildren have won the upper hand, but he has switched to miniaturization, and pots up 'gardens in a pot' as gifts for friends and relatives, who can then care for something green, if they do not have much space.

WHO IS IRMA STERN ?
Irma Stern is a South African artist, She was born in 1894 in the Transvaal, traveled extensively during her life, especially in Africa, where she collected a lot of African art. She lived in the house which is now the museum for three decades until her death. She had a hundred solo exhibitions during her lifetime, but was derided by many South African critics in her early career in the 1920's for making a 'cult' of ugliness . The criticism abated as she became famous. She died in 1966 and left her home and collection of African art to the nation. One of her paintings recently sold for R34000000.00.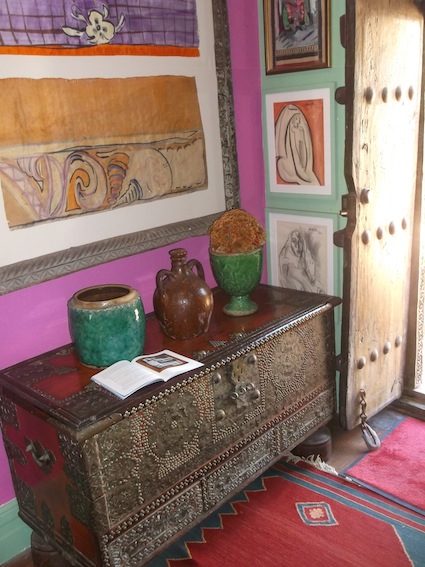 ------
------
-----
'photo album' of the Irma Stern grounds on weebly for lots of ideas, especially for shady gardens
------
vegetable gardening the natural low cost way
Restore Nature Newsletter 
I've been writing for four years now and I would love to hear from you
Please let me know if you have any questions, comments or stories to share on gardening, permaculture, regenerative agriculture, food forests, natural gardening, do nothing gardening, observations about pests and diseases, foraging, dealing with and using weeds constructively, composting and going offgrid.