recycled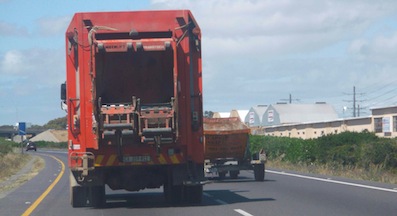 everything can be recycled
Nearly everything can be recycled. This includes plastic, as well as electrical appliances and even building materials. This core page links to pages on recycling in the home: of organic waste, plastic, appliances, second hand building materials and builder's rubble.

I am interested in making art from waste, and in income generation through processing waste, and thus in researching on people working at the coal face of recycling, scrap metal agents and door to door recycling services, and recycling and waste management businesses large and small, as well as my own recycling startup in the Goodwood area of Cape Town. 
Recycling or technically speaking re-using at home is a subject in which individual creativity comes into play. We can all benefit from each other's ideas on recycling, and from their experience of what works and is elegantly simple and easy to do ! I hope to build up a pool or mini data bank of low tech ideas on recycling in the home, so that by sharing we can all become better at living green, no matter our income !
become a shining recycling star !
win the coveted
 

nobin prize
If you would like to share one of your recycling success stories on this page, you stand a chance of winning the coveted NOBIN PRIZE and being instated as the home-recycler of the month on greenidiom ! This means we can post your picture, I'll interview you by e-mail, and write a feature article on you, with any contact information you feel like providing !
The winner for March 2016 is Stephan Rolf Kloppert for his contribution to organic recycling.
The winner for April 2016 is The Rubbish Diet, a British website and non profit with extensive information on domestic waste reduction, for their activism and the great concept
The winner for May 2016 is D & T recycling, the father and daughter team which picks up and sorts domestic waste from homes in Cape Town, South Africa.
My partner has been making a living with recycling organic waste  for over a decade, and I will be starting on it professionally this year. I am fascinated by waste and rubbish culture over the centuries, how it has been processed and what constitutes waste (like weeds,one man's waste is another man's treasure, it is merely the wrong plant or thing in the wrong place, in terms of one's own plan for what should be). Thus I just have to be a fan of the series 'Trashopolis'.

The need for recycling is apparent to most people. After years of reusing everything I could, to the point of having a cupboard full of plastic containers neatly sorted into sizes, materials and so forth, and reducing my wheelie bin collection from weekly to bi-yearly, the need to recycle became especially clear to me recently. I went on a trip north of the city to collect supplies on a farm. I took this picture, and its devastating in some ways. The small car on the mountain…. it is atop a mountain of garbage which seems to echo our famous landmark, Table Mountain in grandiosity, and the city of Cape Town is not a really large city by today's standards. The picture strikes fear into a green ideologist, either engendering despair or ferocious engagement. How are we to deal with a problem of this size ? Surely we are not doing enough, and this problem will change the way we live in the future, yet the rubbish we produce is not even as hot a topic as other green issues.
Lets not trash idiom or idioms for trash, it is a loaded word. I like the doubling up of meaning, as the word cycle already would convey the idea of returning to the beginning again and again, making the prefix redundant, and language's redundancy is part of its design. In a way that has undoubtedly devastating effects, so too is redundancy in the stuff we consume part of its design, in planned obsolescence, and in production based on endless growth. Some of us have too much, that really accomplishes too little, and could be accomplished by much less, while others do not have enough to accomplish what they need to. 

I hope the redirection of all this redundant consumption, into meaningful spending, into equalising, and the increased consciousness of the excesses that produce all this waste, will lead to finding ways to apply the brakes on what appears to be an unstoppable train of oversupply that creates its own negative polarity of want. 
march 2016
It looks as if Stephan Kloppert is going to take the Nobin prize hands down this  month ! We've a few days to go still but he's way ahead of the race thus far. 
home page for green inspirations 
building with recycled materials
traditional door to door recycling service
---
---
How do you recycle in your home ?
Based on your experience in your own home, do you have a recycling tip that really works, or a way to reuse some difficult to manage item of waste, or a recycling tip that will amaze our readers with its simplicity. Share your best recycling tip with us and have the chance to become recycler of the month and be featured on this website !
What Other Visitors Have Said
Click below to see contributions from other visitors to this page...

Recycling fish poop with the help of plants

Hello Caroline, thank you for the great work you are doing with your website. it is really a pleasure to come here and get inspired about the green …
The nobin price is a Great Award Not rated yet
Hello, I was thrilled when I came across your website as I have been an avid recycling enthusiast for years. I am convinced that your "Nobin price" …
Restore Nature Newsletter 
I've been writing for four years now and I would love to hear from you
Please let me know if you have any questions, comments or stories to share on gardening, permaculture, regenerative agriculture, food forests, natural gardening, do nothing gardening, observations about pests and diseases, foraging, dealing with and using weeds constructively, composting and going offgrid.