Growing trees from carob seed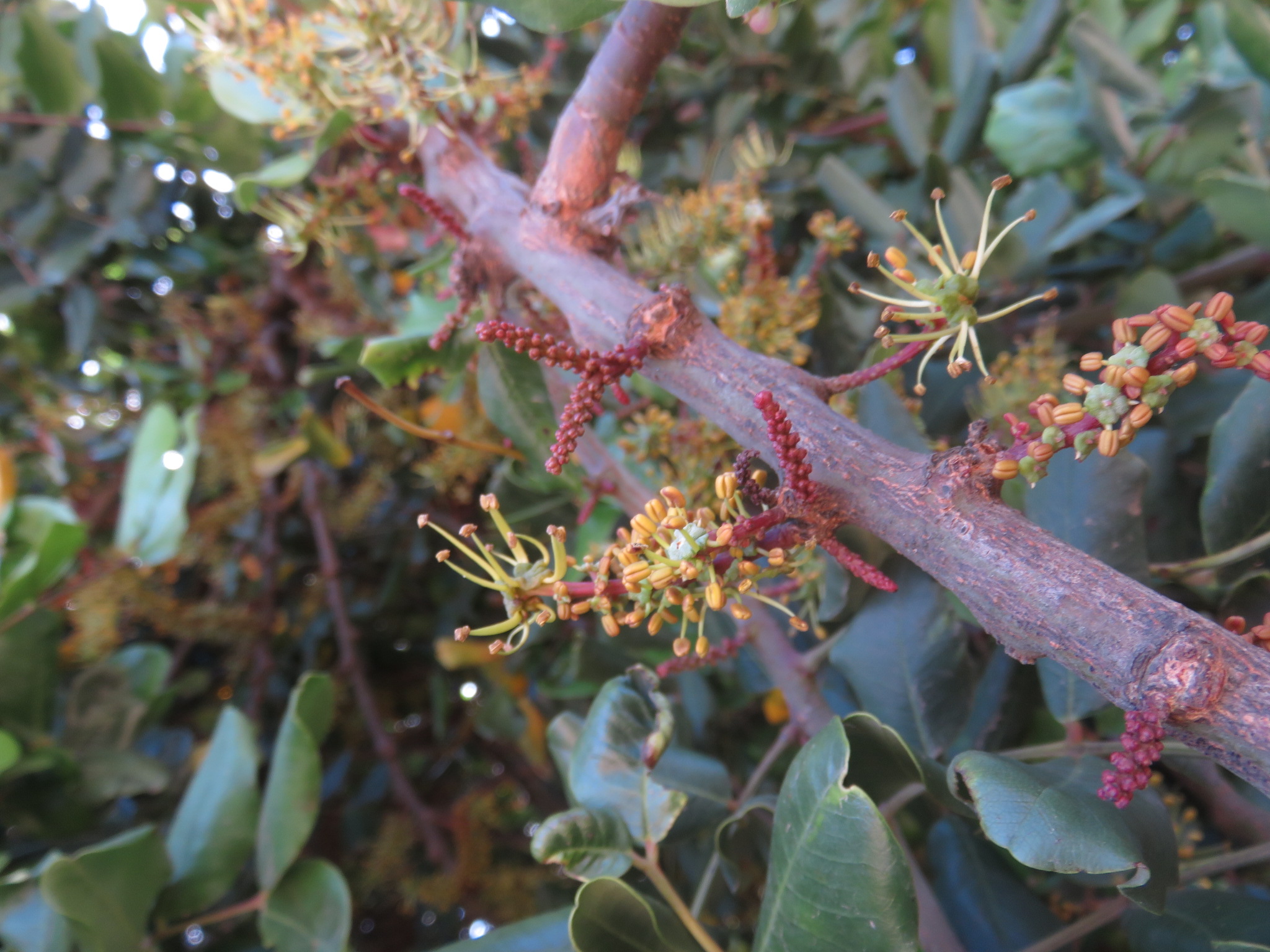 The flowers of a male carob tree in summer
Growing your own trees from carob seed is actually incredibly easy. It just takes time. The trees are medium sized, attractive trees with dense shiny evergreen foliage.
Carobs are legumes and will fix nitrogen in the soil and form part of your garden ecosystem. It remains to be seen how they get on with other plants in my food forest. The flowers are single sex and you will need a male and a female tree. Hermaphroditic breeds do not bear as well, but there has been very little known breeding of the carob, though its domesticated (Var edulis) version bears larger sweeter pods than the wild version (Var silvestris).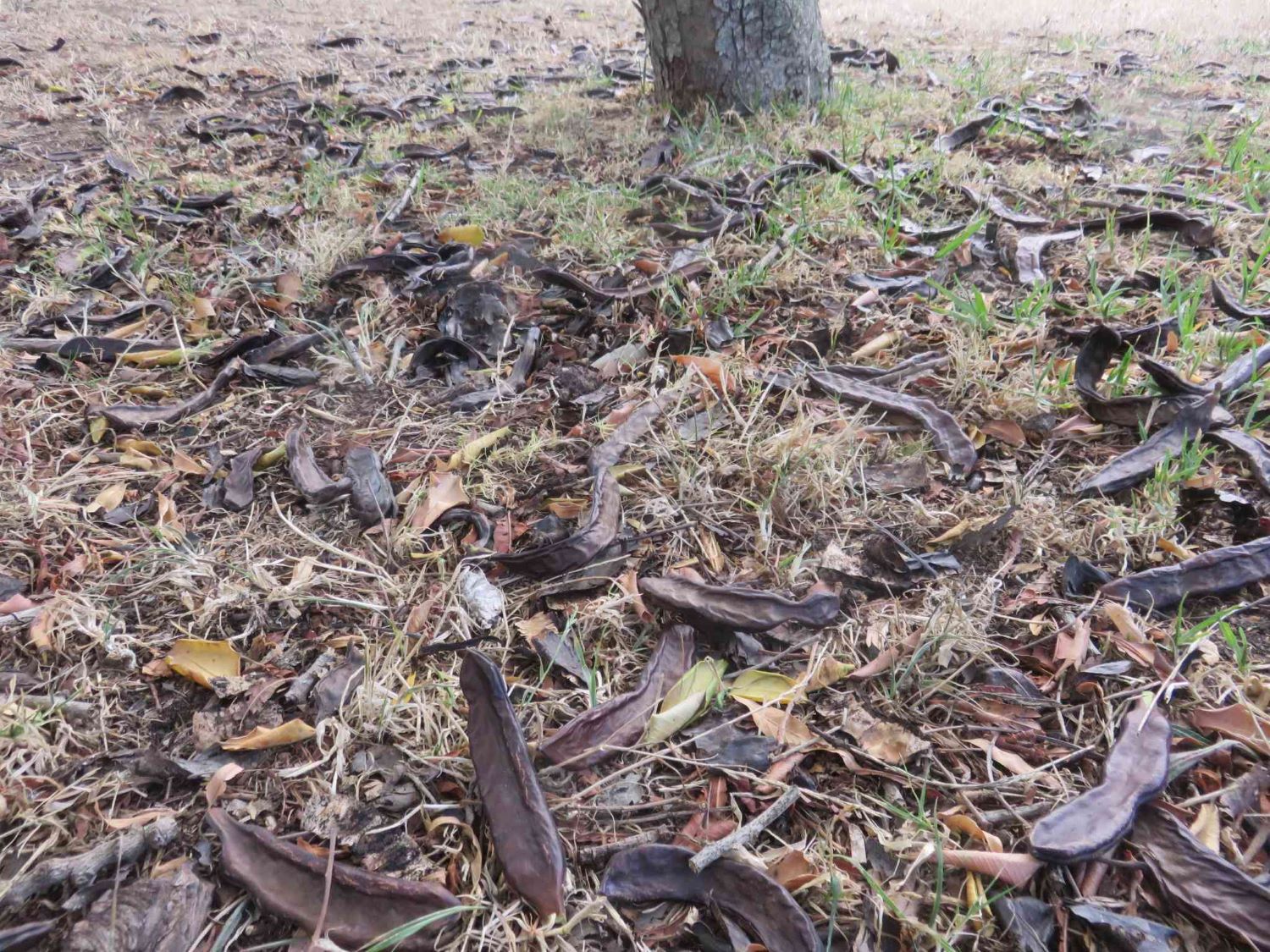 Pods under a female carob tree, which bore three times this amount.
There are many carob trees, or Ceratonia seliqua in Cape Town and people don't use them for food. Many are in dirty industrial areas, or along highways. They have been ripening on the tree up in a local park over high summer, December through to February and we collect them regularly and they keep falling. I'm worried they may be contaminated by dog feces as there were some under the tree. One should be very careful when collecting off the ground. This is why it is best to grow your own tree or harvest public trees by shaking them onto a tarpaulin or blanket.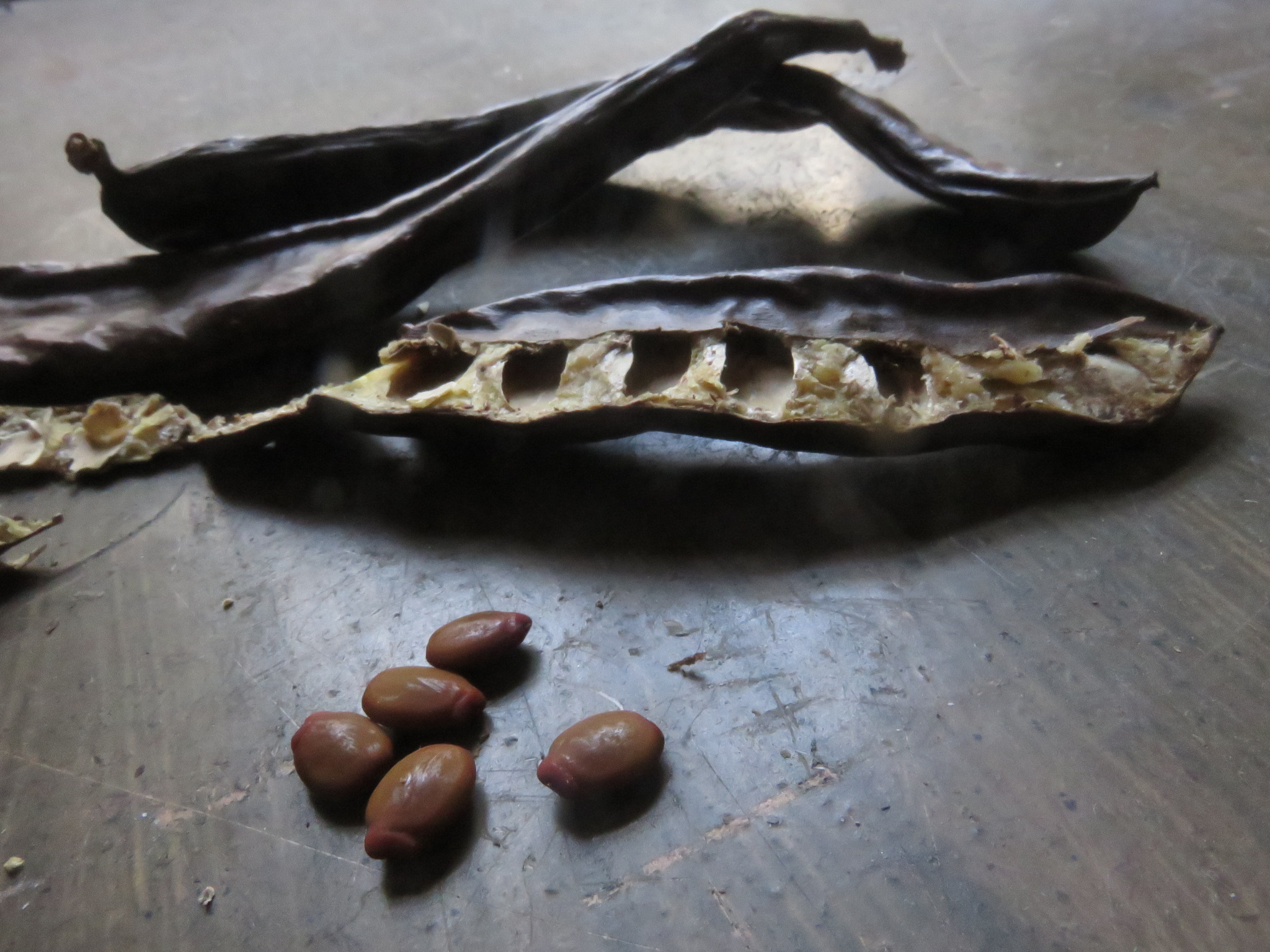 The sugary interior of the bean which holds the carob seed
Carob's name derives from the Greek word keras for horn, describing the shape of its pods. When you open a carob pod that is ripe but not too dry, it gives off a wonderful aroma of caramel toffee and and honey. Carob is used as a chocolate replacement, as it lacks caffeine, and there is a delicious subtle whiff of chocolate when you open a bag of carob pods. Margeret Roberts lists the carob as one of the sacred plants, because of its mention in the bible. It is one of the most common trees in Israel today. It is reputed to have sustained John the Baptist in the wilderness, and was called St John's bread. In Mark (1:16) John is described as eating locusts and wild honey, and some interpret this as referring to the locust bean, one of carob's names. Apparently in some translations like the Amharic bible carob is mentioned.
How to propagate carob from seed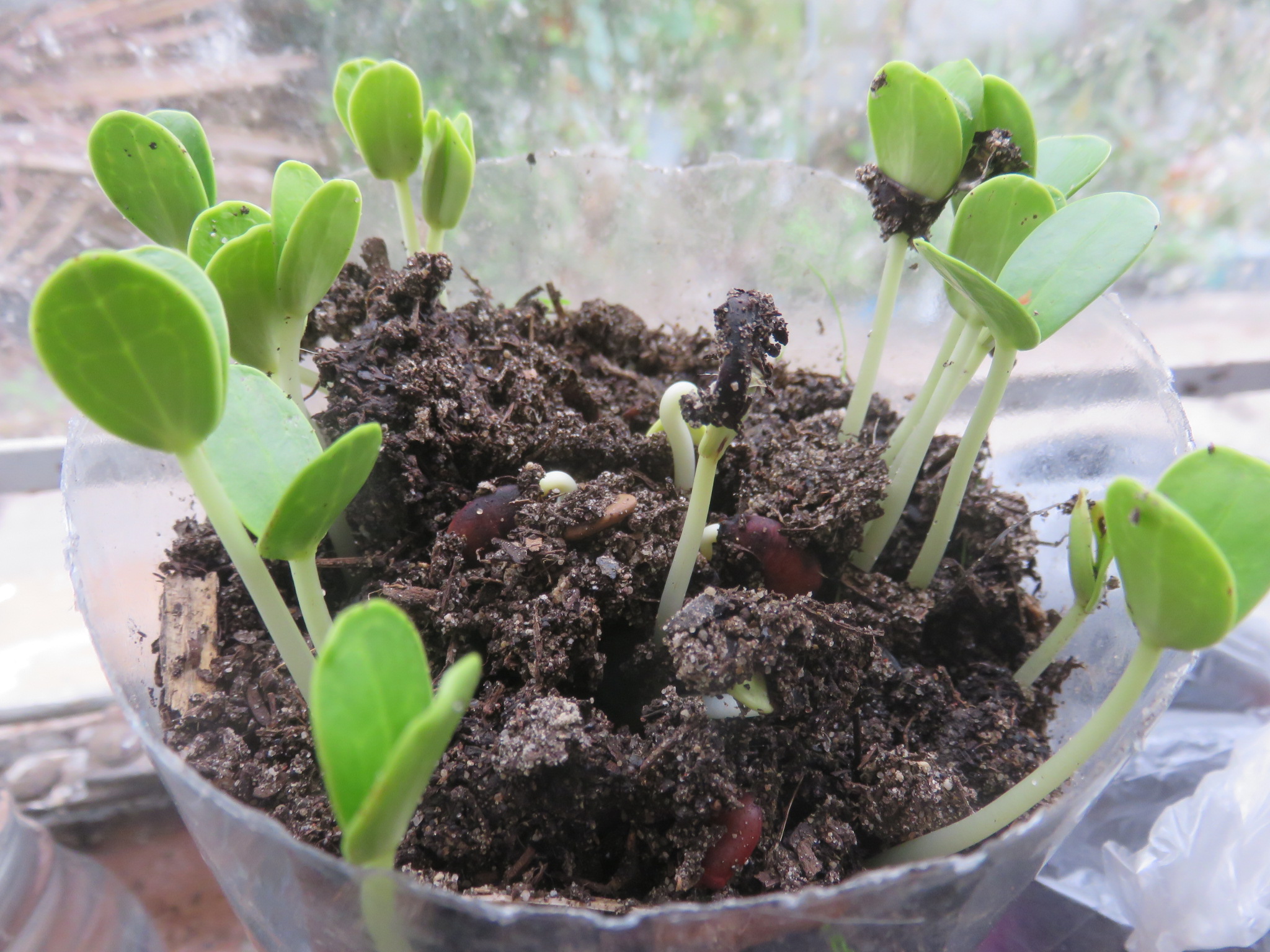 Carob seed can take just 2 weeks to germinate
The pods were opened with a knife, the carob seed popped out, and sowed all in one pot. The pot was a 2 liter plastic water bottle with the top cut off and a hole (5mm) at the bottom, filled with our plain old garden sand, ,mixed with vermicast, as it is so good for helping to keep seedlings healthy. The pot stood in a little plastic dish that was topped up with water from time to time. The top section which had been cut off (I used a breadknife) was replaced to act as a cover keeping moisture inside, like mini glass bell. According to my nursery records, the seeds took 13 days to germinate from 2 June to 15 June (our mid winter). Of 22 carob seeds sown, in total 18 germinated. On July the 1st two weeks later, I transplanted the seeds into their own pots. These were made of the same water bottles but with more compost, because this was no longer a germination mix, the trees had to survive for a while and grow before being planted in the garden. They are are a bit small still when they fill out the plastic water bottles, and really need to be grown on in bigger bags for sale.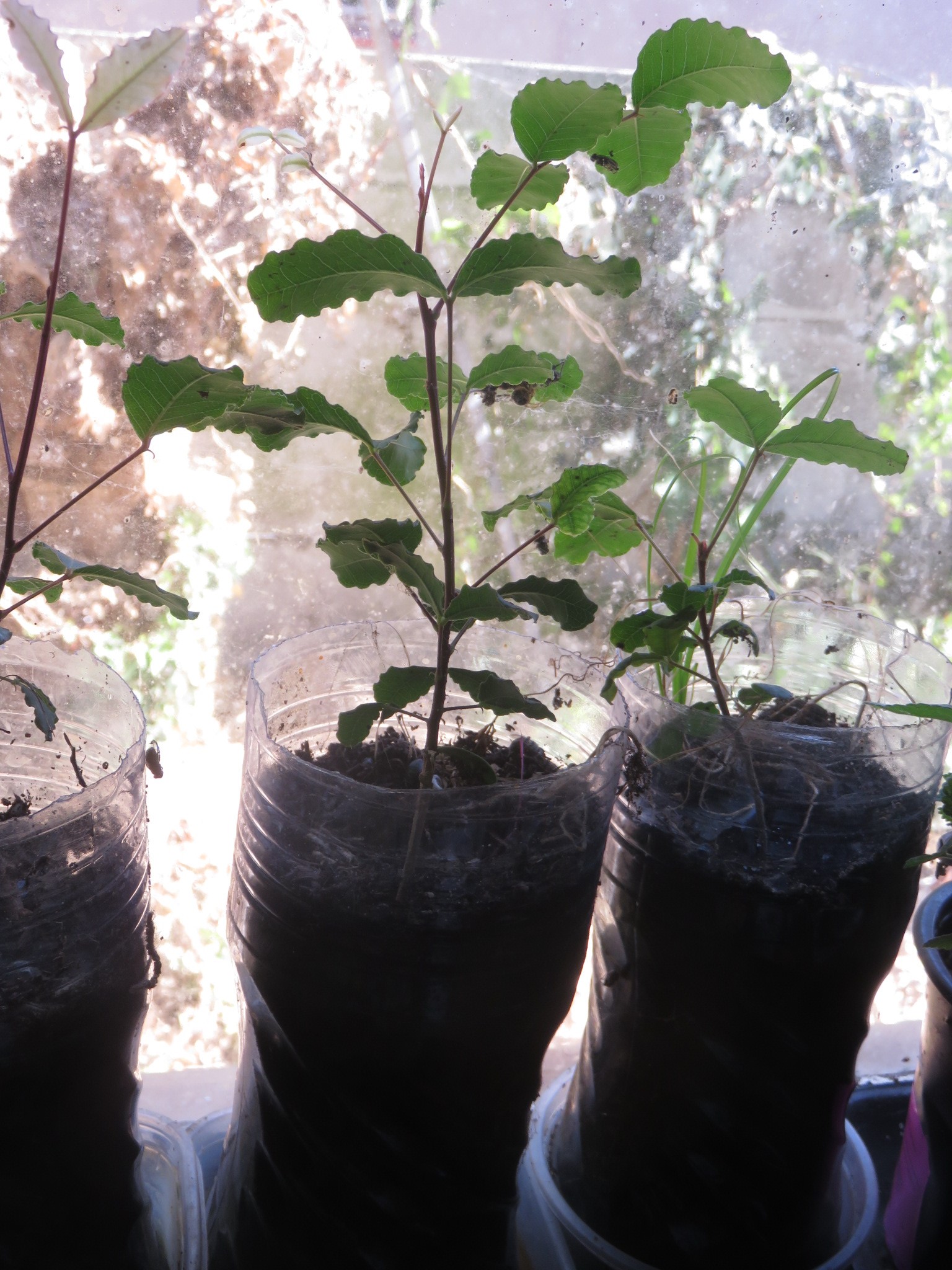 Carob seedlings about 30cm high at 8 months
How to treat carob seed and seedlings
Online they say the carob seed must be scarified but this phenomenal germination rate was achieved without scarification. However, something else made a difference to their survival. There were too many pots for the windowsill, so there were some inside in the window, and some in the garden. The ones on the windowsill were doing very well, and had grown larger, so they were moved outside and the other pots of carob which were struggling were moved inside.
Lo and behold, those carobs brought inside did well, and even in summer the plants outside that had previously been thriving suffered. The window is very sunny, with all day sun in winter, and a lot of indirect light in the summer as it faces north, but the plants outside were shaded most of the day by our large dense Acacia karoo. I watered equally regularly, about once a week, but saw the pots in the kitchen every day and perhaps paid more attention to them. Those outside were exposed to drying winds and may have needed more water. As the summer wore on they became stunted and then died. I will put up comparison pictures for you.
| | |
| --- | --- |
| 100% seedling survival indoors | empty pots, 25% survival outdoors |
These little trees have grown from cotyledons to transplant size without any added nutrients. This is extremely rare. I struggle to get many types of potted saplings to flourish in our low nutrient sand, so their nutrient requirements must be very low. Hence their success as street trees in our local low nutrient soils. It is now February, and so after making slow progress in their pots for 8 months, and being very low maintenance, the carob saplings are ready to plant out or grow on.
Note much later on tree survival:
After planting out I lost all my trees. I don't understand because they do so well in this climate. Further reading tells me they must be very carefully planted out and watered regularly until they are established. I think the article said twice a week. I recently planted out my last seedling and I planted it so carefully this time. Its still alive after a month. Its been raining a lot, I'm watering every day it doesn't rain. However a contributor from Scotland just wrote to me that he has lost all but one of his seedlings, and that one is now suffering. I found an article which has scared me about over watering especially in alkaline soil, which we have. I am going to cut back to only twice a week IFF it hasn't rained. 
------
home page for tons of links to pages on natural gardening

------
perennial food plants, the ecological answer

Restore Nature Newsletter 
I've been writing for four years now and I would love to hear from you
Please let me know if you have any questions, comments or stories to share on gardening, permaculture, regenerative agriculture, food forests, natural gardening, do nothing gardening, observations about pests and diseases, foraging, dealing with and using weeds constructively, composting and going offgrid.
What Other Visitors Have Said
Click below to see contributions from other visitors to this page...

Alan Magnus-Bennett

I have carob seeds from California and down to my last seedling. I live in Scotland and grew the seedlings in my greenhouse. Since bringing it indoors …