How to grow rosemary by recreating its original habitat 
It is not difficult to grow rosemary in your garden with the right amount of sunshine and suitable soil. Two rosemary bushes supply our home kitchen and serve as very important visual elements in our small backyard garden.  
There are two interpretations of its name. One is the rose of Mary, the mother of Jesus. As the legend goes her blue cloak turned the white flowers blue. The blue of rosemary flowers really is quite a sublime colour of blue. It is also said that its name means 'sea mist' which may be a clue to its original habitat.
Rosemary is native to the Mediterranean and Asia. These regions of the world share our broad winter rainfall pattern at the Cape, but in general, the summers are less punishingly hot and dry, according to rainfall statistics. Heidi Gildemeister in her book on Mediterranean gardening recommends placing the South African plants in the hottest, sunniest part of a Mediterranean garden, and this tells you something about our climate here. 
If rosemary originally grew in regions where there is sea mist, it would have used the adaption frequent in such drought tolerant plants here at the Cape, the ability to harvest moisture from the air on its needle like leaves. This would mean that even in the driest summers it was taking in a little water regularly.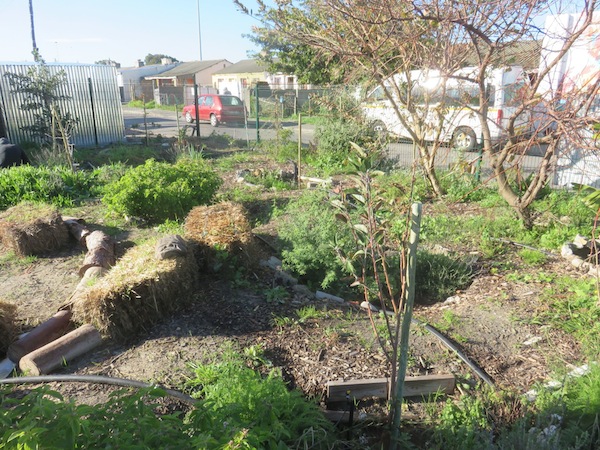 rosemary bushes as the focus of a sunny dry wall area
Rosemary cannot survive water logging and needs well drained soil. It also has a fibrous root system that is good for soil stabilization. It likes neutral to slightly alkaline soil. All of this information tells one how to grow rosemary by planting it in a location in the garden closest to its original habitat, and explains the need for a little extra water in the Cape summer.

How we grow rosemary in our backyard garden
Two years ago I bought two rosemary plants in one litre bags from a local nursery and planted them on either side of the steps into our raised garden. They flourished there.
They are each about a foot or two from a dry wall, back filled with pure sand, our natural garden soil. I did not want to plant them too close to the edge of the dry wall in case the sand around their roots drained too much. This sand originates from the shifting dunes of the Cape flats which once were underwater. I believe a good portion of the sand consists of ground up shells, fitting the slightly alkaline requirement of this plant. In addition the planting in proximity to the dry wall ensures they are never waterlogged even in the wettest winter. Their fibrous stabilizing roots also help to keep the sand from pouring through the cracks in the dry wall. When building the dry wall I stopped the largest cracks with plastic bags and plant matter before backfilling. Now the rosemary plants are large one can see that the spilling of sand has stopped in their root zone, but continues elsewhere.

The area around the bushes is paved with well aged broken pieces of an old concrete slab. This was harvested free from the local municipal rubble dump. It adds to the alkalinity of the soil and could be used as a slow release soil pH adjuster in areas with more acid soil than ours. The concrete chunks also act as an inorganic mulch, shielding the sand from the sun, preserving residual moisture and lessening compaction around the roots of the rosemary.
This part of the dry wall is situated in an area exposed to the sun for most of the day, with morning shade and late afternoon shade supplied by trees. Rosemary does like an open sunny position, but in our climate with its blazing heat and strong sun, we can take 'full sun' recommendations for northern gardens less seriously. The only need I cannot fulfill in order to imitate rosemary's old habitat is sea mist. 
we grow rosemary next to succulents in a xeriscape
Rosemary is classed as drought tolerant. However, sometimes in very dry summer spells the plants look a little desiccated. Their sprays of leaves get tighter and the leaves become sickly dull. My sister from La Jolla, California, said her bushes never look so poorly, therefore, if they look too crisp I give them a little water twice a week to replace the probable sea mist.
I'm grateful I decided to grow rosemary in that spot. The rosemary bushes are quite large now. I cannot encircle them with my arms even when I want to. We harvest frequently, as my husband is a food blogger, but only for our kitchen. I take a spray of leaves about once a week. We use rosemary mainly in mixed herb preparations for making remoulade or herb mayonnaise and vinaigrette. I believe it is perfect for roast meats like mutton but we don't eat a lot of that because of the price. However, I can vouch that a sprig thrown into a pan of vegetables with plentiful tomato, brinjal, some potato, green beans, butternut squash or courgettes and baked in the oven imparts a wonderful aromatic Mediterranean flavour to the whole dish. 
Rosemary's soil stabilization, its visual appeal in xeriscape gardening, and its beautiful aroma in cooking are sufficient reasons to grow rosemary in all gardens with appropriate climates. 
------
home page for links to loads of useful tips on natural gardening in a backyard
------
vegetable gardening the natural low cost way
You're a home gardener ! Share your experiences and questions !
We all know about home gardening. Tell us about your successes, challenges and ask about issues that bother you. You may have the luxury of a back garden, but there are other ways we learn. Few people age without growing something or buying vegetables during their lives ! It is absolutely guaranteed that you have learned things which can help others on their gardening journey.

We invite you to share your stories, ask questions, because if a thing has bothered you it will bother others too. Someone may have a solution ! No question is too small. There is learning for everyone involved, for you, for me (yes, I learn from every question), for us all. Exciting stuff !

We are starting on a new journey. Every week we will profile your letters ! The best stories and questions we receive.

Restore Nature Newsletter 
I've been writing for four years now and I would love to hear from you
Please let me know if you have any questions, comments or stories to share on gardening, permaculture, regenerative agriculture, food forests, natural gardening, do nothing gardening, observations about pests and diseases, foraging, dealing with and using weeds constructively, composting and going offgrid.