Koi breeding album
preparing for breeding
This Koi breeding album shows Stephan getting ready for the fish breeding season. For more detail on the ponds see the pond building albums. Stephan has had a break from Koi breeding for two years, and I'm so glad he's back at it. I built the new pond for him, with the help and skill of our friend Marc Niehaus, and the bricklaying skill of Stefaans (see gray water post).

Stephan is setting up to breed with a beautiful female kohaku, third generation (her grandparents grew up in Japan). The fish are looking ready and breeding may take place tonight. After he has nursed the tiny fish for two months he will probably do another breeding session in February. Anyone interested can book for the Koi breeding workshop in February. The workshops will be R1000 for several days and may include tilapia and trout keeping. Keeping carp for eating is less demanding than Koi keeping, though they are the same species, so you should be equipped for that by the workshop.
Stephan worked for a South African Koi breeder for two years. He would drive the hour there and back every afternoon after he finished his work at the craft business we used to have. He put in two years of 18 hour days. He was taught to cull by a Japanese breeder who flew out here from Niigata prefecture for a few weeks to train the staff at the farm. I learned Japanese in preparation for going out to the fish farms in Japan. Stephan was paid for two years of work not with money but with fish, and he chose his little tategoi with extreme care. 

Koi breeding album to be updated regularly
This will be a running gallery on this breeding session, and I'll keep updating regularly over the next few weeks.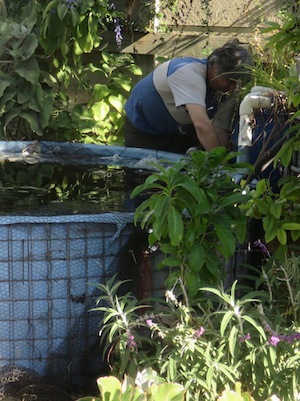 fixing nets
---
---
------
home page for lots of links on natural gardening
------
Restore Nature Newsletter 
I've been writing for four years now and I would love to hear from you
Please let me know if you have any questions, comments or stories to share on gardening, permaculture, regenerative agriculture, food forests, natural gardening, do nothing gardening, observations about pests and diseases, foraging, dealing with and using weeds constructively, composting and going offgrid.