planning a vegetable garden ?




 benefit from the experience of the

permaculturist karen parkin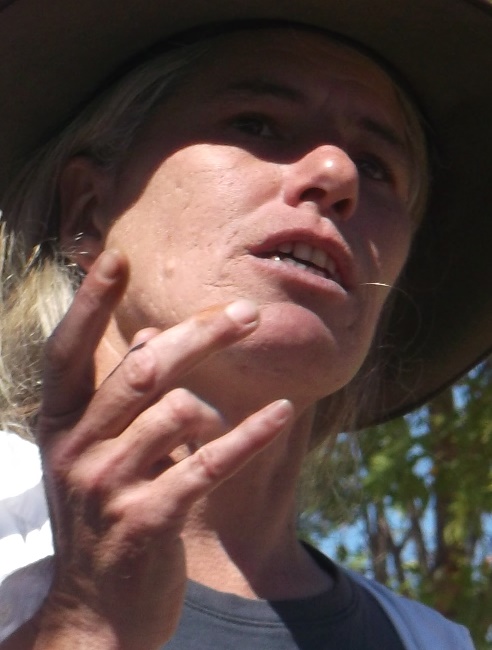 I had the good fortune to speak to the permaculturist Karen Parkin briefly, after her talk at the Tableview Urban Farmer's Co gathering, and what she had to tell me was so interesting that I devote a full page to what I was able to learn about her.
Karen Parkin has been collecting seeds for twenty years.  She started when a colleague started Safe Seed Supply. She sells heirloom seeds which are sourced from a farm in the Klein Karoo, and have been season after season, and are thus all drought resistant and very true to type.

PERMACULTURE WORKSHOPS R150
Karen devotes much of her time to sharing her knowledge of plants and permaculture. Here is something for every aspirant vegetable grower and permaculturist. She does a two hour permaculture workshop for one hundred and fifty rand per person, in Tokai with Saskia Schelling, who has a lovely permaculture garden and teaches at Constantia Waldorf school. 
This is such a reasonable price, less than most ongoing lessons like dance lessons or language lessons, and especially when it is for a once off workshop. The short workshops are what people generally seemed to want, but longer or more specialized workshops and in depth training can be arranged easily.  In fact she and Saskia design all kinds of workshops and courses on request.

UPCOMING EVENTS FEATURING EXPERT KNOWLEDGE IN ORGANIC FOOD
The next event at which Karen will be teaching is a compost workshop at Boschendal next month, at the Boschendal Farm to Table Festival for natural food farmers on the 23rd to 24th of April, where there will be a lot of international speakers, and she'll also be giving a seed saving talk in addition to the one on compost.
PLANNING A VEGETABLE GARDEN BUT TOO SHORT OF TIME ?
To find out how to plant a permaculture garden, you could visit one of Karen's 2 hour workshops described above, but Karen also helps people with managing, planning and planting vegetable gardens. She does garden consulting, and permaculture garden maintenance.  At the moment she manages two permaculture food gardens on private properties. For each client she gives twelve hours a month, which is plenty of time for managing and replanting a small permaculture food garden. This makes such sense as an idea, because not everyone has the time set aside for gardening, but I'm sure most people, whether rich or poor would like to eat and feed their families on healthy organically grown vegetables.
A PERMACULTURIST 
LIVING 'OUT OF THE BOX'

On the day of the gathering Karen was selling Mandala seeds by Alex Kruger at her stand. Karen has an air of deep humbleness despite what appears to be an encyclopaedic knowledge of growing plants and their uses. I asked about how people survive as urban farmers and permaculturists because of the angle of job creation that I give all my investigations. She says that she lives 'close to zero' without credit cards, and that she survives without money except for her rent, and is helped by an economy of sharing food, of giving garden surplus in a give and take which appears really heart warming to me, with her groups of friends. I was awestruck. Living off the power grid is one thing, but living off the money grid without fear and as a lifestyle choice takes such guts and the ability to resist societal pressures. Karen says that her training as a spiritual healer in the remotest areas of rural South Africa in surroundings of great poverty, toughened her and help her to have the strength to live like this.
karen parkin permaculture consultation and workshops

Karen Parkin does consultation and training in Permaculture, organic food gardens and medicine gardening.
She can be contacted at 082 0815137, or permaperson@gmail.com
---
------
green home page for more ideas and informative links
------
vegetable gardening the natural low cost way
------

gardens and links on green garden maintenance
------

Karen Parkin on vegetable seed collection

Restore Nature Newsletter 
I've been writing for four years now and I would love to hear from you
Please let me know if you have any questions, comments or stories to share on gardening, permaculture, regenerative agriculture, food forests, natural gardening, do nothing gardening, observations about pests and diseases, foraging, dealing with and using weeds constructively, composting and going offgrid.