Natural garden design

designing your own eco friendly garden
nature, the best at natural garden design. A Cape sand dune
How to design a natural garden
This section on natural garden design is to help the self taught hobbyist (which I confess I am) with taking care of the environment while designing a garden.

---
What is a natural garden ?
'Natural' design uses nature as a model both in form and function. What I understand from what others generally called 'natural' design, and to add a twist of my own is the following: To distinguish it from the 'organic' and 'permaculture' fields it is garden design using the appearance of natural landscapes as a model, aesthetically, when designing a garden (unlike the other philosophies just mentioned) so that it resembles a natural piece of wilderness, although it is man made. I've developed three simple tricks for creating wild looking plant spacing which use natural principles, as part of a new kind of herb garden design layout.
A truly natural garden would exclude the use of clipped green lawn which has crept in as the ubiquitous foreground to most gardens. Lawns are not an aesthetic necessity, and are a quite a recent acquisition in garden design. I've made some suggestions on how to replace your lawn. To distinguish natural garden design from the wild garden fringes of mainstream 'landscaping', it uses nature as a model in the manner nature works in interdependent recycling systems (as in Permaculture), using natural materials and no 'chemical poisons' (in accordance with organic gardening) and uses these as founding principles. Whereas 'landscaping' is free to go for a natural 'look' while using poisons, natural garden design works up from the molecular level, planning in poison free modeling of nature into the garden's design. To distinguish this use of natural models from organic gardening, permaculture and landscaping, a natural garden, though man made, seeks to locate itself in general appearance with the local Eco systems occurring naturally, planting swamp gardens in swamps and forest gardens in forests, and it prioritizes the use of native plants, to connect the garden with wider ecosystems on the level of insect and other dependencies on local flora. 
But unlike a piece of a man-made 'nature reserve' or rehabilitation of natural vegetation, natural gardening does not ban use of all exotics, only those which are harmful to the wider ecosystem, This could be plantings which are invasive for example, or remove diversity, animal and plant habitat (as large expanses of lawn, paving and food crop mono-cultures do). In natural gardening is, almost by contrast, a place for artificiality, gardening in pots and containers, and the use of other gardening and horticultural devices. But even these can still be green, from making your garden fences and walls more ecological to replacing your lawn.

It is thus a mix of the best of permaculture, organic gardening, landscaping and conservation practice.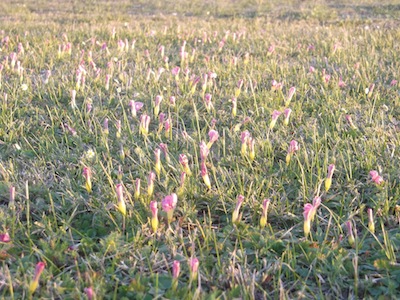 This is turf grass management that verges on natural garden design. A field of indigenous pink Oxalis in the Cape spring
What skills do we need to design a natural garden ?
We can only design according to nature, in as far as information is available to us, so learning is important. This is not book learning, but the intimate continually evolving working relationship a gardener has with the things they grow and the environment of the garden. It also requires the observational skill of an artist, which develops the more one observes. Read up on Akira Miyawaki and Shubhendu Sharma if you have ten by ten meters to turn into a speed micro forest.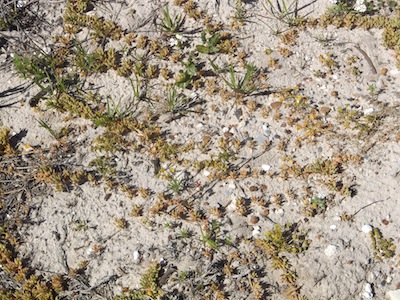 Inspiration for natural garden design. Beach succulents form exquisite rhythmic chains
Designing your own natural garden
This section will focus on helping you, with what I've learned, and to help you communicate with interested others who have also had experience in this field of garden design which is new and yet has to develop a methodology. Perhaps the first thing to do is to all get on the same page regarding our thinking about gardens. The subpages in this section will do details, and you can find the links at the bottom of this page.

Integrate garden design with utility. Access, entertainment zones and work space provided by paving dead overly shaded areas.
What designing your own natural garden can offer you
I've thought through some principles or design goals for the natural gardener to use as guidelines during the design process. I would welcome contributions.

What the natural garden can be

It is a blue roofed gym, green grocer, meditation space, art studio, art gallery, entertainment area, workshop, eco school, university and laboratory. I aim through my gardening to push forward the science, philosophy and art of gardening, and become happy and healthy in the process. Its many possible goals can be integrated into the garden design process, and brought about in the garden as it evolves.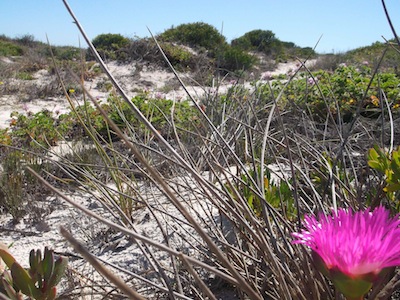 What better natural landscape design than nature itself ?
How to design an eco friendly natural looking garden
For specifics on how to lay beds, make compost, choose plants, make garden layout plans on paper, replicate things you observe in nature and all the mechanics and details of natural garden design, see articles in this section and under vegetable gardening. Follow the links on the home page and use the navigation bar for quick access.
Below I'm discussing some goals or principles to aim for in the design process, the relevance or lack of relevance of formal training, and then I will touch on what natural garden design is not, when compared to permaculture, organic gardening and landscape design.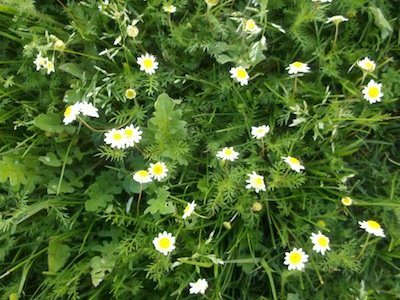 natural landscape design can just be mowing less often
Goals we can aim for in
natural garden design
1) Eco sensitivity to the best of available knowledge

To the best of one's ability and knowledge available to one, keep abreast of environmental and ecological issues, both global and local, to inform gardening practice, and integrate it with sound eco principles.
2) Imitating nature to the best of available knowledge
Imitating biological systems to gain self maintaining balance, save water and energy and re-use all materials, much like permaculture. Imitating natural landscapes in some aspects, to recreate the beauty that nature the designer seems to create so easily, and to create spaces as calming as natural spaces. Articles which delve further into this from the water use aspect can be found under climate change, deforestation and lack of water wisdom, water-wise gardening practice,  mulching, watering wisely and water-wise planting, appropriate plant positioning, Mediterranean gardening, and drought tolerant plant adaptions.  
3) Poison free garden
This gardening method must be poison free, including being free of the use of plant extracts, which qualify as 'organic' just because they are not poisonous to humans, or are herbal, to kill insects or any other creatures.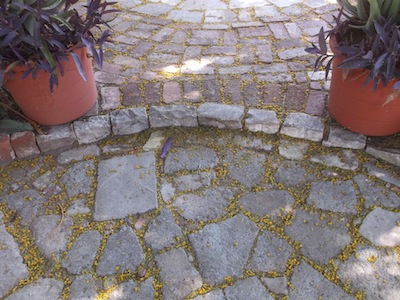 Natural garden design is about recycling. Can you spot the four recycled materials in this picture ?
4) No imports or exports bar plant material from the garden

One could aim to use only what is in the garden, as material for maintaining the garden, and not to buy in any soil additives, even clay or calcium or bonemeal. Also practice multiplying your own plants when possible and design yourself a small nursery and learn about plant propagation.
5) Indigenous planting

As you be gathered from my criticisms of other green gardening philosophies, one should aim to use only non-invasive plants and replace all invasive exotics in their various permaculture niches, with indigenous plants where this is possible, by expanding one's knowledge of indigenous and cultured plants.
The Botanical Garden, Kirstenbosch, garden design gallery
6) Aesthetic pleasure

As can also be assumed from my criticisms, aesthetics should be more important. It partially aligns with permaculture principles in that aesthetics do have a function. This function is pleasure which is the antidote to the toxic cortisol soup washing around in our veins and forced on us in this modern culture. Bringing down the cortisol is as necessary if not more important than worrying about having the right micronutrients like magnesium in one's diet. Beauty has direct health benefits. One should choose one's vegetables and put them together for beauty, in addition to the usual permaculture reasons like companion planting. To help deal with this complex function and form mix in garden design I'm collecting a plethora of examples in my plant colour albums, both of wild plants through the seasons, and plants ordered by colour and month.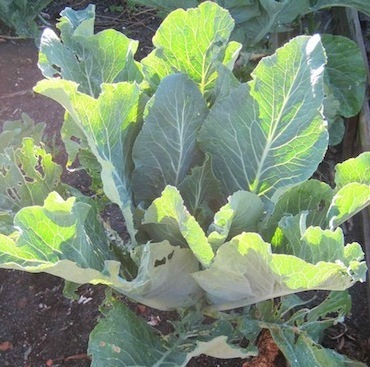 healthy vegetables are gorgeous, what a cabbage
I feature a lot of vegetables in my colour albums as they are often sculptural and gorgeous to look at and their physical qualities can be utilized in design to achieve greater beauty in the whole. I am sure in time scientists will discover that some beautiful combinations have as yet unknown chemical and physical symbioses and that planting for beauty can be a sound practice on the ecological level too.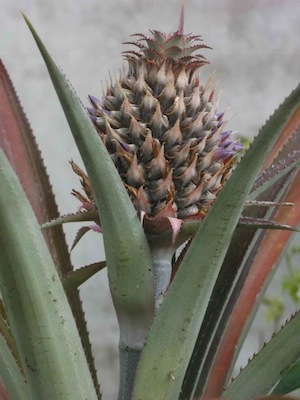 A budding pineapple, as sculpture and colour
Is formal training useful in 
natural garden design ?
I am far off being able to recreate natural landscapes or their dynamics. Yet I do have some training. It did not really help me, I learned the most by following up on my own observations in the garden and in nature, hiking in the area, reading a lot and learning from other people who are gardeners, environmental activists and plant collectors. For the formal training I completed many modules of horticulture and design through correspondence including the six month design module, as well as plant physiology and some plant culturing basics, soil science and turf grass and people management. I've also done a permaculture design course, and interned as a vegetable gardener. All of this doesn't do much to cultivate the aesthetic or ecological intelligence of a garden designer, but it helps a little.
As an environmental enthusiast, designer cum horticulturist and vegetable gardener I aim to never stop learning from my garden and all my cooperative human networks. Eco-sensitivity always depends on knowledge, be it academic, philosophical or passed down through the generations, and lack of knowledge has lead to environmental disaster. We are always limited to available knowledge, nonetheless, therefore attaining knowledge is a vital part of being green.
Natural garden design is also about relationships, and dancing with some of the prickliest
Landscape gardening training
The formal skills given a gardener do not compare with experience and observation. Gardening knowledge is so complex, it cannot be learned from a book, and it is so simple, only doing will school you.

In formal courses I learned how to use a dumpy level (which I've never had to use again) and make plans on tracing paper (anyone can do this), and the list of things to consider when designing, like levels, fixed structures, wind directions, soil type and so on (very useful things to consider, but experience and observation are also the basis of all of this). I was not satisfied with the standards of eco-friendliness, use of indigenous plants and water wise planting in this formal training.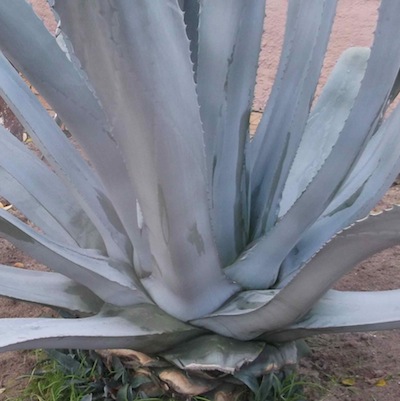 2 man high Agave. Some of the most useful and most impressive plants are very invasive here
Permaculture design training
Recently in October 2016, I completed a permaculture design certificate with Alex Kruger and Tahir Cooper and went over much the same ground in terms of design, within a different ideological framework. We learned about Zones, Sector mapping and using a dumpy level and design to save water, and maximize the use of all resources on the site for supporting human needs. This system is far more sensitive to the site conditions. What was really new information was integrating all the site information with needs, hydrology, zones and existing vegetation into a finely delineated patchwork of areas with exactly the same conditions. This allows the land use to design itself, so that you know the optimal place to put everything. We also learned to make IPM's and to think about keyline design and generating absolutely no waste, and designing so that every element serves multiple purposes, which is particular to permaculture. It is a very rich, complex and challenging design method. I looked back at all the manuals and articles we received and realized they could keep me busy for a lifetime and I had better start reading !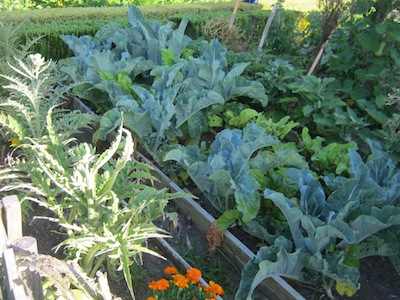 Exquisite utility in a garden by the Master Karin Parkin
Summarizing some differences between Permaculture and Landscape design
In permaculture you design for manmade and naturally maintained and semi self maintaining ecosystems. It is like deep level imitation of nature. Whereas in mainstream 'landscaping' you design for beauty and the usual site and plant suitability. For informal gardens this is the imitation of the appearance of nature. Permaculture design goes deeper in terms of pursuing ecological soundness and integration of site characteristics with action on the site and gardening practice. However, in permaculture I missed the intense interest in designing for beauty that is present in 'landscaping'.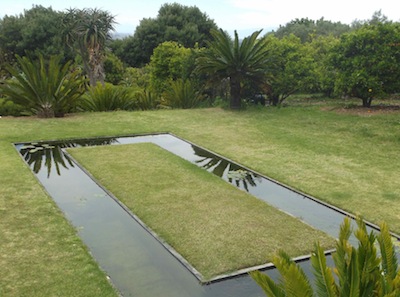 A lovely calming example of what 'landscape gardening' can be
 What natural garden design
is and is not 
One can sometimes clarify what something is by clarifying what it is not. I think defining natural garden design is best accomplished by offering a critique of the other forms of garden design. Landscape gardening is fundamentally aimed at creating beauty. Because masses of dead plants can be ugly, (unless you've planned the senescent vegetation as well as Piet Oudolf) landscaping must of necessity engage with how to keep plants alive, and thus venture into soil types, and site conditions, and suitable plants for these, but often it can set up very unnatural systems in terms of soil nutrient adjustments, water regimes and plant care (topiaries being a classic example). I think artifice is not necessarily bad but a little goes a long way. As the backbone of a garden,clipped and geometric forms, and too much organization of colour and form creates fatigue. Its stress, opposite of bliss.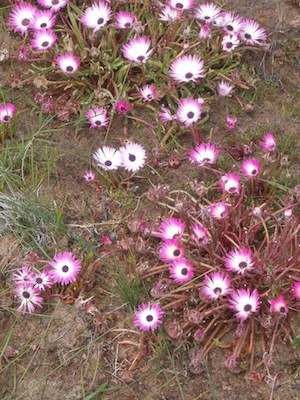 Natural garden design at its best. No one planted this.
a problem with South African permaculture, its exoticism
Existing vegetation types can tell us about underground ecosystems and subsoil climates, and permaculture is brilliant at this, but in South Africa it is not so well integrated with the use of our indigenous flora at the Cape. This is due to a huge knowledge gap in this locality of the world. Permaculture is a global movement and the plant knowledge that is most easily available is developed in other areas of the world, like the cold northern hemisphere, or in New Zealand. The plant material used in South Africa leans on this global permaculture knowledge, and thus plant material used in South Africa is not actually localized enough, does not make sufficient use of our own incredibly rich flora. Being concerned about alien invasion by exotic plants is seen as less relevant than creating man made self sustaining ecosystems. I feel differently and have therefore named what I want ot do natural garden design. While on my course I made some forays onto the mountain. I tried to find indigenous plants to replace the exotics which have important niches in a permaculture garden and some of these are quite likely to be invasive. I know lupins, which are used to add soil nitrogen, are extremely invasive, and I found a beautiful indigenous lupin like yellow legume which grows after fires on Silvermine (a locality on the Table Mountain chain). This is just one example of possible innovative wild plant use which could move us away from having exotics in too many of the ecological slots in the permaculture garden. It is hard work creating the ideal natural garden design culture.

The lupin like indigenous legume glows like the fire it loves
Permaculture in South Africa is moving in the right direction, due to the consciousness of some of the movement's strongest leaders like Alex Kruger, but more research and experimentation needs to be done with indigenous planting as a default, before using exotics. Natural garden design should take this into account. We just don't know enough about indigenous plants and trees and how they could serve in the Permaculture garden. Quite often we don't know about their unique chemical properties, their accumulating abilities and their effects on insect ecology, and this is known for many plants from around the world due to indigenous or farming knowledge. We don't know how to culture our own plants and care for them on a profound level, and we don't know about their relationships to each other.

Fungus in our garden, uninvited and uncultured. Its a very good sign, but how to replicate it ?
Our national botanical gardens do not focus on 'useful' plants quite as much as 'landscaping' plants, but the knowledge acquired in their nurseries is at least a start. We just don't know enough, and by the time we do it will be too late, unless permaculturists drive hard towards experimenting with indigenous plants. There is a huge knowledge gap as the indigenous knowledge about the Cape plants from the Khoesan has not been fully passed down, due to our terrible history, whereas it has been passed down in many other areas of the world, and as far as we know the indigenous people of the Cape did not practice horticulture, so that also affects us in our efforts at natural garden design.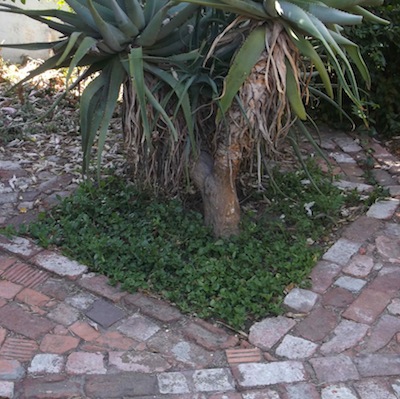 An aloe growing in an indigenous edible green carpet
I think all permaculturists around the world should scour their local areas for replacement dynamic accumulators, nitrifiers and so on, as well as species grown for wood, staking, building and keeping bees and birds happy, for human foods such as spices and berries and salad greens. Here at the Cape we have a wide range of edible green carpet food, as it is called by experts on the frontier of indigenous food research. These species are unknown in mainstream horticulture and farming. They are very tough water wise species. In the Cape we should select plants that use much less fertilizer and water, a need which has become prominent in this year's terrible drought, but they must be indigenous. If not their hardy resilience presents a danger. Waterwise gardening in Mediterranean gardens or low rainfall areas requires drought tolerant plants and native plants are often the most economical with scarce resources, in any environment.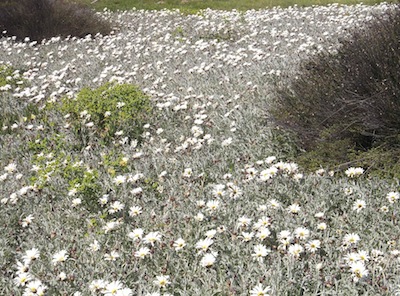 Natural garden design so good I'm not sure who made it
I hope one day the only exotics in a permaculture system may be the a variety of foods bred over millennia for their larger roots, fruits and stems, and these are generally so fragile and dependent on water and compost they will not tend to run rampant in our dry acidic low nutrient soils at the Cape and threaten the local vegetation. In contrast, getting drought resistant ground covers, herbs, berry plants, bee friendly flowers, green manure crops, nitrifiers, and accumulators from other dry regions of the world is ecologically dangerous, as these plants can survive easily outside the tended garden, in the wild, and will invade if they are prolific self propagators. This is because indigenous Cape vegetation is mostly so slow growing, a vigorous foreign plant can just overwhelm large areas of land. It has happened so often, and has led to loss of diversity here and in other regions of the world our drought resistant plants create havoc too. Even in a drought planning for aquatic plants is possible. The garden pond can integrate fish keeping and vegetable growing, and double as a natural swimming pool. Such a man made eco system actually saves water.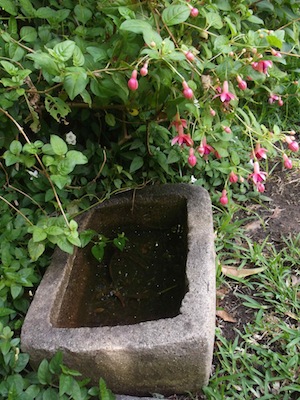 natural garden design integrates all functions, the dogs water bowl needn't be hideous
A problem with vegetable garden design, is really my own problem, I can't stand goblin aesthetics
An eco friendly vegetable garden can often be beautiful conceptually but visually awkward, as people force their design into the newly learned 'natural geometries' like the spiral, and the whole ends up looking sort of kitsch and unlike anything you see in a natural landscape. However this is not the fault of permaculture, or organic gardening or any other gardening philosophy, but in its interpretation. Old hands at gardening tend not to do this, but show a natural ability for natural garden design, to integrate the ecological and visual on a level which appears more natural. People using permaculture to feed themselves and survive also tend to cut the frills.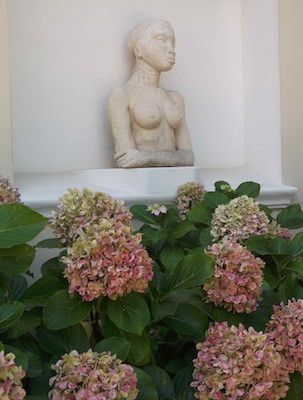 Applied by an artist (Irma Stern) a little artifice goes a long way
Aesthetics is all part of learning and adapting to feedback, and changing strategies to achieve harmony on multiple levels. It leads me to conclude, when looking around, that natural gardening philosophies, as well as mainstream gardening education, do not necessarily produce complete designers. A combination of the best of both would produce natural garden design which imitates the best in nature in terms of functional systems and appearances. I would like to discuss all this with readers and see if what comes up can improve gardening and garden design as a whole.

Hard landscaping
I will include several useful pages on the hard framework of the natural garden, like using containers and pots, building ponds, and laying paths and paving, explained from an ecological point of view.
---
------
home page for overview of the links to gardening information and methods
------
the garden's origins as a place for growing food, then as a place for horticultural display with links to all articles on natural gardening methods
------
understanding beautiful drought tolerant plants 
------
water-wise gardening practice, introduction
------
planning your planting in a Mediterranean garden
------
start your own pocket forest ecosystem project
------
natural random spacing in herb garden design
------
albums of wild flower photographs for visual inspiration
------
collections of garden design and flower images
You're a home gardener ! Share your experiences and questions !
We all know about home gardening. Tell us about your successes, challenges and ask about issues that bother you. You may have the luxury of a back garden, but there are other ways we learn. Few people age without growing something or buying vegetables during their lives ! It is absolutely guaranteed that you have learned things which can help others on their gardening journey.

We invite you to share your stories, ask questions, because if a thing has bothered you it will bother others too. Someone may have a solution ! No question is too small. There is learning for everyone involved, for you, for me (yes, I learn from every question), for us all. Exciting stuff !

We are starting on a new journey. Every week we will profile your letters ! The best stories and questions we receive.

What Other Visitors Have Said
Click below to see contributions from other visitors to this page...


This is the catch pool for my favourite drinking fountain at Kirstenbosch

I love this tiny rock pool under the drinking fountain.
I've been writing for four years now and I would love to hear from you
Please let me know if you have any questions, comments or stories to share on gardening, permaculture, regenerative agriculture, food forests, natural gardening, do nothing gardening, observations about pests and diseases, foraging, dealing with and using weeds constructively, composting and going offgrid.