combine making fruit vinegar and organic seeds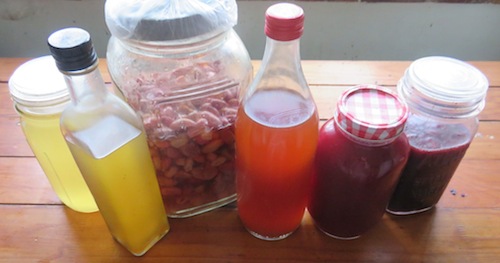 various types of fruit vinegar at various stages
How I got to integrate seed saving with making fruit vinegar
I got to combine fruit vinegar making and seed saving because a while back I started fermenting seed I was saving to loosen the seeds stuck to the fruit.
I had learned this at a seed saving workshop by Karen Parkin. Apparently it also protects the seeds against fungi. I started with pumpkins and then did tamarillos. I noticed that the perfume of the fermenting tamarillos was very fine, and this was also so for Carissa bispinosa and then Harpephyllum caffrum or wild plum, both African fruit trees. The seed fermented for several weeks.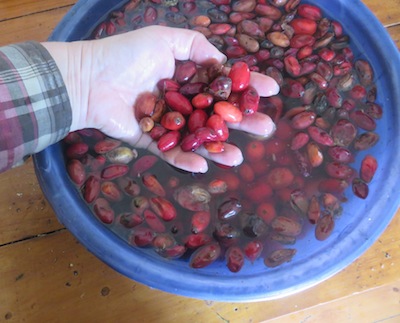 A forager's harvest. Wild plums gathered off the street.
The Harpehyllum has hard seeds that take months to germinate so I'm not sure of it worked for them. Very few Carissa germinated and then the seedlings disappeared again. However fermentation gave the tamarillos and the pumpkins a high germination rate.  

My husband started  making fruit vinegar for his cooking website lookingatcooking.com. I also describe how to make fruit vinegar on the website. He made plum first, and then pineapple.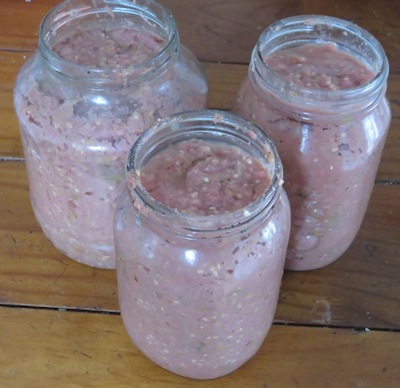 Mash the Guava in a processor and leave to ferment.
How to make the vinegar
Because we have a glut of guavas full of worms every year, I had to just throw away the fruit. This year I wanted to suppress the fruit flies which lay eggs on the guavas. The fallen fruit needed to be collected every day and I thought hard about a better use for them than composting. I collected the fruit and made vinegar out of them. It didn't take long to put two and two together and start making vinegar with the fruit from which I am harvesting organic seeds, using the fermentation that is part of processing the seed. This year will tell if they are still fertile after processing.

I crush the fruit and add a little sugar and water if there isn't enough pulp. It is important to crush the fruit so that they cannot form anaerobic botulism colonies in the closed envelope of the skin where the acids cannot penetrate. This is more of a threat when pickling less acid fruit like olives and cucumbers. I let it ferment for approximately a month. It should smell like wine at this stage. I then remove the seeds, filter the ferment and store it in a cool place loosely covered, to let it go sour. The ferment must be filtered several times at monthly intervals. The gelatinous skin which forms on the ferment is called the 'mother'. You can use it to inoculate other ferments apparently, but I found it didn't speed up the fermenting process.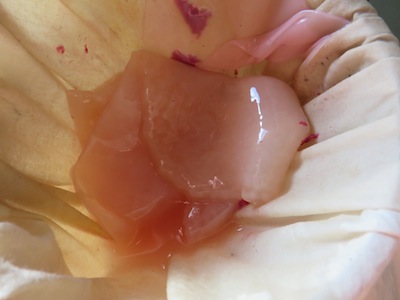 The Guava 'mother' after filtering.
Use any fruit for making vinegar
Since the first efforts I've made Numnum (Carissa bispinosa) vinegar, pineapple-lemon-herb vinegar, and I'm working on a Harpephyllum and a Tamarillo vinegar. I also have a grenadilla ferment which looks interesting, but the fruit were moldy when harvested and I don't think its safe for human consumption. Likewise the Harpephyllum fruit lie on the street and then they also have tough skins which may encourage nasty anaerobes and botulism, so I plan to boil and render down the Harpephyllum vinegar into a sweet sour syrup.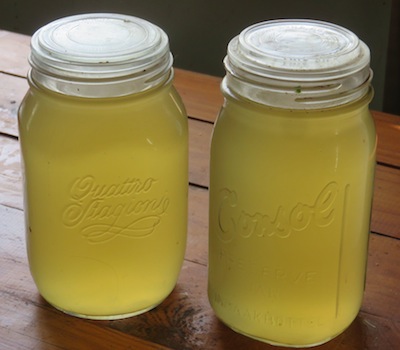 Pineapple, lemon and rosemary vinegar
The benefits of home brewed  vinegar
Boiling is a bit unfortunate as the wonderful thing about hand brewed fruit vinegar is the great live flora they contain. Our milk products and cheeses and sauerkraut are all pasteurized, and the wines disinfected, so there is precious little opportunity to consume lacto bacteria which are so good for the digestive tract. Some people are allergic to the lactose found in milk on which they thrive, so making fruit vinegar is a wonderful opportunity to make lactose free cultures containing some lactobacillus. 

Over ripe tamarillos. Scoop out the seeds and ferment.
Vinegar brewing is a simple process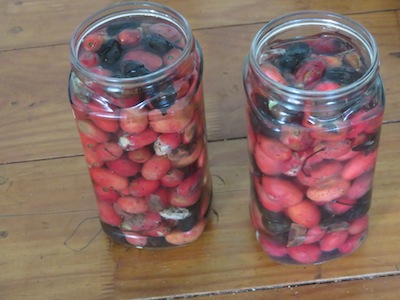 Don't use very rotten fruit for vinegar, but save the seed.
The fermentation and formation of acid make this a relatively safe easy process, as the toxic microorganisms don't like acid, and the fruit tend to ferment rather than rot. I've tried making sauerkraut. The first batch was a success. It was beginner's luck. The subsequent batches failed and went stinky and brown, even in the fridge. Sauerkraut is a much more complicated and finely tuned pickling process than making vinegar which occurs naturally if you have over ripe fruit lying around. They go off, ferment and then form 

vinegar. All you need to do is assist the natural process, with air, perhaps a little water and sugar if the fruit don't have enough pulp, and mashing the fruit so that there are no pockets (closed envelopes of the unbroken fruit skin) where the processes cannot penetrate. The result is the most delicious vinegar, each bottle entirely different.

----
home page for links to natural gardening know how
----
the skills you need for growing organic vegetables
You're a home gardener ! Share your experiences and questions !
We all know about home gardening. Tell us about your successes, challenges and ask about issues that bother you. You may have the luxury of a back garden, but there are other ways we learn. Few people age without growing something or buying vegetables during their lives ! It is absolutely guaranteed that you have learned things which can help others on their gardening journey.

We invite you to share your stories, ask questions, because if a thing has bothered you it will bother others too. Someone may have a solution ! No question is too small. There is learning for everyone involved, for you, for me (yes, I learn from every question), for us all. Exciting stuff !

We are starting on a new journey. Every week we will profile your letters ! The best stories and questions we receive.

Restore Nature Newsletter 
I've been writing for four years now and I would love to hear from you
Please let me know if you have any questions, comments or stories to share on gardening, permaculture, regenerative agriculture, food forests, natural gardening, do nothing gardening, observations about pests and diseases, foraging, dealing with and using weeds constructively, composting and going offgrid.
What Other Visitors Have Said
Click below to see contributions from other visitors to this page...

Saving seeds after fermenting

Hello, I am very curious as to whether you found the seeds to be fertile after having left it to ferment for a month. I am processing a large amount of …