Blue flowers
and the life cycle from flower guilds to senescence 
At the moment I'm thinking of blue flowers, since the rainy season and with it a little of the rainy season blues are upon us, I'm sorely in need of frivolity, and why not gardening frivolity, and talk of garden colour schemes. Metaphorically apt, nature reacts to the rains with the supply of blues, I noticed this last week there seems to be a peak in the blue flowers that are out, especially in blue leaning to purple, violets in other words.

GARDEN FLOWERS NAMES
The Salvia lucantha (Mexican bush sage), has suddenly produced a lot of purple spikes, and the rosemary Rosmarinus officinalis has echoed with sky blue. Against the walls are the deep royal blue spikes of the giant Plectranthus ? (I cannot identify this distinctive plant), and then the Convovulaceae seem to be coming again. The two colours of morning glory (Ipomoea sp.) in my garden while not at their peak, are making a come back and seem to be persuading me not to uproot them and burn them for being such pesky invaders. I googled morning glory, and was really astonished by the variety in this species, as all I knew was the usual purple and blue version found all around Cape Town as a pioneer and invader. In the photograph I've shown the paler species with palmate leaves, found in my garden, which is also highly invasive, to judge from its performance, but is less common. The convolvulus tree in the neighbourhood which could be Convolvulus sebatius or Argyreia cuneata, a medicinal tree from India originally, is looking at its best now. I also saw a gorgeous simple lilac coloured dahlia, it probably is a cultivar. 

GARDEN COLOUR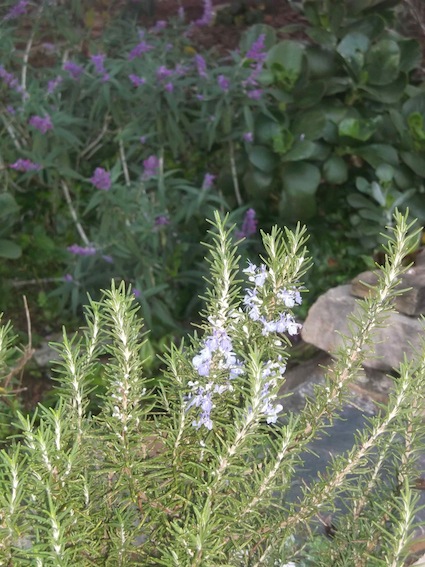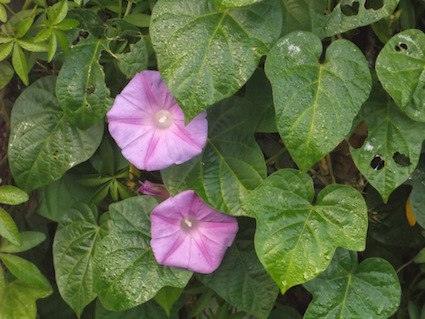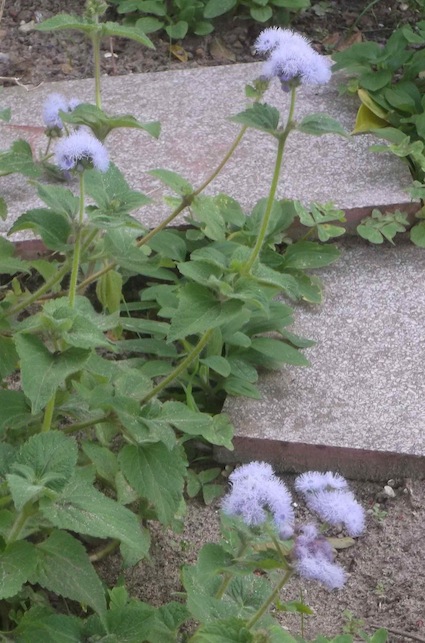 purple BLUE FLOWERS: why at this time ?
I think its possible that at certain seasons certain colours predominate. In the wild, in Fynbos plants, this can be because of co-evolution. This was explained in a brilliantly timed photoseries by John Manning, a Kirstenbosch botanist. An example can be seen in this article, where the photographs capture the long tongued fly feeding off various flowers.
http://pza.sanbi.org/sites/default/files/info_library/champi
on_pollinators_pdf.pdf 

The examples shown in the illustrations in an earlier article are creamy flowers with dark pink centres which all appear at a similar time, and attract the same type of nectar drinking fly. They form a flower guild, and remarkably, the different plants deposit pollen on different parts of the same insect (Manning and Goldblatt (1995)), and pollen is transferred economically, without too much loss. The authors found that flowers in a guild will be found in the same locality. There are many many different guilds pollinated by different insects.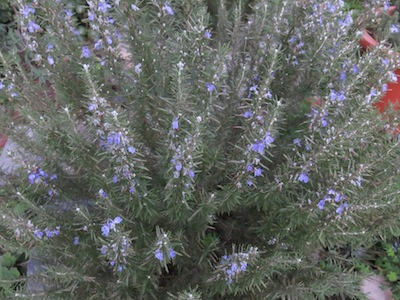 Rosemary needs no introduction, and loves the company of recycled concrete paving
However, this synchronizing of the appearance of blue flowers, in spikes, and pink ones in late summer that I mentioned in another article cannot be explained by the flower guilds, because they come from many different areas of the world originally, and have been removed from their evolutionary context, and from the insects that co-evolved with them, unless some globally present insect is 

responsible for global colour concert, it is a mystery of the highest order. Furthermore, we may see similar colours, but what the insect sees, outside our visible spectrum, would change the attracting target of the flower somewhat. One has to see it on the insects terms. Small markings not visible to humans may be the key attractants within a flower guild.

possibly a type of plectranthus, with saucer sized leaves
as fingers go blue in the house from the bone chilling cold, blue fingers come out in the garden to warm the heart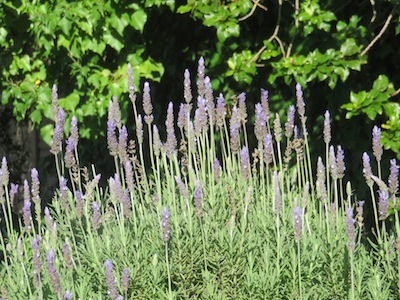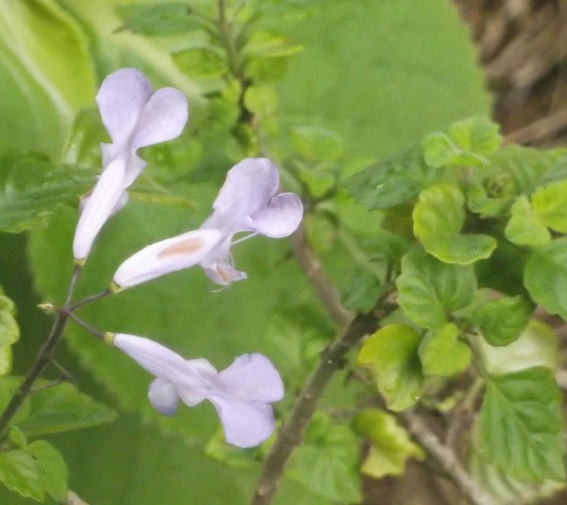 a blue flowered bush plectranthus with tiny leaves and delicate flowers
FLOWER GARDEN DESIGN with colour, shape and time
Having a certain dominant colour in the garden at a particular time of year takes quite a bit of planning, I have found. I think it is one of the difficult tasks in garden design, because of the complexity, needing colour to follow colour, and what to do with the plants that are 'over' or not yet there ?

A mix of colours, with one just as a highlight or contrast in colour and tone works well, as does the diversity of shape and ripeness of the plant's flowering parts. I love the garden designer Piet Oudolf for incorporating 'dead' plants, which aren't dead of course, magnificent flowers turned into seed capsules, and withered leaves are integral to his designs. I've collected many pictures of his gardens on pinterest, and included pictures of Gertrude Jeckyll gardens,
 permaculture gardens and pictures of Fynbos and natural African vegetation. The models provided by the wild, and natural plantings found in  permaculture, and the way these two garden designers work with form and life cycles serve to show how a garden can become beautiful using chronological continuity, without it having to be a slice out of time with frequent eradication of any older growth and removal of dead leaves and plants past their blooming prime. This approach is also optically much more stimulating and profound, making the garden into a poem about senescence, in which ageing does not mean growing ugly and useless, but changing form, and still being an essential and delightful part of the whole composition of life.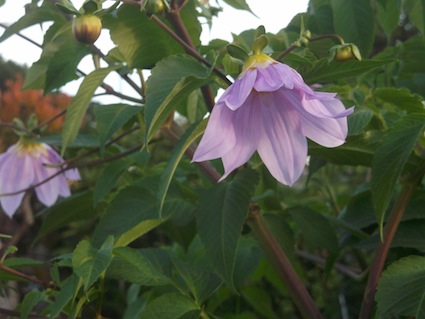 a large lilac dahlea with simple form
To link to blue flowers pictured in month by month albums, see the links at the bottom of the page.

------
home page for different green ideas
------
different garden colours in the flower garden
------
blue flowers album month by month on this website
-------
my album of blue flowers and plant colours starting in July on weebly
------
Restore Nature Newsletter 
I've been writing for four years now and I would love to hear from you
Please let me know if you have any questions, comments or stories to share on gardening, permaculture, regenerative agriculture, food forests, natural gardening, do nothing gardening, observations about pests and diseases, foraging, dealing with and using weeds constructively, composting and going offgrid.