Regenerative gardening activity
8

How to make biochar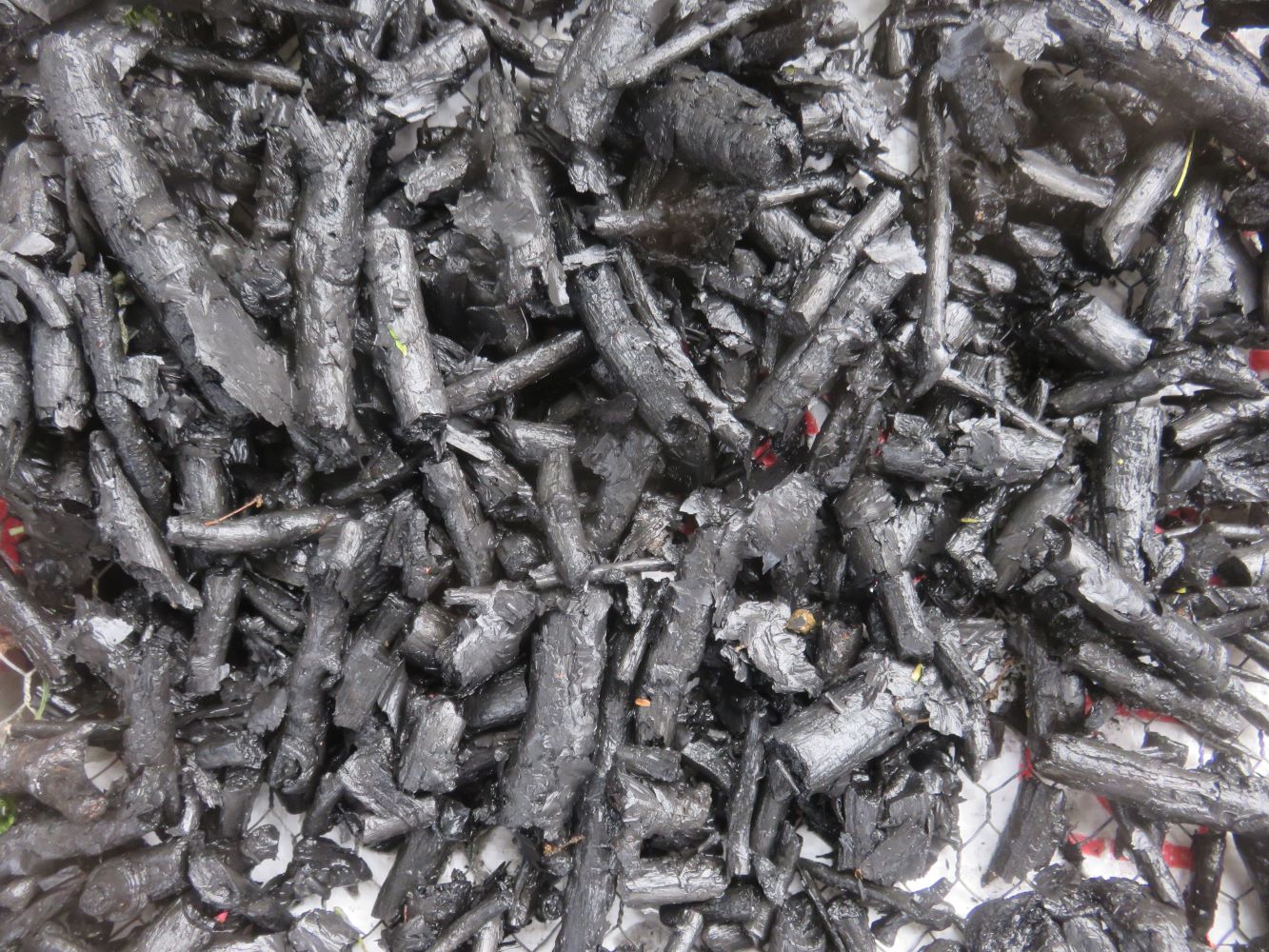 Oct 16, 2020.
8. How to make biochar

I first learned about biochar and the perennially fertile terra preta soils created with it in my permaculture design certificate course. I first learned how to make biochar at a Guerilla House workshop. Here is a link to my article on the fertility workshop which covers several amazing techniques they use for boosting soil life, including ferments. There I talk briefly about the structure of biochar that makes is such a fantastic soil additive. 
In addition to boosting soil life, one of the important reasons biochar could be seen as regenerative is that it puts pure carbon in the soil for a long long time. Biochar does not decompose for hundreds of years.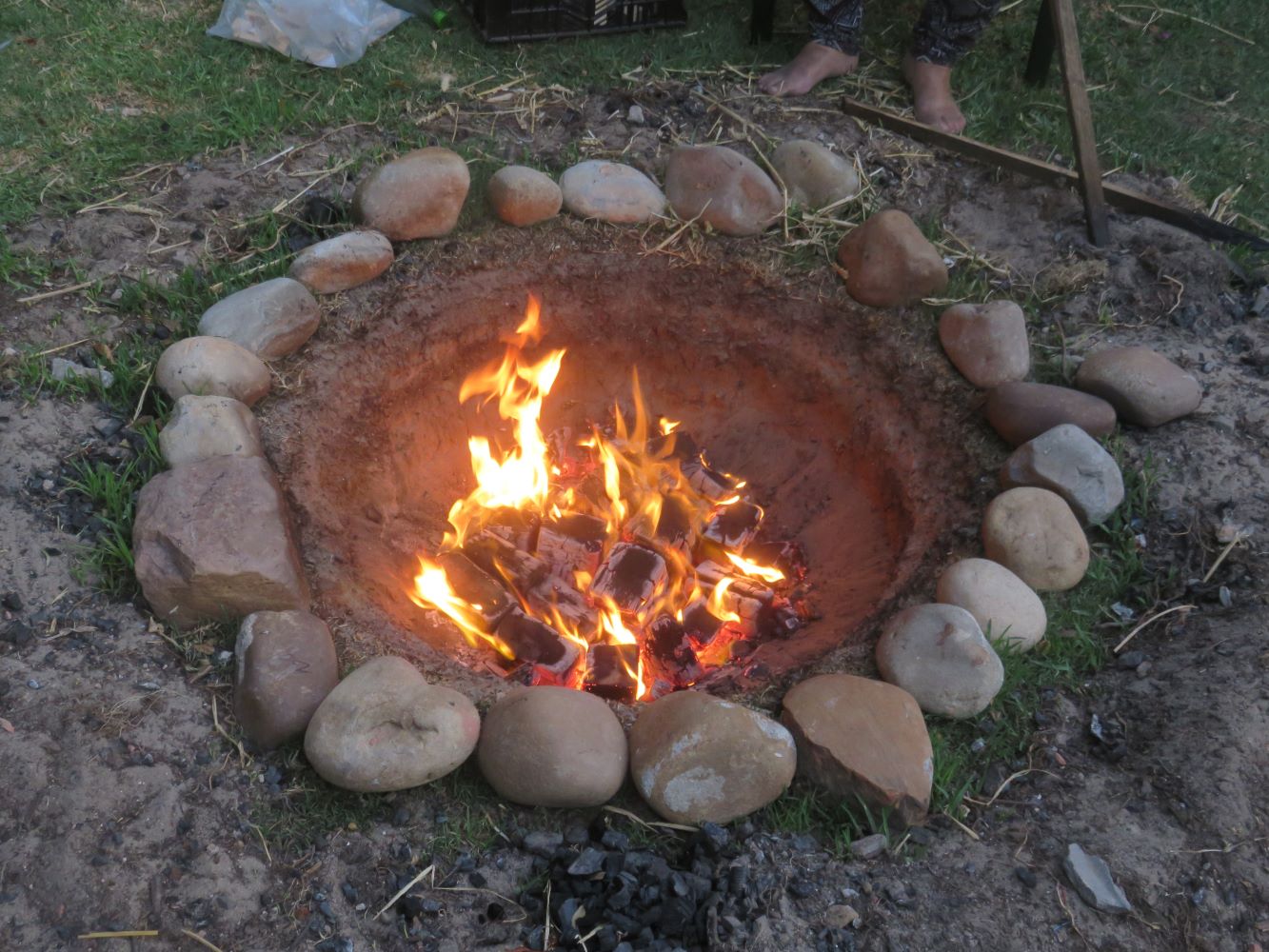 a conical biochar fire pit in the sand
I first had a hand in making biochar at a workshop run by Bernie Cohen James, the soil guru of the Cape Town northern suburbs. She dug a pit in the sand, and surrounded it with stones as you can see in the picture. Then a fire was started and flat wood (carpentry waste) was laid on the fire, a layer at a time. As each layer caught fire we added another layer on it, with the wood laid close, to cut off oxygen, without putting out the fire. Eventually about 50 cm of wood had been piled in the hole. If the wood does not burn to ashes, as it does when its well ventilated, but carbonizes, you have a lot of biochar. Bernie describes it as having a tinkling sound.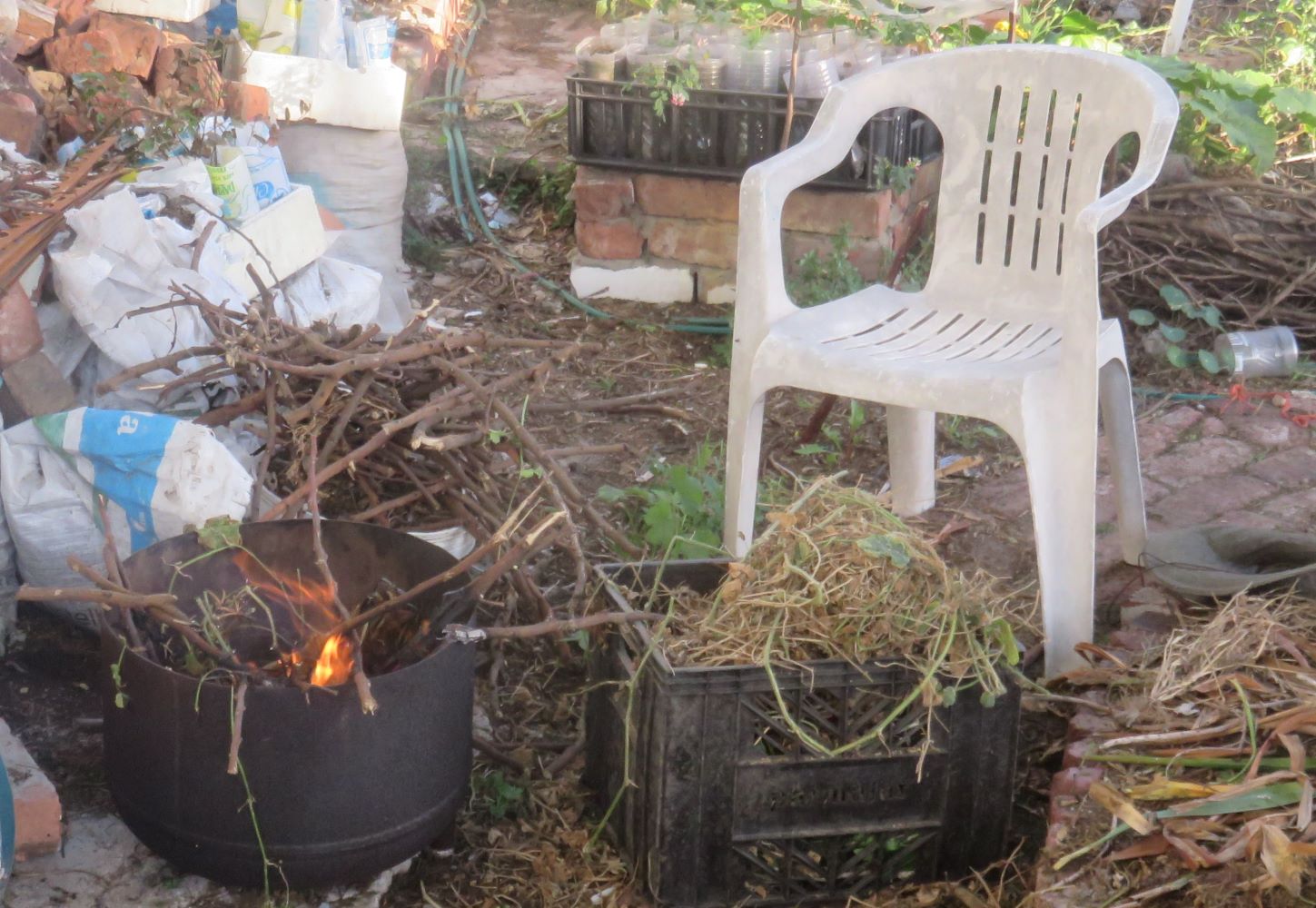 My own primitive biochar making setup
The very basics of how to make biochar
I finally made my own biochar using the technique I learned from Bernie. The container was an old metal drum. The wood was not straight but crooked thorn tree branches. What I did was bash the twigs as soon as they caught fire. The break into several pieces as they char. These then fall on the layer below and cover it. I had to add a stick or two at a time for hours, keeping up a fast pace of covering, till the drum was full. The fire is very very hot so when the drum was full I poured water and sand over it, and covered it with bricks. Perhaps I was overdoing it a little.
drying

sifting

crushing

charging
A few days later I started to process the char. There was a good bit of tinkly charcoal ! It would have been better if it wasn't wet, as it had to dry on a rack before I could crush it with a rock and sift it.
After that I charged it. If you don't do this it will soak up all the nutrients in  the soil, whereas once it is charged, it adds to the nutrient supply in the soil. So one should immerse it in a biologically active substance. I had an oversupply of fermented urine and that is where it soaked for months. A hot or cold compost heap, or a liquid compost ferment would do just as well.

It was then ready to add to soil in various spots in the garden.
------
------
home page with links to all sorts of regenerative, permaculture and restorative gardening techniques
------
regenerative gardening activities series

Your first paragraph ...
Restore Nature Newsletter 
I've been writing for four years now and I would love to hear from you
Please let me know if you have any questions, comments or stories to share on gardening, permaculture, regenerative agriculture, food forests, natural gardening, do nothing gardening, observations about pests and diseases, foraging, dealing with and using weeds constructively, composting and going offgrid.