green spaces

why cape town is really a waste - land
Is this a desirable green space?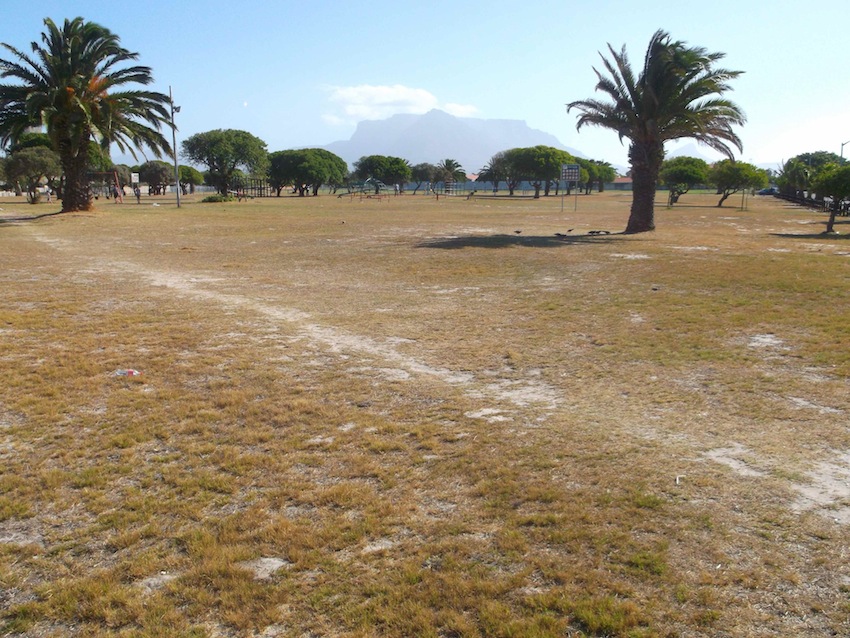 This is the biggest park in goodwood, with the most spectacular view of the mountain and the most boring planting on earth, sorry.... mars
why the need for green spaces
We all need a green space to breathe in, and refresh our spirits. The area between Maitland and Tygerberg and South of that axis as far as the ocean, cuts through the poorer areas of Cape Town and their layout is an inheritance from the previous regime's dysfunctional ethics and planning. These areas are bereft of safe and attractive green nature areas that people can use. But there is a lot of empty, derelict, forlorn, paper blown land and incredible potential unharvested. See the edenfound website for the photo album of Maitland cemetery, Wingfield and the Elsieskraal River. One may think contemplating nature is the last thing people need when they don't have basic services, but it is effective for stress relief, raises the standard of living and ..if you look at Table Mountain, natural areas bring visitors and recreation, and that brings money. The visitors streaming to Cape Town do not come to see the rich suburbs along the mountain, they come to see the mountain itself.  The huge potential of nature outings in the South absorbs all the tourism, and all the money making pleasure seeking activity like road races, kayaking, surfing, mountain climbing, hiking etc. so the Cape Flats and norther suburbs would need very innovative ideas that could compete with mountain, vleis (lagoons) and sea. We need something like "the most beautiful /biggest people's park in the world" to do that. 

the elsieskraal river
as a green axis
under the bridge and you're in grand west with their indigenous nursery, gold ceilings and green reycling
If the Elsieskraal River were developed as a linear green space from its outflow at the Black River as far as the dams in Belleville near the University of Stellenbosch business school, it would connect those green spaces and dams in Belleville with the intended green space development of the Black River, and people would be able to jog, hike and bike for all that distance, along its axis, even all the way to the Winelands with overnight stays on the way, if it was connected to the Kuilsriver. The River development would connect Salt River, Observatory, Maitland Garden Village, Pinelands, Sybrand Park, Mowbray, Hazendal, Langa, Thornton, Epping, Grand West, Goodwood, Maitland Cemetry, Wingfield, Ruyterwacht, Vasco, Riverton, Elsiesriver, Glenlily, Parow Valley, Klipkop, Oostersee, Tygerberg, Boston, Oakdale and Belleville to a life giving green vein. Mayor de Lille's special project had the intention of cleaning up many of the rivers of Cape Town as a job creation project and enhancement of quality of life for those nearby. This included the Elsieskraal River, and developing the Voortrekker Road corridor, and the project was steaming ahead in 2012. I think it was a brilliant idea. 
People who don't think green will not see the value in greenness, but as said, green spaces bring people and people bring money and jobs. Just look at Table Mountain and its mountain chain and the work it provides to everyone from Sea Point through to Cape Point, its the backbone of Cape Town's economy. We in Goodwood and elsewhere can't compete with this natural 'wonder of the world' but we could create a man-made wonder along the route of the rivers given to us by nature. We could attract tourism because of what it could represent in terms of green rehabilitation, and social rehabilitation, undoing the visual effects of apartheid planning, adding beauty, money, green jobs, new skills and a hugely increased quality of life for the people who can use the space.
If it provides only 1% of the jobs provided by Table Mountain and attracts 1% of the tourism, Cape Town's river developments would be worth while. Development of the Eerste River and Kuils River could be other possibilities, to cover a lot of depressed areas, and provide a non petrol driven connection to the wine lands. Rivers traversing the Flats could act as development corridors, as an adjunct to and alternative to the corridors of oil driven vehicles, the bus and train routes.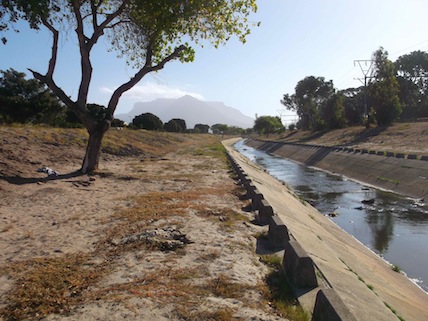 The forlorn banks of the Elsieskraal river
advantages of flatness
The Cape Flats may have phenomenal natural advantage, as good as anything the mountain has to offer. What are the advantages of flatness ? It is less difficult to turn the wheels of your bicycle for one. Some parts of the flats are not as flat as you may think if you've never ridden from town to Goodwood on a bicycle, just as an example. But I'm an overweight old auntie and I made it. I could never do the Argus. The  flatness is convenient for farming, and then for urban development, as can be seen in the history of Goodwood, Retreat and Phillipi. This means on much of a possible bicycle route, you cannot escape from the reality of Cape Town and imagine you're in a natural Eden of some kind, like along Rhodes drive in Newlands. But, flatness is also great for long meandering rivers who exit slowly to the sea. If flatness is great for bicycling, and you put this together with the long rivers, you have gentle kayaking and bicycling route, or urban trail along the rivers, river tourism, like you do in Europe, where fat old ladies can join in. Imagine the Cape Flats Four Rivers Bicycle Tour... one of the longest bicycle races in the world on flat terrain, with not only the tour de France types but forty times more people participating, old, young, decrepit and in want of exercise. It would not begin and end at UCT but at UWC... up the Kuilsriver, across to Elsieskraal, down to the Black River, down to the Vleis, along the coast (which couldn't get flatter) to Macassar, up the Eerste and the Kuils rivers back to the starting point, interspersed with kayaking and surfing it could constitute a new kind of iron man contest. There is spectacular natural scenery a lot of the way, and it does not avoid the blighted parts of town but takes income right where its needed.
Another advantage of the Cape Flats is that it is in the Cape. We already have a huge influx of tourism and adventure sports people who come for the 'Cape' part. Consequently we've one of the most developed tourism industries in the world, and if you can ride on its back, connect to its lifeblood, somehow, its profitable. I've been dependent on tourism indirectly or directly for large periods of my adult life through screen-printing and wine tour bookings.
This is a wild pipe dream and I apologise to anyone who may be offended by some of my assumptions or my naivity or the words I use. As a South African, I must ask myself whether what I do will worsen or improve the lives of others in its knock on effects. I try for the thing in which benefit will spread. But I'm unemployed, with the consequences that I'm utterly powerless and toothless and unable to do much. I have roof over my head and can live in a place that is safe enough to manage life peacefully, but every day I see people in the neighbourhood who don't have that. They sleep in corners near the supermarket, on the way from the train station, forty or fifty homeless people in that zone between Rhodes and Vasco on Voortrekker, and including women and children who are vulnerable to abuse and rape by any random stranger. It is heart rending, and handouts will not go far, so I'm very motivated to do something big that will help a lot of people while its helping me. This is open to criticism and you're welcome. 
Intersecting greenspaces
The central ride in the graveyard is kilometers long
Satellite developments could occur along the Elsieskraal river axis. In the Goodwood area, Maitland Cemetry and Wingfield Airbase developed as green spaces, could intersect with this river development.  
Maitland Cemetry would expand the Elsieskraal development to touch Maitland, Kensington and Factreton, Thornton, Pinelands, Grand West and Wingfield.
Wingfield would connect the green axis with Edgemead, Century City, Acacia Park, Tygerdal, and Ysterplaat.
The Voortrekker Road Axis has particularly poor green space development. This is partly because of what was there beforehand. There are no large mountains or Vleis, but it is also the way the green parts that were there have been managed. More expensive areas are close to green spaces. Equally priced areas in the South of Cape Town like parts of Athlone, Plumstead and Retreat, are as far from the city, but have more to offer in terms of nature outings: Wynberg Park, Rondebosch common, Tokai forest, the Race Course Nature reserve, the Vleis, the big river basins (which have been shamefully neglected until Patricia de Lille incorporated them into a citywide project, so few people even use them as a green space), and closer access to Table Mountain. The whole of the Cape Flats really needs green space development in order to not be dormitory suburbs from which people only desire escape, if they can, and which become like prisons if they cannot. If we developed our green areas in Goodwood it would improve the lives and income earning potential of everyone in the older Northern zone of Cape Town attached to the city. The further out north, Durbanville, Tygerberg and Joostenberg etc. have a lot of wealth in patches, and their own green areas, but in between is a very undeveloped zone for greenness, despite a lot of empty land ! It is such a waste. It is closer to town and its green development would impact on a much larger number of people than development further out, which is quite advanced in Durbanville. If we developed our green spaces in Goodwood and Maitland we would learn how its done, and the MO developed could extend over the whole Cape Flats. There is a lot of Industrial development close to Maitland, but it does not have to mean it must not be exploited as a green space, it just intensifies the need for green recreation space for the people working in all those factories, ware houses, offices and retail outlets. 
MAITLAND CEMETRY AS A GREEN SPACE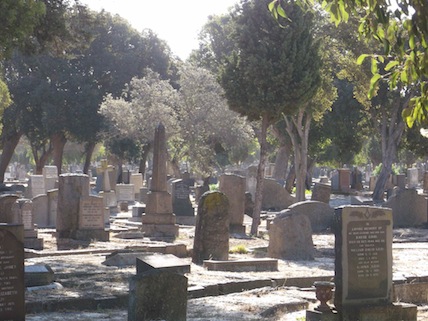 Maitland cemetery is potentially a beautiful green belt with a view of the mountain. If the central path between the graves were made into a paved drive for cyclists and hikers more people would go there and it would be safer. A patrolman or two on horseback or motorbike would make security much greater. This would benefit Pinelands and Maitland with a safe green space to walk in, and provide work for the retailers who could benefit from passing traffic. If the trees along this path on either side were left, but blockages to the view were removed and native trees were replanted elsewhere in the area, you would be able to see all the way to Cape Town with Devil's Peak framed by trees. It would be spectacular, better and longer than any line of sight in Versailles (splutter) and people would come for the photo opportunities, like they go to Blaauwberg Beach. Like Blaauwberg, we could benefit financially from the mountain without being in its shadow. Widows would be able to come alone to visit a grave without fear. Instead it is derelict and forlorn and dangerous. Yet if you walk there its forlorn beauty is astounding. There are many lovely old trees. The older graves that no one visits anymore are interesting and ancient, providing a connection with history for ordinary people and researchers on history. Death is as much a part of life as birth, and it is healthy to think about it from time to time. In other parts of the world like America, graveyards have become integrated into parks that people visit. We could have the most beautiful graveyard in the world with Table Mountain as a backdrop. Derelict buildings in the cemetery and Wingfield could serve as stopovers in the Urban Tourism circuit or four rivers cycling and kayaking trail I've described above.
wingfield as a green space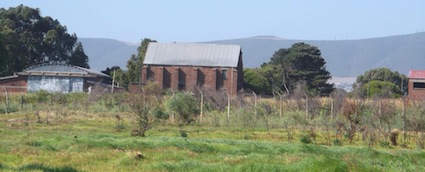 I've noticed driving past the north of Wingfield that it has some of the last Strandveld, a form of lowland Fynbos. Further South close to Voortrekker Road are some beautiful old buildings, just being ravaged by vandalism. They could be so much better put to use as community buildings such as exhibition spaces, theatres, sportshalls, when we are short of these amenities. The waste is unbelievable. 
------
home page for links to other green issues and ideas
------
------
road verges, a scene of devastation when they needn't be
Restore Nature Newsletter 
I've been writing for four years now and I would love to hear from you
Please let me know if you have any questions, comments or stories to share on gardening, permaculture, regenerative agriculture, food forests, natural gardening, do nothing gardening, observations about pests and diseases, foraging, dealing with and using weeds constructively, composting and going offgrid.