My first native medicinal plant painting posted here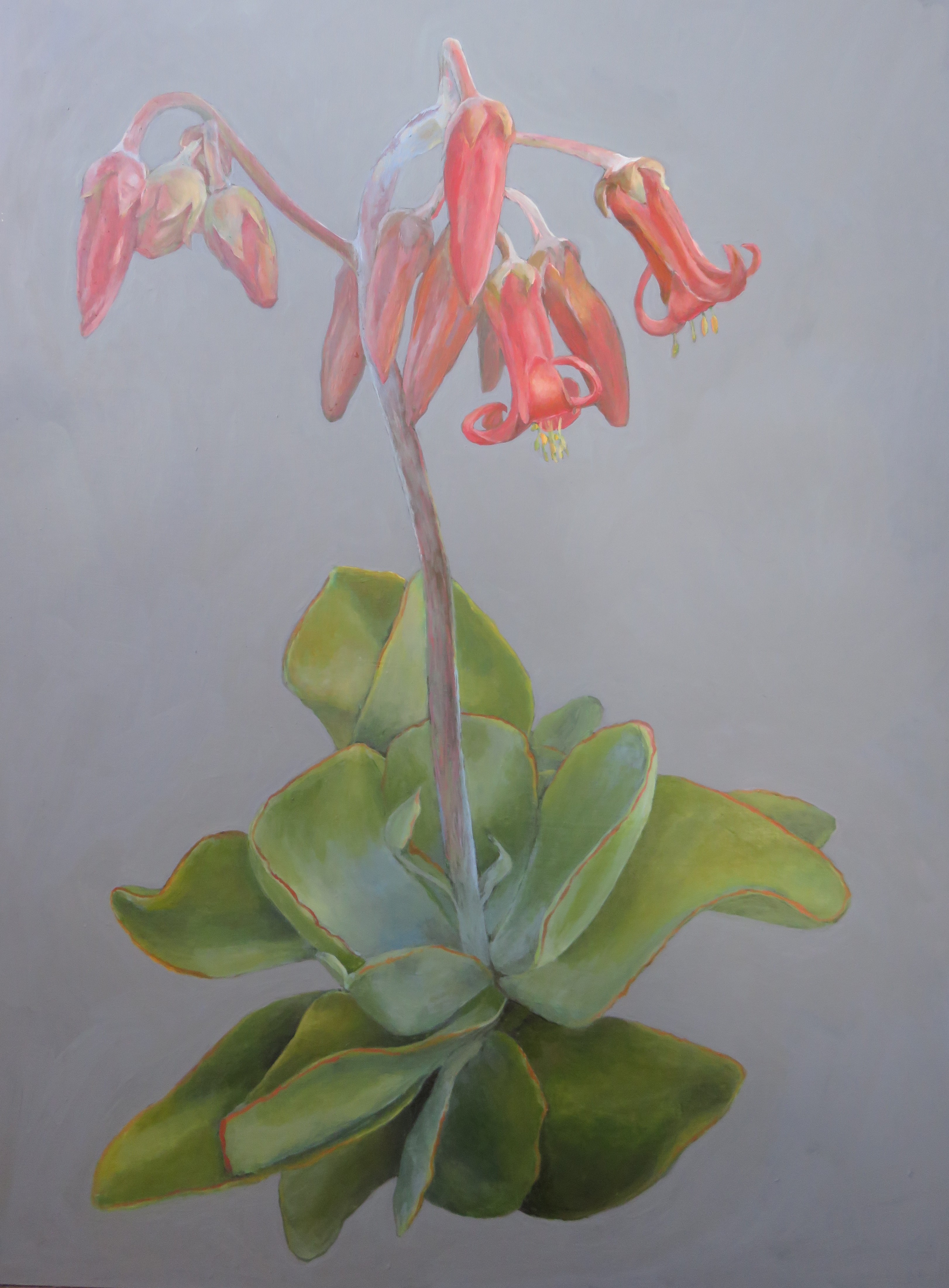 Cotyledon orbiculata, native medicinal herbs of South Africa 60 x 80 cm (23 x 31 inch) painting in acrylic on board.
This is my first ever blog post on this website ! Another first is about to occur too. I am changing the website theme to include both of my major obsessions and occupations, art and gardening.
The website has been through many transformations and that is a story in itself. Its been hard to find a center as I'm interested in so many aspects of green living. I finally feel that bringing the two together is giving this platform some focus.
So many artists love their gardens, from the famous examples like Monet and Frieda Kahlo to the hundreds of thousands of lesser known art lovers all around the world. When I struck this theme, everything began to fall into place and I've found my kindred spirits everywhere.
Above you can see the first painting I'll be putting up for sale. After a month of struggling with details of the flowers using a tiny brush with just a few hairs, and a slightly larger one for the leaves, it is done. I decided to work in a larger than life format to get more detail for my design process. I had no idea how small I'd need to work. Flowers are delicate indeed, with very fine tonal ranges.
The painting is 60 by 80 cm in acrylic on board. It has  already been published on POD platforms as a design to which I hold copyright. You can therefore buy art prints anywhere in the world. Here is one example of where you can buy the print globally. As to the original painting, I am willing to negotiate any offers.
It is the second of my paintings based on indigenous South African useful plants. The plant is pretty toxic to cattle, but helps heal warts and ear infections according to traditional medicine practice. It is known as imphewula (isiXhosa); ipewula (isiZulu), plakkie, platjies, varkoorblare, varkoor, kouterie (Afr.), pig's ears (English) and last but not least: Cotyledon orbiculata in Latin.
Home Gardening blog
The Home Gardening blog will inform you of new articles published on the greenidiom website, as well as offering other short snippets of useful information and tips for green living. The website explores green issues and offers practical and affordable solutions for living green, from reporting on green activism in South Africa, to articles on eco sensitive gardening, recycling and natural building. You can click on the orange button to subscribe to our RSS feed.
I've been writing for four years now and I would love to hear from you
Please let me know if you have any questions, comments or stories to share on gardening, permaculture, regenerative agriculture, food forests, natural gardening, do nothing gardening, observations about pests and diseases, foraging, dealing with and using weeds constructively, composting and going offgrid.
Sep 19, 2020
Lynn Greyling
Hi, We've had a Tree tomato in the garden for many years. My second one died 2 yeas ago . I decided to propagate my own by placing washed seeds in a clear