The soil regenerative role of mulch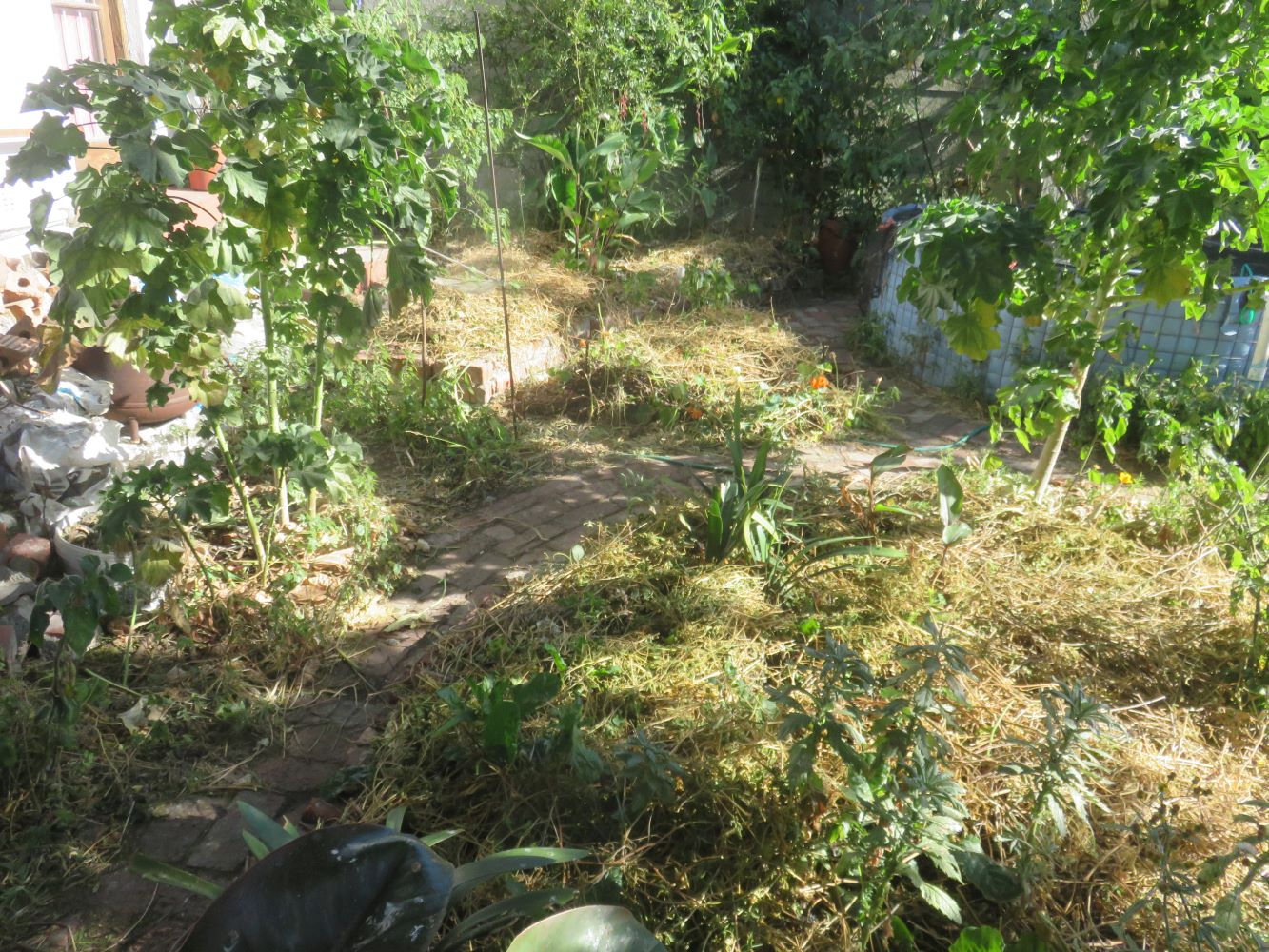 Straw makes a good mulch, but many other organic materials and plant waste will do a good job.
Do you need free mulch for your community garden project in Cape Town ?
If you do, make sure you scroll down to the bottom to leave your name and contact details.
What is mulch ?

It is a thick layer of organic material on the surface of the ground which is laid there for protection of the soil and plants.

The benefits of mulch
Mulch brings a number of benefits to the gardener. It is the ultimate regenerative tool when you have disturbed your soil by creating new beds, or when you disturb your soil regularly with growing annual vegetables. So what are these benefits ?
Mulch cools the bed surface and allows your soil bacteria to thrive

Mulch shades the soil beneath it, which means that soil can be up to forty degrees cooler under mulch than open soil in the hot sun. This means that beneficial organisms can survive and build your soil.
It has been shown that these organisms are concentrated in the surface of your soil and in the immediate vicinity of roots, in the rhizosphere. This is why living plants are the best soil builders, as they feed the organisms in the rhizosphere with sugary exudates permanently. Surface organic matter or buried organic matter only feeds the organisms as it decays. But organic matter on the surface is much much better than naked soil.
Hot exposed soils are dying, and dying fast. To counter the effect of fertility loss keep as many microbes as possible alive by immediately shading your soil with mulch after you dig.

This is not straw, but dried creepers. Though it is not pretty, it is stiff and prickly and does a great job of deterring snails.
Mulch saves water
Because mulch cools the surface of the soil it prevents evaporation and therefore saves water. Because it shelters and allows soil microbes to survive and they aggregate soil, allowing it to absorb water like a sponge, it helps save water. Because it feeds the top layers of the soil with decomposing organic matter, the carbon added to the soil helps create humus and this also contributes to water absorption, and saving water, so mulch saves water in three ways.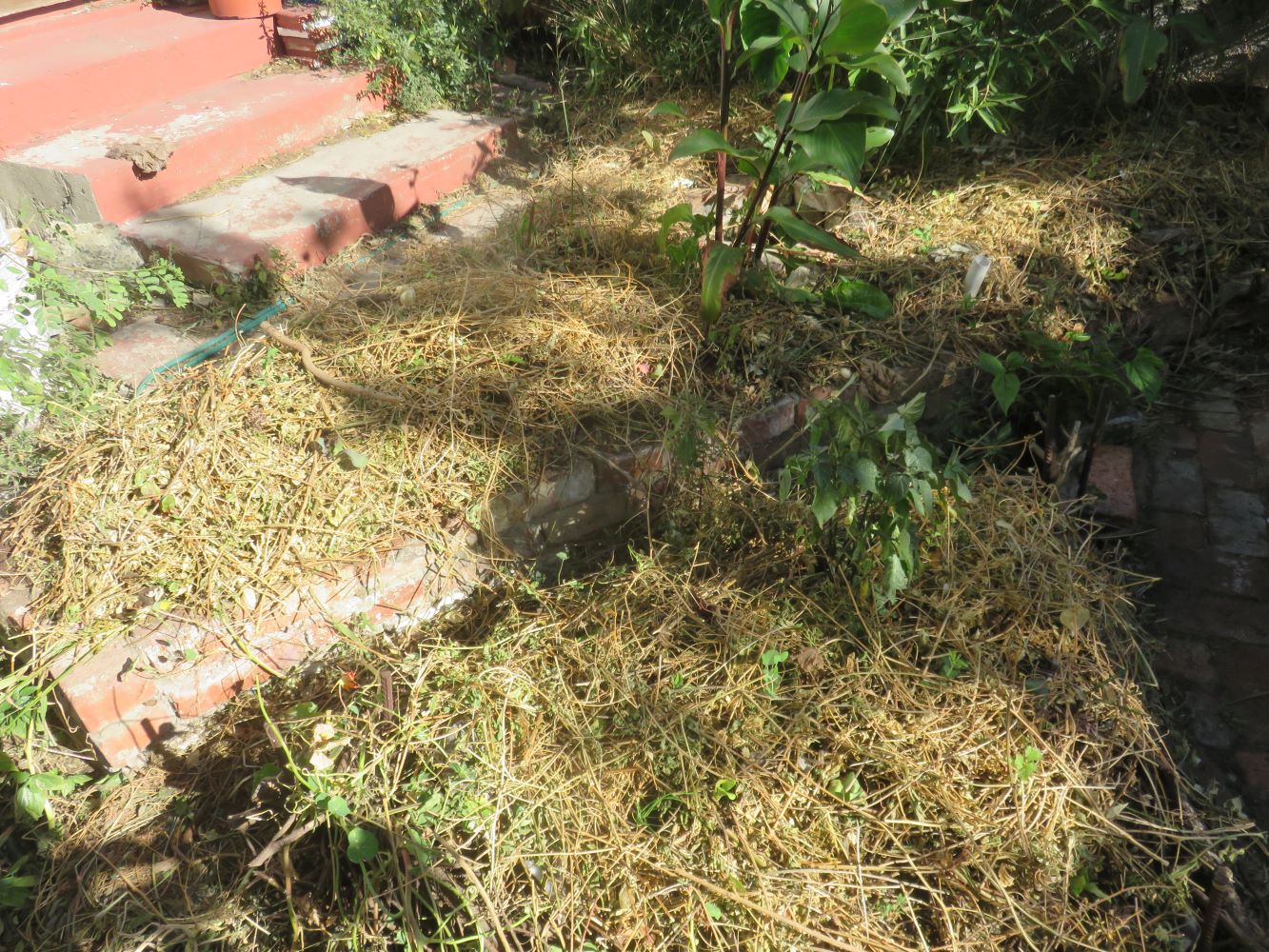 Only a light sprinkling of water in the morning is needed to keep the tiny seedlings going.
Mulch maintains fertility
Because mulch protects your soil and allows the soil life to survive, it prevents soil degradation and the boom and bust scenario, in which new beds grow beautiful food and then steadily perform worse and worse over the years. Mulch also maintains the fertility of the whole landscape on a wider scale as it protects soil life, that slows erosion and the loss of arable soil. Thus mulch protects both soil fertility and the availability of arable soil, though permanent planting does this even better.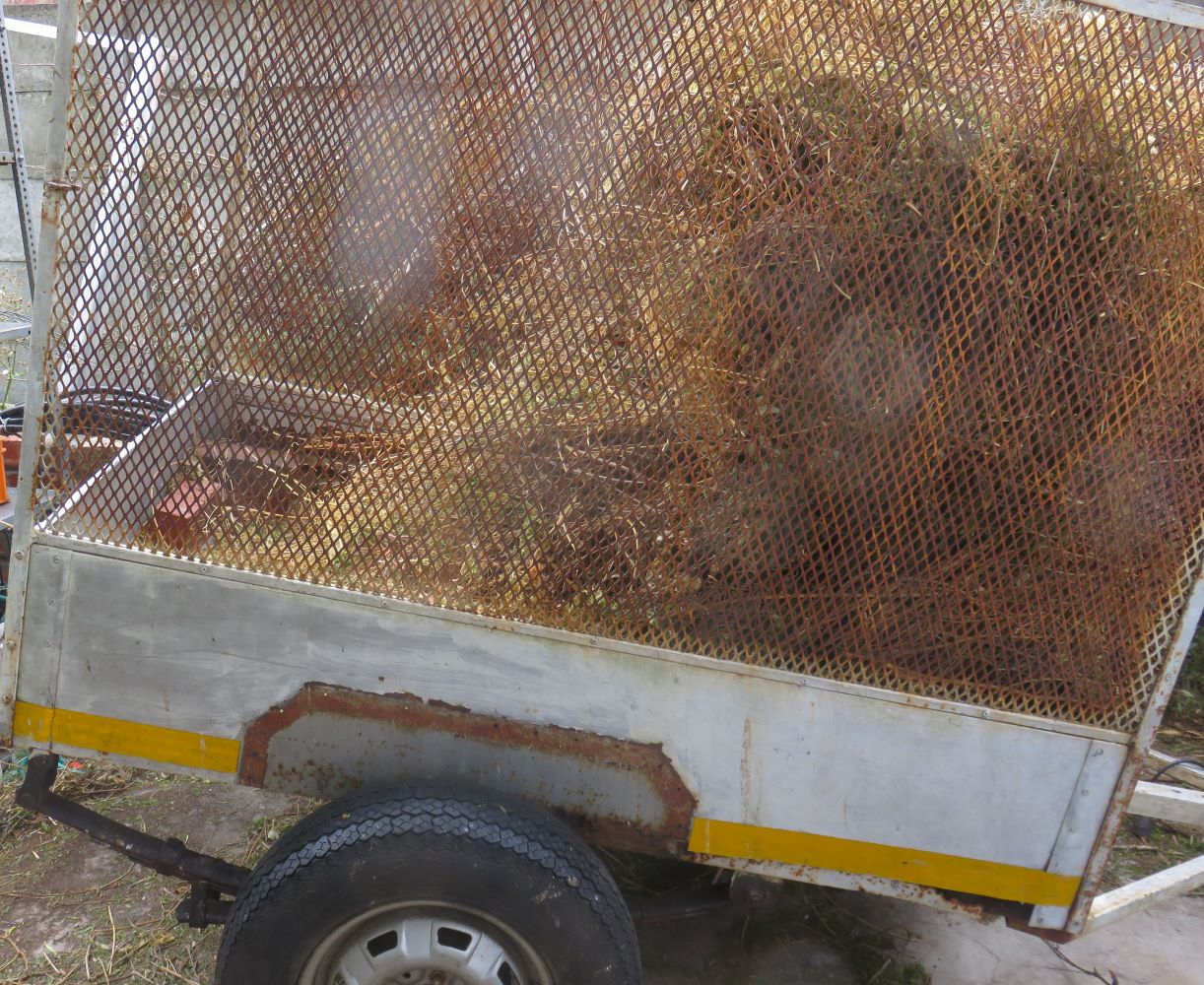 Half a trailer load covered about 6 square meters
Mulch is health: healthy vegetables, and less human and plant disease

Decaying mulch from dried plants increases the fungal ratio in your soil. Many agricultural soils have way too high a bacterial load for the requirements of most vegetables. Vegetables which grow with a 50 : 50 fungal to bacterial ratio that suits them are much healthier, more nutritious and less prone to disease. Nutritious vegetables grow healthy humans !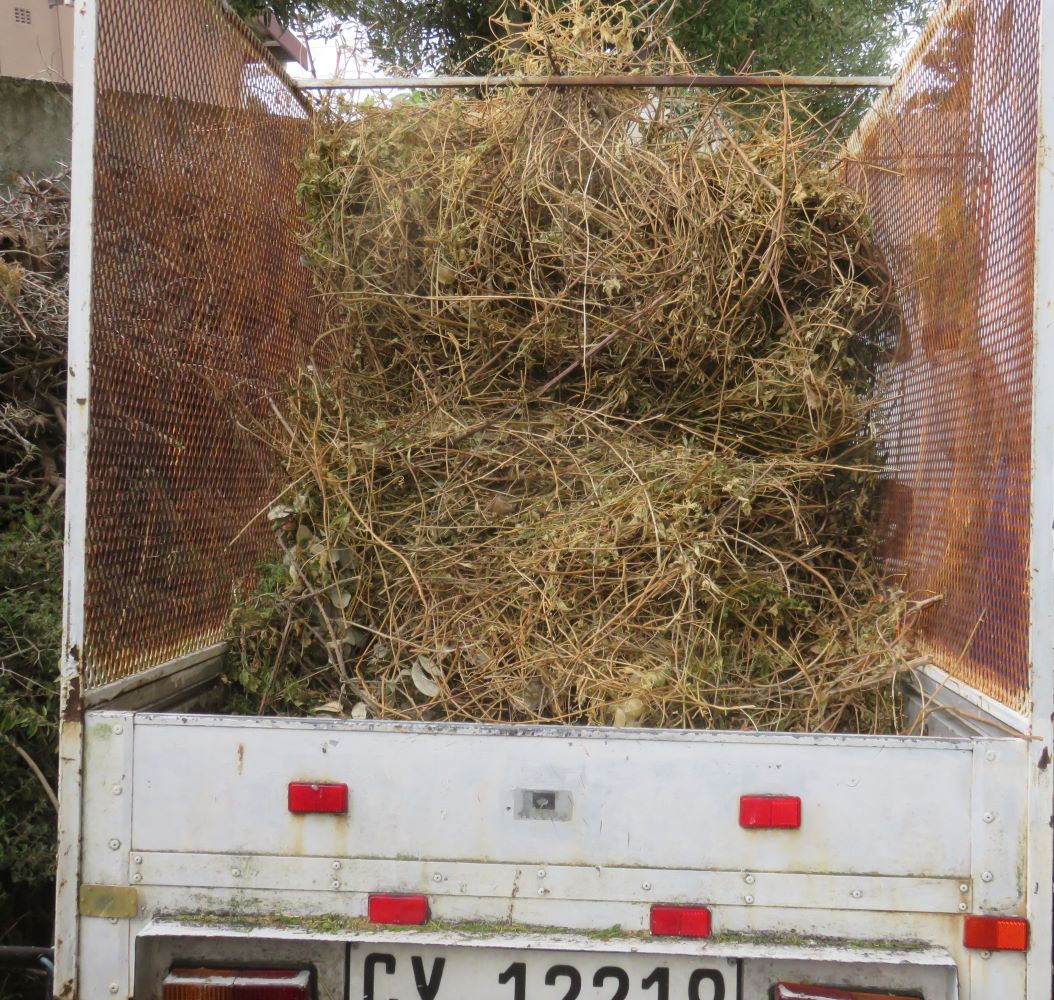 The dried creepers had to be cut up before laying on the beds. I am sourcing many other kinds of mulch for the community gardens.
We need more mulch, especially now !

At this time, when the world is reeling under the load of a pandemic, we need nutrient dense food more than ever to maintain our strength and vitality and immunity to the virus. But instead of this there has been a breakdown of food supply to many people. All over Cape Town community gardening projects have sprung up to feed this need, supplying fresh vegetables because food is needed, and because nutritious home grown vegetables make us stronger. Many neglected public spaces like road verges have been taken over by food growing. It is a sort of revolution. However, many of these projects find it hard to source mulch. Mulch would add to the nutrient and health giving qualities of the vegetables in addition to insuring the fertility of the soil in the future.
Do you need free mulch for your project ?
Because of the health and environmental benefits of mulch, I am trying to source free mulch in the city to be delivered to community gardening projects, verge gardens, rehabilitation NGO's and those kind of projects on a low budget where people are giving volunteer labor.
I now have one supplier, so we are looking for interested takers. If you would like mulch for your project and you are situated in Cape Town, please leave a message below with your contact details, a name and one or two line description of your project and an approximate date you will require mulch, and the approximate area needing cover, including paths ! Use the space below where I ask for comments, it is the easiest way for me to organize this. Thank you.

------
home page for links to all my topics on regenerative and restorative gardening techniques
------
greenidiom's regenerative gardening blog
------
------
Restore Nature Newsletter 
I've been writing for four years now and I would love to hear from you
Please let me know if you have any questions, comments or stories to share on gardening, permaculture, regenerative agriculture, food forests, natural gardening, do nothing gardening, observations about pests and diseases, foraging, dealing with and using weeds constructively, composting and going offgrid.
What Other Visitors Have Said
Click below to see contributions from other visitors to this page...

Mulch please!

I'm volunteering on the Muizenberg Community Garden coordination team, our aim is to supply the Muizenberg Community Kitchen with veggies for they community …
Builder

I would like to receive some free mulch for my community garden please.