Regenerative and organic are the same, aren't they ?
Nov 24, 2020.

Regenerative and organic, same thing isn't it ?
The answer is... it depends. Regenerative and organic are not identical, though they can be confused because they work with a lot of the same raw materials and vocabulary at the macro level. 
But regenerative gardening is not identical to organic or permaculture gardening, it is way way more powerfully beneficial than all of these, but can include them, when they are done with regeneration in mind.
I've seen NON regenerative practice labeling itself as biodymanic, organic, permaculture or conservation practice, so, its really important to think about this aspect of managing land, and what makes it different, and how you could garden slightly differently, every step of the way, to become a soil friend.
The two major differences between regenerative and organic

The difference between regenerative and these other practices when they are non-regenerative, is that regenerative practice is all about the organisms in your soil and keeping them alive and thriving. It really puts the soil life first, so that you farm soil, rather than carrots or whatever other crop you're planting. Plants are best at nurturing soil life, and taking them out of the soil can be destructive to soil life in multiple ways, so you have to take a side step from thinking that as long as soil additives are organic, and no poisons are used, all is fine, and good for the earth. This can be a trap in straight organic farming, or in permaculture farming (depending on your focus there, and how deep a permi you are). What you take out of the soil is just as important.
Regenerative practice is deeply science based. This means you don't have to believe in anything supernatural, as you would with biodynamic. In any case what science reveals about the soil is as wonderful as any magic or miracle, so regenerative gardening will satisfy those spiritual people among us.
This all means that you may label yourself an organic grower, and you may be making regenerative soil magic, without even realizing you're regenerative, and on the other hand, you may label yourself an organic gardener, think you do good to your soil, and without even realizing it, be an enemy of soil life.
But wherever you stand, it takes so little, only a shift of focus... to become that miracle worker !
------
home page for links to all my topics on regenerative and restorative gardening techniques
------
greenidiom's regenerative gardening blog
------
------
Restore Nature Newsletter 
I've been writing for four years now and I would love to hear from you
Please let me know if you have any questions, comments or stories to share on gardening, permaculture, regenerative agriculture, food forests, natural gardening, do nothing gardening, observations about pests and diseases, foraging, dealing with and using weeds constructively, composting and going offgrid.
What Other Visitors Have Said
Click below to see contributions from other visitors to this page...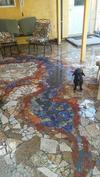 Pat Browne, RN

A 60 year old, unemployed RN with a B.Animal Sciences and a long history of art in 'construction yoga' formatting, I am attempting to reinvent myself with …