A gorgeous
N-fixing native support plant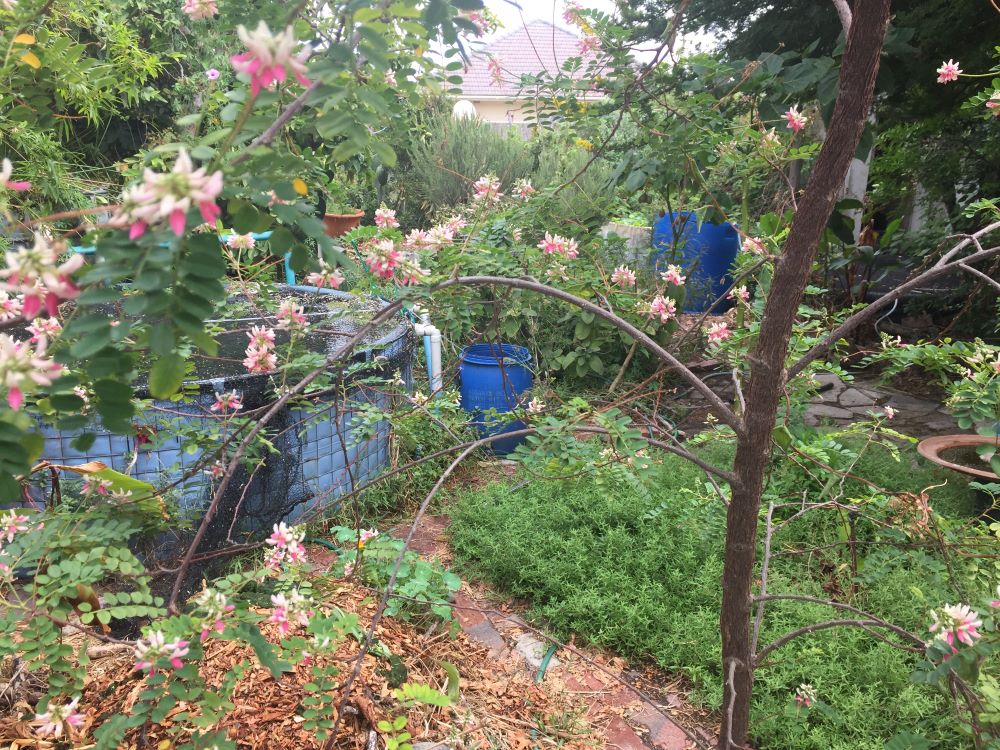 Indigofera jucunda, a gorgeous N-fixing native support plant with gorgeous delicate African blossoms.
In permaculture in South Africa people frequently fall into using exotic N-fixing support plants, because the enormous diversity in our local N-fixing plants is not known. I decided to remedy this by growing different kinds of local leguminous plants and hopefully propagating them. This beautiful Indigofera jucunda was the only one which survived in the deep calcareous soil of our garden. The keurboom Vergilia oroboides succumbed to a blackening stem rot, the Polygala virgata buckled in the summer heat, the Podalyria calyptrata hung on desperately for another year and then died during a very hot dry period, showing that all Cape weather is not equal. These plants thrive in a garden only 7 km from where I live ! But I live in a zone of Cape town where desert conditions poke down into the metropole in the form of a long tongue of dryness between the two wet mountain zones either side. I'd like to try rooibos (Aspalathus linearis) and honeybush (Cyclopea) because their leaves are used for tea, they thrive in pretty dry areas and Aspalathus species support a very high number of caterpillars, which as a group are the foundation of the terrestrial food chain converting more energy from plant into animal than any other organism. 
small N fixing tree Indigofera jucunda useful support plant in food forests
Why grow N-fixing native support plants ?
Native plants often have an interdependent relationship with native insects and the greatest insect diversity is created by using diverse native plants in the garden, so for the sake of insect diversity it makes sense to use natives as support plants. 
The other reason is that many of the native N-fixing bacteria, in the Cape fynbos are unique to a specific plant and they are incredibly diverse. The exotic N-fixing plants come with exotic N-fixing bacteria which may colonize the soil and help the process of invasion we see on a macro level, where exotic plants come to dominate a whole landscape by suppressing indigenous vegetation.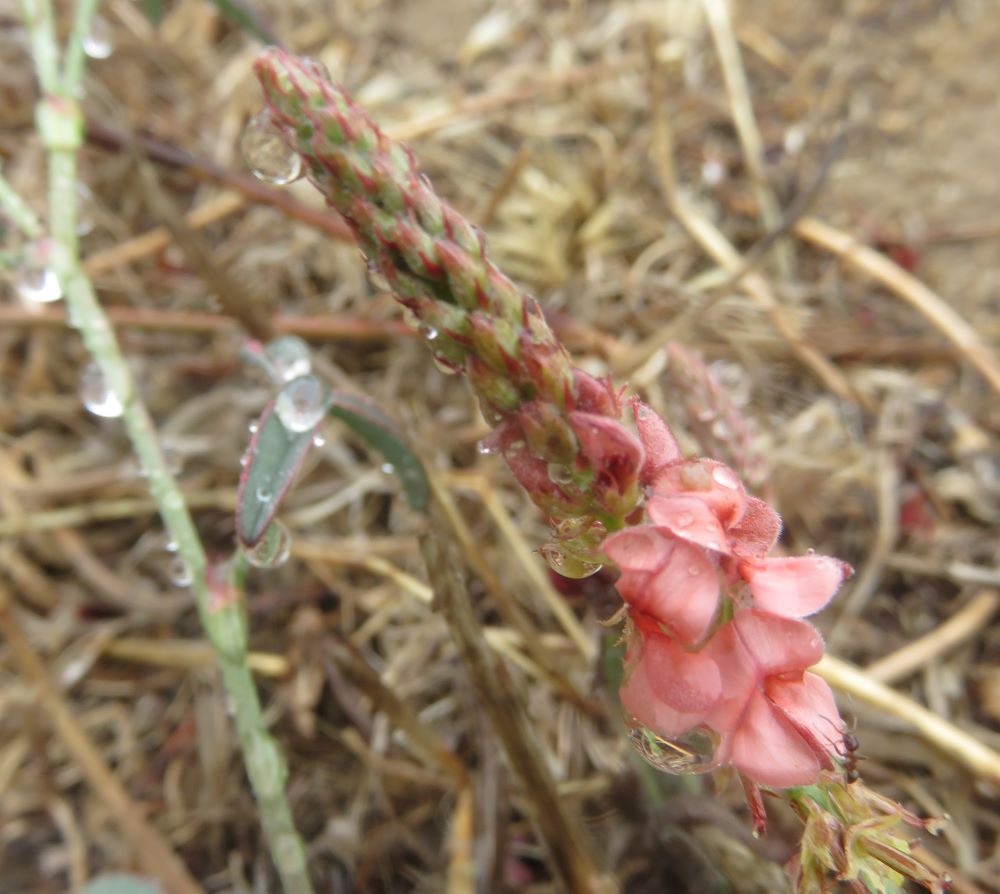 Another species of Indigofera, but this one is a ground cover.
I'm always trying to find new leguminous species to use as support plants, especially indigenous ones. The one above is very local. It grows less than 2 km from my home and is a ground cover. I saved some of its tiny bronze colored 'peas' which I hope to smoke and sow in a couple of weeks as the rains have started and its time to sow Fynbos plants. You can even see that its supporting some indigenous arthropod life ! 
sitemap as an easy overview of the articles on this website
home page with lots of links to topics on gardening close to nature
garden for life blog: growing biodiversity and food
some indigenous edibles and support plants growing in deep sand at Khayalitsha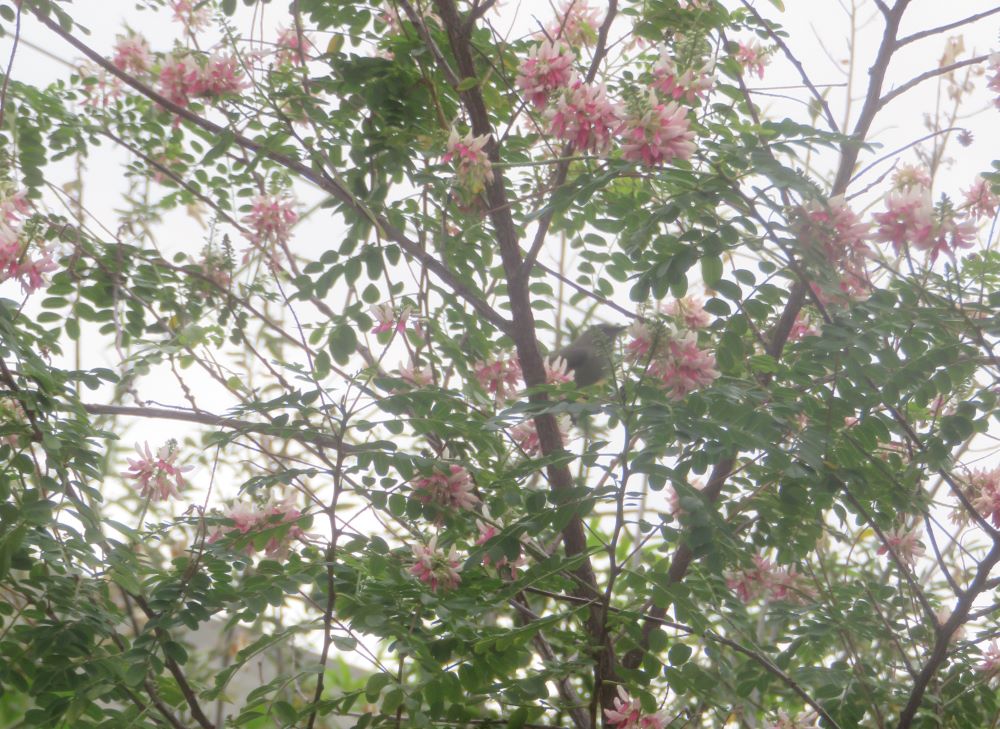 A female southern double collared sunbird visiting the Indigofera jucunda tree where she spent quite a while on the flowers.
Restore Nature Newsletter 
I've been writing for four years now and I would love to hear from you
Please let me know if you have any questions, comments or stories to share on gardening, permaculture, regenerative agriculture, food forests, natural gardening, do nothing gardening, observations about pests and diseases, foraging, dealing with and using weeds constructively, composting and going offgrid.
Your second block of text...